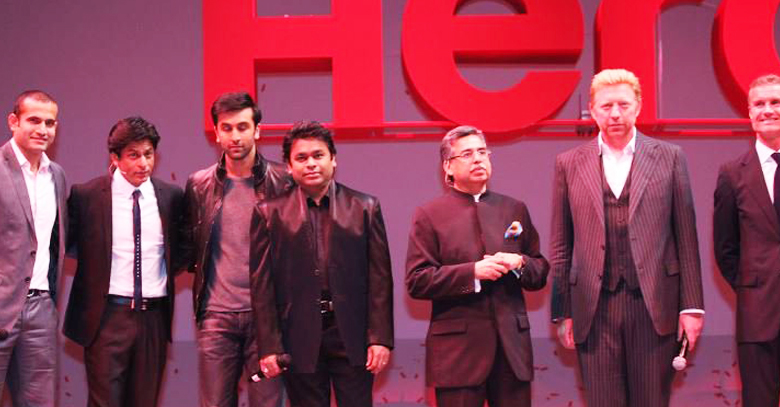 Hero MotoCorp has unleashed a new TVC campaign for its motorbike model "Maestro" named as "Such a boy thing", endorsed by none other than the ultimate Bollywood celebrity, Ranbir Kapoor.
Created by India's advertising house Draxftfcb-Ulka, the ad has been filmed along the quite, serene roads of Fort Kochi in the Indian state of Kerala and has been given a very lively look with witty dialogues and an entertaining plot.
The commercial's storyline clearly synchronizes with the brand's image, representing boyhood and frivolous attitude of today's youth.
The advertisement starts with Ranbir Kapoor in a very playful mood, set on his Maestro to pick his girlfriend for a party. However, she is in an evidently sour mood and starts badgering Ranbir on their relationship's future.
Since Ranbir is hooked with the ride on his Maestro and not at all in a serious mood, he cleverly diverts the banter to the scooter's features.
Kapoor's smart, cheeky replies to girlfriend apparently tells the viewers about the bike's comfortable seating, mileage, masculine design, digital meter console and combined braking system.
To amuse his girlfriend even further, Ranbir jokingly proposes her. Finally giving up, she lovingly smiles at his frolics and the two join the party they were heading for.
The commercial then ends with Ranbir winking, with a voiceover "Boys ki life and Maestro ki ride; easy hai" (Guys' life and Maestro's ride; it's easy).
Sharad Mathur, Vice President, Draftfcb+Ulka, Delhi, said, "The aim was to play up the 'boyish' attitude through the product as well as in a setting which most of the youngsters can easily relate to. Ranbir effortlessly exudes a playful boyish charm which along with the music and setting brings out Maestro's attitude and its celebration of boyhood."
Maestro is a very a popular scooter amongst young Indian boys and its endorsement by Ranbir Kapoor is a cherry on the top for the brand.