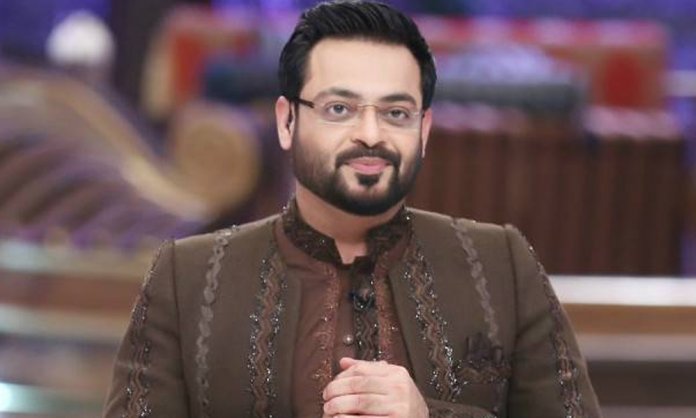 With his unexpected return to BOL Network, Aamir Liaquat is clearly back in action!
The televangelist has taken control of his old talk show 'Aisay Nahi Chalay Ga'. He has even announced that he will resume his place as the host in the channel's Ramadan transmission 'Ramazan Mein BOL'.
Ramzan Mein BOL 2018 with Aamir Liaquat: Registration, Passes & Timings
We all know that Aamir Liaquat and Game shows walk hand-in-hand! The scholar-turned-anchor- turned entertainer surely cannot live without giving away extravagant prizes to his fans.
However, Liaquat has surprisingly decided not to host any game show in the Holy month for the year.
Taking to Twitter, Aamir Liaquat updated his fans that there will be no gameshow in Ramazan Mein BOL this time around.
No #GameShow in #RamzanMeinBOL #ان_شا_اللہ

— Aamir Liaquat Husain (@AamirLiaquat) May 4, 2018
The news has come to a great shock as Aamir Liaquat has been a trendsetter when it comes to game shows in Pakistan and has hosted a variety of them for almost all networks he has worked with.
Starting with Inaam Ghar in his Ramadan transmission on Geo, Liaquat became a Santa Clause for Pakistan when he gifted baby girls to two couples during his show. He raised the bar by giving away airplanes on Bol TV's "Game Show Ab Aisey Hi Ghalay Ga".
Just before his break up form Bol Network, he unveiled his own version of Kaun Banega Crorepati with  'Crorepati Game Show' on Pak News. But we, unfortunately, didn't see much of it happening.
Meanwhile, his followers have welcomed the news and are appreciating the move!
Good decision. 👍👍 I appreciate😊 May Allah give you jazae khair aameen…

— Proud Pakistan👑 Aamirian👑 (@pakista82124025) May 4, 2018
Excellent 👍
Great decision 👌
I appreciate it 😃

— 🍩Proud Aamirian🍫 (@ProudAamirian1) May 4, 2018
Great Aamir! Pls dont make Ramzaaz a commercial event!!

— Sallahudin (@skptikhi) May 4, 2018
Achi bat hai Ramzan Mai Game Show ki wja se kuch Log Namaz Or Taravih Nai Parhty Thy.. Dosry Channel walo ko bi Game Show nai krna chahiye

— Mubasher Khan (@Mubasher5588) May 4, 2018
What do you think about Aamir Liaquat not hosting a game show this Ramadan? Let us know in the comments below.