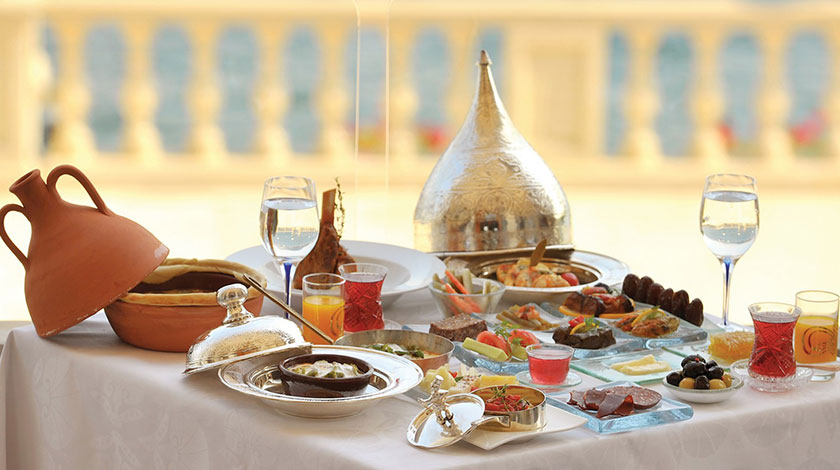 Foodie or non-foodie, going out for iftar party with your buddies or families is a must! If you are food lover but unable to decide the right place to break your fast, we have made your job easier!
Check out all the luscious and appetizing Iftar deals for this Ramadan and decide which one best fits your pocket and taste buds!
Let's start with our all-time favorite fast food category:
Fast Food Restaurant Deals
McDonalds
As always, McDonalds is ready to blow your taste buds by offering you a just perfect meal to break your fast. The world famous fast food chain has launched 2 exclusive deals worth Rs. 395 and Rs. 495. Check out the details in the image below:
Johnny Rockets
Seldom do we get to see Johnny offering pocket-friendly treats. Luckily, this Ramadan JR is treating your hunger with Buy 1 Get 1 free deal. That's right! It can be a perfect place to take your significant other this Ramadan.
Pizza Hut
Well, this might not be your first choice if you aren't a big fan of pizzas but these pretty affordable deals might make you revisit your choice.Servings are available for singles up to four persons. Have a look at what Pizza Hut has to offer in its divine Ramadan deals.
Del Frio
If you are looking for a complete 3 course meal within your set budget, Del frio should be your next stop!
Just for 1000 bucks, you can now get hold of a starter, main course and a scoop of ice cream.
Complete package is the right word!
California Pizza
Limited budget but unlimited hunger, if this defines your current state; California Pizza is just the right place for you! Looking at its deals; I do thinks it stands by 'bigger size, better taste'!
Dunkin Donuts
 If pizzas and burgers are just too mainstream for you then why not go for exclusive 'Famous Feast' by Dunkin.
You can get 1 Delicious Sandwich, 1 Mini Pizza, 1 Donut and Drink all for Rs. 450.
Fat Burger
Who doesn't like a chilling complimentary drink after surviving a whole day fast in the hottest month of the year! If merely this statement has made you thirsty, you should surely plan out your iftar at Fat burger which is offering a complimentary Mango juice and free refills in its iftar deals.
Have a look:
Gloria Jeans
Whether you are planning your iftar alone, with your better half or with your whole friend circle; Gloria has already proved to be ahead of the curve.
Have a look at its deals in the image below:
Burger Lab
The burger lovers will never get their choices exhausted, at least in the city of lights! Check out the Ramadan Treat that Burger Lab has to offer.
Fine Dining Restaurants
Marriot Hotel Karachi
If exclusive is all what you want to break your fast, then the legacy continues as you won't find a better place than Pool Marque offering tantalizing selection of Ramadan treats.
Rosati Bistro 
Ask me what you want for your iftaar and my answer would be 'ANYTHING' which actually means 'EVERYTHING'! Seems like Rosati completely understands this dilemma and is therefore offering all you could think of eating. Be it Italian, Mexican, BBQ or Desi; you name it and it's there!
Movenpick Hotel Karachi
How about landing somewhere first and then decide what to eat and what to leave? This Ramazan all its restaurants are having something different to offer which is definitely worth a try!
Roasters
'When it comes to food, sky is the limit!' resonates much? If yes, then you must be searching for a deal like this one where you can munch all you like in just Rs. 1095.
 Café Iftar Deal in Karachi
Café studio
There is no better feeling than 'Pay for one and get for two!' Seems like this Ramadan Café Studio is the perfect spot spend your time munching and chatting with your better halves.
Vintage Cafe
'I don't waana eat much but I wanna eat good' Sounds you? If yes then, you won't find a better alternative than this one.
Desi Restaurant Deals
Chachajee
Thali for iftaari? Well not at all a bad idea especially when you can grab a perfect home-like food at such an affordable prize.
Lava Grill
Who wants to melt in this heat cooking for iftari and then dinner?? Why not just spend 1000 bucks and enjoy iftari cum dinner under the same roof!
Mela Restaurant Karachi
If your eyes can't stop searching for 'all you can eat' offer this Ramadan then it's the right time to take sigh of relief! Have a look at the most hunted offer for the month
With all this information in hand, you just need to get into your car and land at your perfect spot to make your iftaar memorable.
Student Biryani
If you are always hungry for biryani and are looking for some traditional iftar treat then grab your Iftar box from Student Biryani right away!
For just Rs. 180, this magical box offers you 1 regular biryani, 2 khajoor, 2 pakoray, 1 samoosa, 1 jaleebi and any one seasonal fruit.
Well if drinks are what you are thinking of, don't worry because a drink / mineral water bottle is free with this deal.
I actually meant magical box!