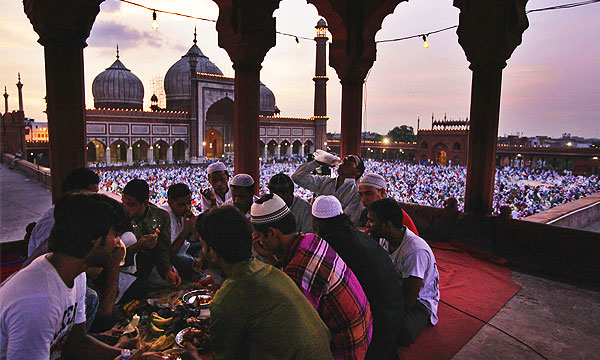 The Holy month of Ramadan begins with Muslims around the world preparing for a month of blessings by observing fast from beforeFajr (sunrise) till Maghrib (Sunset).
With passing years, as the month of Ramadan falls during the summer season, it's getting increasingly challenging for Muslims of the subcontinent and Gulf regions to observe fasts in the scorching heat.
Read more: Food Prices Skyrocket Before Ramadan Begins
Others across the world who have better weather conditions have to observe fasts for a longer number of hours, as the days of summer continue to stretch through June and July.
This year, the shortest average length of fasting around the world will be observed by the Muslims of Punta Arenas, Chile who will observe patience and self-restraint and abstain from eating and drinking anything for 9 hours and 43 minutes.
Read more: Google Celebrates Ramadan with 'My Ramadan Companion' Website
Check out the chart below: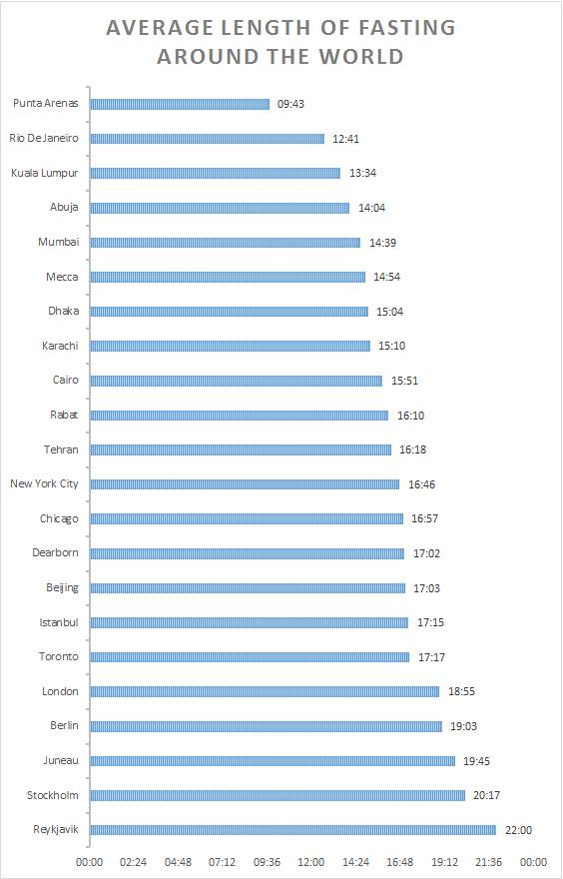 Muslims in the southern hemisphere, residing in Australia and Brazil will observe slightly longer fasts of average 11 and 12 hours, while Muslims in South Asia and Saudi Arabia will have a tougher time with the summer heat and fasts, 14 to 15 hours long on average.
However, the longest fasting hours will be experienced by people up north in England and Germany for 19 hours, Alaska and Sweden for an average 20 hours and Iceland for an extremely long period of 22 hours.
Read more: Celebs Tweet Ramadan Greetings For Muslims
Such long fasting hours make it difficult for Muslims to stay healthy during the month of Ramadan. Due to this, some Islamic scholars have declared a fatwa, which allows Muslims in such countries to follow the fast timings of Mecca rather than their own residential countries.
While some do adopt the alternative fast timings, steadfast Muslims continue to show their perseverance in the name of religion and follow the actual Shariah (Islamic) rules.
Team Brandsynario wishes Muslims all around the world a blessed Ramadan.