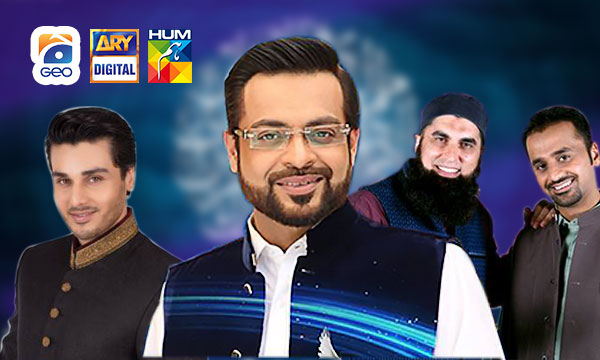 For our entertainment industry, Ramadan kick starts an aggressive tug-of-war between our television networks. Seemingly, our T.V sets have been hijacked by multiple rounds of uninterrupted transmission for the Holy Month that are aired on almost every channel.
Previously, the Ramadan broadcasts were a heady balance of simple Sehar and Iftar talk shows. But apparently, this was not enough for our channels to survive the rat race of TRPS  this time around.
Now all networks have raised their game by introducing post-Iftar transmission consisting of extravagant game shows coupled with top-notch celebrities and their shenanigans.
But who is being the best at this money-making and rating-reaping game?
Let's take you behind the closed doors of this cut-throat competition and unravel the winning channel who is leading the battle of the most popular Ramadan Transmission this year.
An overview of the overall ratings of each channel can be seen from the graph below: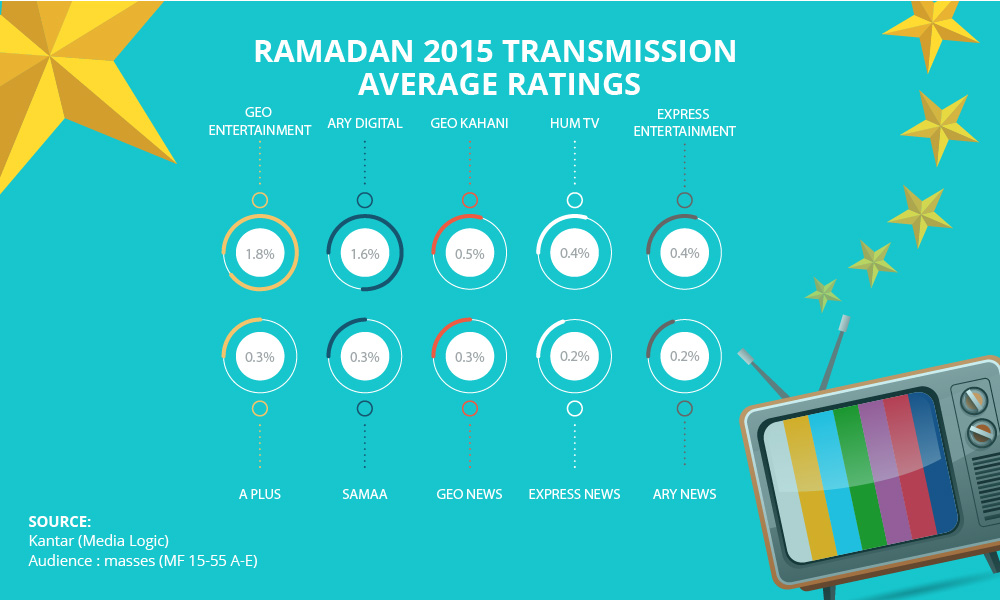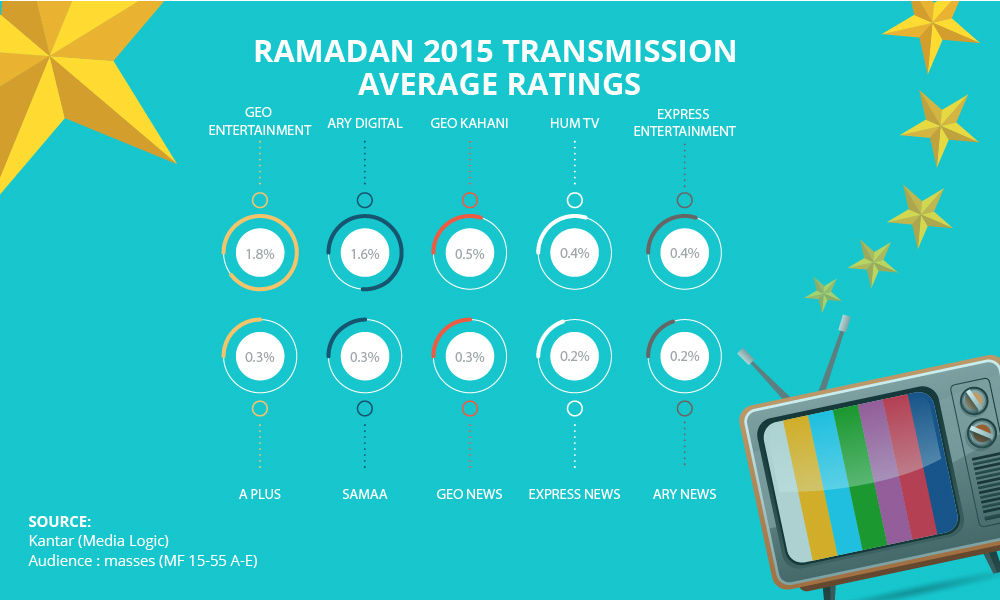 As per the media ratings of the first five days of Ramadan, it is none other than Pakistan's top televangelist Amir Liaquat on Geo Entertainment that has created an uproar by leading his round of Ramadan transmission with an average TRP of 1.8.
Read more: Aamir Liaquat Silences His Critics with Ramazan Sharif Transmission at JPMC Hospital
Following GEO, is ARY Digital with an average rating of 1.6. Surprisingly, GEO Kahani defeated HUM TV and Express Entertainment average TRP of 0.4 and seized the third spot on the list with an average television viewership of 0.5.
A breakdown of these rating reveals that GEO's Aamir Liaquat wins with a TRP of 1.1 in the Sehar round against Waseem Badami's TRP of 0.5 on ARY Digital.
Meanwhile in Iftar, ratings on GEO Entertainment sky-rocket to 1.8, double to that of ARY Digital's TRP of 0.9. However, ARY Digital takes a leap in the post Iftar round of "Jeeto Pakistan" featuring heartthrob Fahad Mustafa with a mighty TRP of 3.3.
Apparently, Liaquat with his "Inaam Ghar" could not compete against Mustafa and accounts  for a TRP of 2.5 in the post Iftar game show series.
Faisal Quraishi with his show "Jeet Ka Dum" on HUM TV reaps a rating of 0.9 while Malamaal Express hosted by Rambo and Javeria Saud on Express Entertainment records a TRP of 0.8.
Take a look at Sehar, Iftar and Post-Iftar rating breakdown here: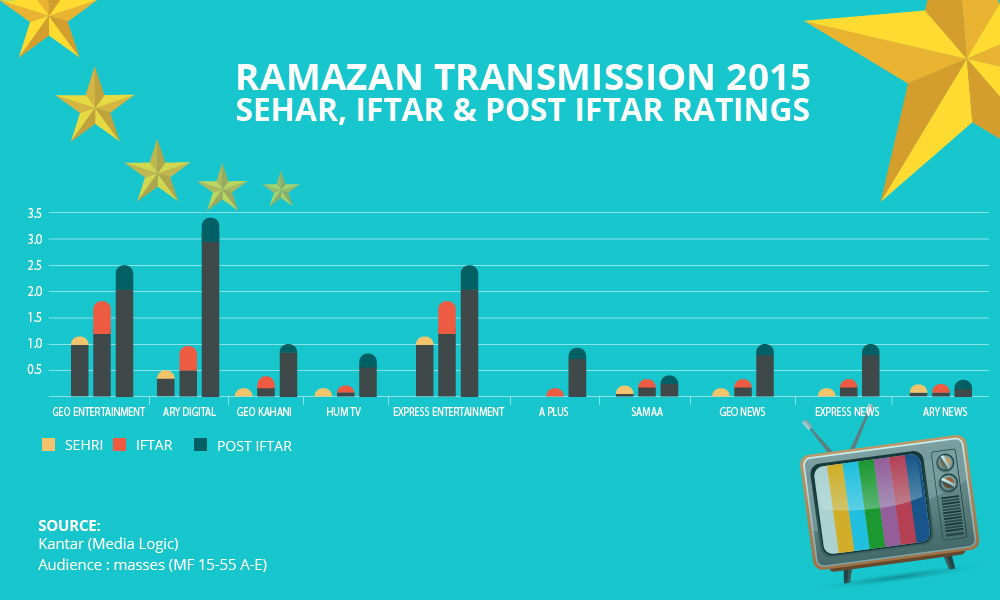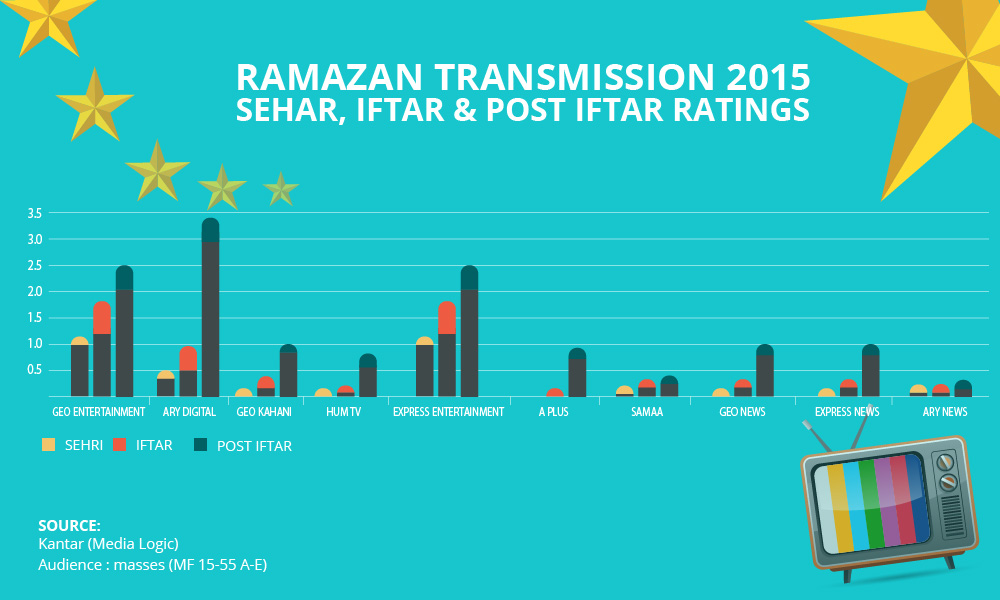 Read more: Jeet Ka Dum: Show Timings & Registration Process
Yet again, Aamir Liaquat turned out to be lucky for GEO Entertainment by bringing home the highest rate of TRP within the early days of the Holy Month.
While he may be good with passing scholarly wisdom and in-depth religious knowledge in the "Ramazan Shareef" Sehar and Iftar transmission, he certainly could not win as an entertainer in Inam Ghar from Fahad Mustafa in Jeeto Pakistan.
With more that half of the Holy Month still left, let's see if Aamir Liaquat continues to fly high or his success is dodged by an upcoming twist on the way.
Stay tuned to Brandsynario for more updates.