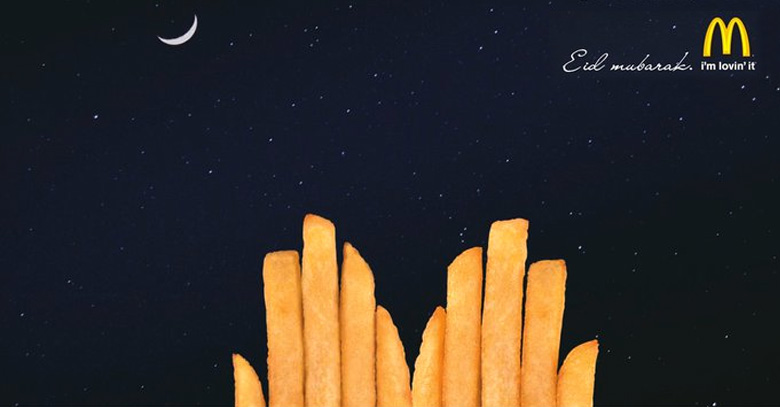 People are preparing for the upcoming holy month of Ramadan to spend quality time with their spirituality and refrain from the worldly deeds.
At the same time companies are busy spending quality time in designing ways on how to cash out on them. Brace yourself to see the top models of the industry wrapped in headscarves serving dutifully in commercials.
Such celebrity endorsements help develop a connection with the audience and brands become easy to sell, especially that of cooking oils such as Dalda.
You will never see a commercial of Dalda without the definition of Ramadan.
It's indeed true. Ramadan can be listed as the month of some great business for most of the companies especially the processed food industry. Many people do not have the patience to stand in a hot kitchen, surrounded by enticing aromas, while they are fasting.
The best branding tool that marketers use is that of defining, 'the most sacred Aftari/Sehri' can only be held while using Olpers milk. Seriously?
Mobilink has little or nothing to do with 'sehar' or 'aftar' and still we hear Atif Aslam chanting "Har Sehar Har Aftar"in their recent TVC. These are all ploys to market your brand during Ramadan.
Aftar/Sehri is supposed to be as simple as it can be but thanks to marketers, we now have branded versions available.
Another branding tool that they use is bulk deals which is justified but not noble, as they present it, because marketers reduce prices to increase sales. Simple.
Nevertheless, a price-off, on bulk shopping, allows the consumer to do grocery shopping for the whole month in one go.
My favorite Ramadan marketing ploy is the one where they make their consumer believe that their dinner table can be set lavishly if only their product is perfectly placed on the table. How even a simple Aftar can be converted into a lavish party through their product!
At times people who even can't afford basics for their families go through a rigorous and rigid process of making sure their table is set extravagantly twice a day. Wasn't this the month of refrain after all?
Coke and Pepsi are associated with Fun and Youthfulness throughout the year but in Ramadan they take a grand shift towards charity and humility.
The story doesn't end here. Even other companies of clothes, accessories, shoes, etc make huge profits in this month because of the upcoming occasion of Eid.
Clothing Brands literally bring out all their discarded material, that has no chance of selling throughout the year, and sell it in less than 30 days. Consumer spends like anything in the name of Eid but is unaware of the reality of what they are actually buying.
It's okay to lighten up the mood with some great deals for people in the month of Ramadan but companies need to follow general ethics and not fool the consumer.
Do you think Ramadan is 'Eid time' for brands or is it over-rated? Let us know through your comments