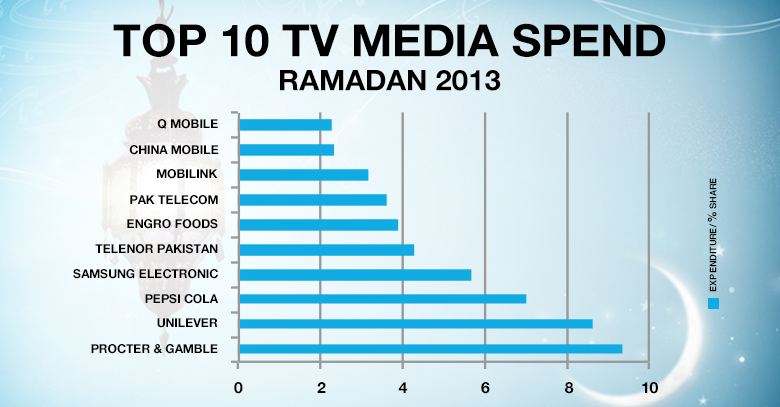 By Hassan Wasti
The month of Ramadan was packed with lavish commercials featuring extravagant iftaris and special deals that were just too good to give up. Big names like Procter & Gamble Pakistan, Unilever, Pepsi and Coca-cola top the charts for their expenditure on advertising in this holy month.
Ramadan ads followed a basic recipe: "Ramadan Kareem" headline, item shot, dusk setting, crescent moon, lamp and dates. Every ad was a slightly tweaked version of the same theme and features.
We cannot ignore the fact that be it Eid, Ramadan or any other festival, Brands do cash on them as much as possible and no matter how critically we judge them, 'a few', do come up with brilliant themes and concepts that is best suited for their products.
Brands compete to spend as much as possible on its marketing activities which eventually turns into price war between the rival brands which in turn favors media and advertisers.
1. Procter & Gamble's
This time around Procter & Gamble's topped the charts and came out victorious with the highest expenditure during the holy month. They utilized their budget to get their products maximum exposure in the best possible manner. Procter and Gambles spent a whopping 9.37% of the total market spend share and sealed the deal to be crowned as the top brand for the month.
2. Unilever
Next came in Unilever who had well-executed ads for their products especially Lipton, Knorr, Rafhan and Blue band. With the tagline 'Rafhan say Ramadan magical ho', and Blue Band with 'Blue band rozana,roz bharthay jana'. Unilever was not far behind in terms of expenditure as its spending share was 8.61% out of total spend which is a healthy figure; Unilever proved yet again that it was one of the brands to beat in the race for the top.
3. Pepsi
Pepsi continued the use of their tagline 'Dil Mange abhi' and with a media spend share of 7.01% they utilized the month to their advantage. Pepsi came out with a T.V commercial where they implied that the one thing a person craves dearly during his fast is a cold glass of Pepsi and this craving is so strong that he hallucinates about it till he breaks his fast.
Although the TVC went viral, with people discussing its pros and cons, the execution did not match Pepsi's standards. But still they were the third largest spenders in Ramadan.
4. Coca-cola
Coca-cola came out with a more conventional way of advertising and incorporated the tradition of sharing that is associated with Ramadan and topped it off with a classical song 'wohi khuda hai'.
While I remain a strong critic of lavish spending by brands in Ramadan, my area of expertise i.e. Marketing inclines me to appreciate this commercial by Coke. It actually came out with an Ad that was in line with the idea of what the holy month was really about.
Surprisingly the numbers of Coca-cola did not match Pepsi's expenditure rate with 5.69% it bagged the fourth position just behind Pepsi-Cola.
5. Samsung Electronic
Samsung electronics playing their part offered to 'Make Ramadan Cooking Easy' with their wide range of home appliances. Also with an outrageous discount on its mobile sets, Samsung was one of the hottest brands of this month. Samsung electronics had a decent spending rate with a total of 4.27% of the market spend share.
6. Telenor
Telenor introduced special Ramadan packages which included several religious features like listening to the verses of Holy Quran and Naats (Exalted Poetry). Such packages are a huge attraction for the users during the holy month.
Telenor has always been a big player when it comes to marketing its brand and this month it proved that with coming as one of the top ten brands with the market spending share of 3.89%.
7. Engro Foods
Engro Foods bagged number seven position with its lavish Ads featuring its dairy products like Olpers, Tarang, and Omore.
Olpers always has that special feel in its commercials as they try to keep the spirit of Ramadan alive and try to incorporate as much culture as possible.
Engro foods position on the chart does not justify its brand. It secured seventh position with share rate of 3.59%.
8. Pakistan Telecommunication Company (PTCL)
Pakistan Telecommunication Company wasn't far behind and kept the competition alive by offering Ptcl land line connection or Broadband connection and unlimited calls with a free subscription of Smartphone. PTCL had a modest 3.18% expenditure rate and managed to keep its brand alive in this aggressive competition.
9. Mobilink
Mobilink also made the chart by continuing its tradition of being innovative in the industry, launched 'Har dil, Har din' campaign offering exclusive Ramadan packages for its users.
Mobilink was the second last on the chart with 2.34% of the total market share.
10. China Mobile
China Mobile LTD is the last on the list with the lowest spending; however, it still found a place in the top ten brands for the month. By having just the right amount of expenditure, it was able to keep its customers happy through their attractive deals.
China Mobile made an impact with 2.25% expenditure rate as it grasped on to the last spot on the top ten list.
'Why Ramadan'?
The question that remains is why do brands spend so much on this festival? Well, the answer lies within the qualities of this month which is that in Ramadan all Muslims follow the same routine for a month; they go back to the traditional values of their culture. I would say that's what's at the heart of it.
It is a season which has a significant impact on people's behavior and daily media consumption, It is the best time [for brands] to engage with fans and followers.
Ramadan is a month of sharing and giving and the brand that adopts this concept the best for the whole month has all the odds in its favor.
Source: Media Track