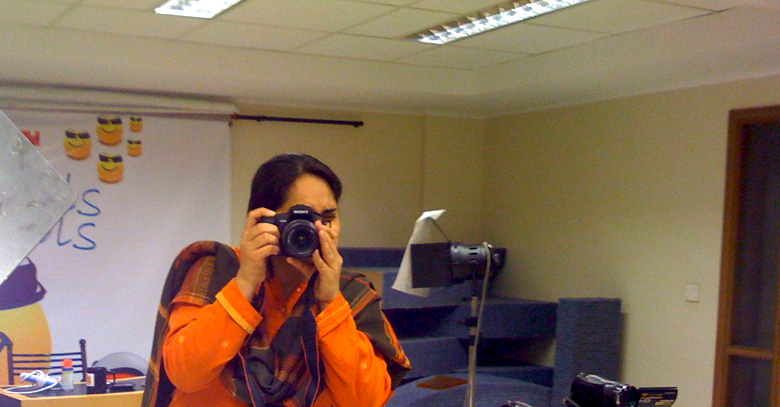 Rabia Garib, Editor-in-chief at CIO Pakistan, talks about the importance of blogging in todays environment.
Ms Garib, in 2007, she became an Eisenhower Fellow and also plays a major role at Toffeetv.com.
Synergyzer: What is the core idea pertaining to awarding bloggers?
Rabia Garib: The Blog Awards platform is present in every country today and with Pakistan's highly active social media space and blogosphere, it was a natural transition to bring this platform to the country.
As a matter of fact, CIO was the first to bring the Bloggers Meet Ups, Tweetups and other such events in 2008. Introducing Blog Awards was a move that was recommended by various leading personalities in the Pakistani media.
Synergyzer: Why, in your opinion, are blogs so pivotal?
Rabia Garib: Blogs provide a platform to people to voice out their opinion and are not regulated like other traditional media platforms.
Platforms like Facebook, which now have a billion users globally, helped socio-political transitions across the entire world in 2011.
Twitter itself with 400 million users and growing is another phenomenon that has opened up the micro-blogging space.
Blogs don't have to belong to corporate media houses or organizations; they simply enhance the ability of any individual using the internet to voice their concerns or their opinions on worldly affairs or quite simply, anything and everything in the world.
Synergyzer: Approximately, how much potential does the blogosphere have in Pakistan
Rabia: It is growing at an amazing pace and we have some very influential blogs coming into existence every year and not just blogs, but micro-blogging became a growing trend in 2010-2011.
It is quick paced and almost everyone has become a "reporter" per se with Twitter and Facebook.
Synergyzer: How do you compare this year's Pakistan Blog Awards with last year's?
Rabia: We were overwhelmed with the growth in new blogs. In May, 2010, when we launched the first blog awards, there were 270 nominations in four months.
This year we opened nominations for three weeks only and in the first ten days we had over 500 entries. And over the three week time span and even after closing, approximately 700 blogs wished to submit their candidacy.
This was almost a 70% percent growth.
In 2010's awards we had 10,000 votes in 4 months. In 2011, we had 150,000 votes in three weeks.
Synergyzer: How is this activity creating positive influence on new blogs?
Rabia: Many different people, especially the nominees, remained engaged with us for almost 40 days and, as per the overall feedback, they spruced up their blogs, started writing more posts, promoted them, got more readers and competed with other blogs which is inherently what we wanted.
The impact was widespread to the extent that individuals, who were not nominated, became more active on the blogosphere and started up more blogs.
Synergyzer: Please give details about the process employed from nomination to final decision for the awards.
Rabia: Contrary to popular opinion, the process is extremely stringent. Blogs with any untoward content were eliminated in the first stage regardless of the number of readers they had.
We had a 24/7 email helpline and the Facebook page to assist nominees throughout.
The first part of the awards was votes and views. Bloggers were asked to spruce up and promote their blogs and get as many votes in as they can. The votes carried 50% weightage.
The next part, once the votes were closed, was the adjudication process. We had about 24 judges from across various content categories review and read the nominated blogs over two weeks. Also, this time we had judges read more than one category to completely eliminate the element of bias.
As a matter of fact, a team of editors produced a comprehensive report on each of the final 350 nominated blogs for the purpose of adjudication. Right from the number of votes, comments, when they started, how many average hits they were getting or posts they were doing in a month, to their language, content, relevance and interactivity with other social media tools.
Synergyzer: What was the difference between the Award and Merit Award categories?
Rabia: With the large amount of entries we received and with the recommendation of the judges, we conducted a poll within the bloggers asking them if we should include a Runner's up category.
We had an overwhelming majority poll and with the recommendation of the bloggers themselves, we named them "Merit Awards" and ended up awarding 15 more winners.
Synergyzer: Are there any activities to encourage industry professionals to develop their own blogs?
Rabia: I believe the corporate sector has helped develop the blogosphere with the increase in activity in the last two years.
We have been involved with the PC World Social Media Summit, which will be happening again this year in summers.
Last year it conducted 40 workshops in one day with the participation of many internationally renowned bloggers. The PBA itself has 36 workshops in three cities and these activities definitely add value and encourage more people to start blogs of their own.