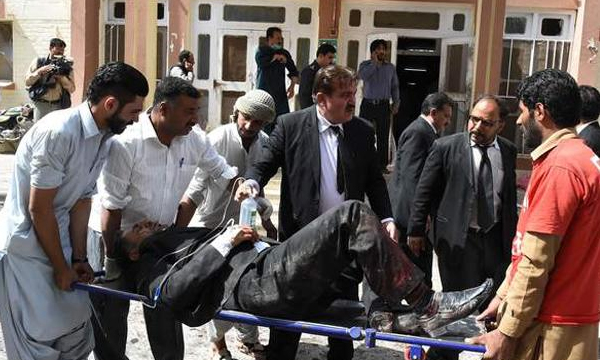 A catastrophe has struck Quetta's Civil Hospital today as a powerful blast in the building killed 53 people and left more than 56 people injured. The blast is reported to have taken place near the emergency department of the medical center.
After the loud explosion, police officials report that unidentified men opened fire in the hospital's vicinity after the eruption. Now, an emergency has been declared at all hospitals after the Quetta blast.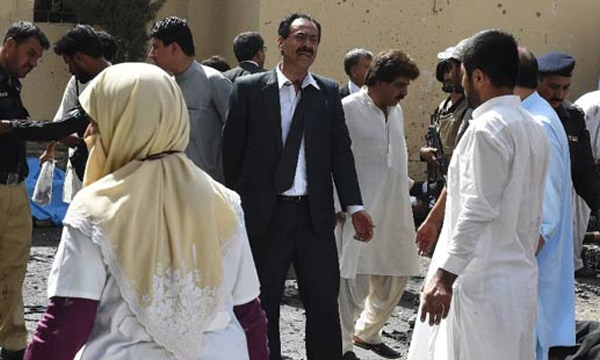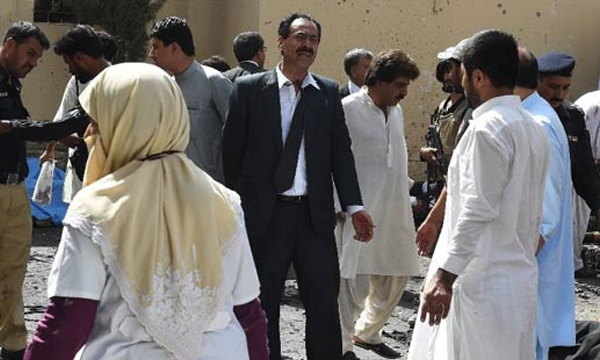 It is reported that the incident occurred when a large number of lawyers and journalists had collected at Quetta's Civil hospital after the murder of Advocate Bilal Anwar Kasi, the president of Baluchistan Bar Association. He was gunned down in an attack early morning.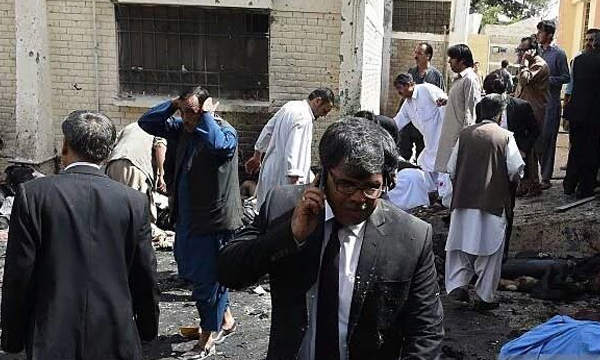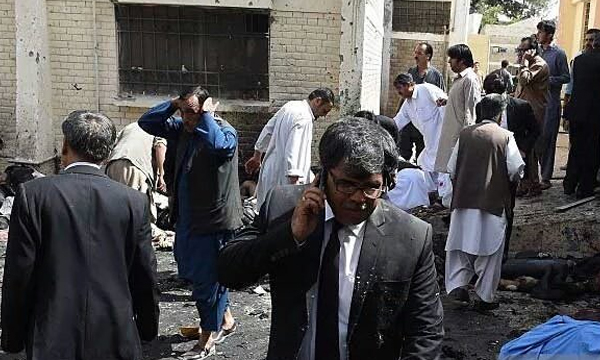 After the disastrous Quetta Civil Hospital blast today, social media is ablaze with fear and panic. People have expressed their condolences with the messages of support and prayers for the city on Twitter.
Read what they had to see here!
Heart breaking pictures from #Quetta, Pakistan is again on the verge of terror activities. Zarb e Azb? pic.twitter.com/x2edTOo3sT

— Taha. (@hiitahaa) August 8, 2016
Aaj TV cameraman recites Kalima as the bomb goes off in #Quetta. May Allah grant him Jannah. pic.twitter.com/AvD3kmLyBJ

— Farhan Mallick (@FGMallick) August 8, 2016
Very painful incidence.sad for baloochistan.#Quetta is bleeding now.93 lives gone many more injured.please rush to hospital.blood required.

— VPMishra (@16Vpm) August 8, 2016
Prayers for departed souls. What a tragic incident #Quetta

— Mughees (@MugheesDogar) August 8, 2016
This is the seriousness level of our government & the kind of security we are living with. Hence, the #Quetta blast! https://t.co/Jp3xuqBS9B

— Kiran (@KiranW_) August 8, 2016
Attacking a hospital where people are already in distress! No words can describe such barbarity. #Quetta

— JiTeN (@Jitenitis) August 8, 2016
Doomsday come to our land everyother day, #Quetta the sons of the soil killed by those who're following strategic depth since decades

— Malik Achakzai (@MalikAchkJourno) August 8, 2016
There is nothing that can be said that will help heal the pain of this day. I can not look at My bit of #Quetta in the same way again.

— nasar ullah mazher (@NasarMazher) August 8, 2016
Even during wars hospitals & ambulances aren't attacked.My fav city bleeds again.Everyday we wake up to a much more dangerous world #Quetta

— Mustafa Zahid (@Mustafology) August 8, 2016
My sympathies and condolences to all the bereaved families of advocates and other people#RIP #Quetta

— Suniya kiran (@KiranSuniya) August 8, 2016
Qalo ina lillah e w ina illeh rajoun…. how sad that we lost many great lawyers today…. #Quetta

— Muneer Lashari (@MuneerLashari6) August 8, 2016
Extremely sad and inhuman act in #Quetta . 93+ people dead in a terror attack.. we lost so many aims in so many lives.. 😢😢

— Hafsa Shahzad (@Hafsa_shazi) August 8, 2016
Death toll reaches to 93! May Allah grant them jannah! My condolences for the victimised families! #Quetta #QuettaBlast

— Usamah Akram (@Usamah_Akram) August 8, 2016
Rejoicing death of Pakistanis because they spoke against the unjust killings of Kashmiris.
How more shallow can a human being get. #Quetta

— Fatima (@fjaffer99) August 8, 2016
Someone having power, must take a reaponsible step for the security of the Nation, or else we have lost everything including freedom😟#Quetta

— Zohaib Butt (@bzohaibbutt) August 8, 2016
While Balochistan is celebrating #14Aug with an unparallel fervour, this is only an attempt to sabotage. Enemies won't succeed! #Quetta

— Sayyam Ramzan (@Sayyamramzan1) August 8, 2016
My heart goes out with the families of the martyrs and injureds, I can't stop my tears… my beloved Pak SarZameen bleeds yet again #Quetta

— Zaara Sana (@ZaaraSana) August 8, 2016
Famous Pakistani personalities too condemned the heinous attack.
[fb_embed_post href="https://www.facebook.com/hamzaaliabbasi/posts/1152989781431361?__mref=message_bubble/" width="550″/]
Just when you think there is some sense of stability or peace, disaster hits. It just won't stop. #Quetta

— Hadiqa Kiani (@Hadiqa_Kiani) August 8, 2016
Condemnable cowardly terrorists strike Quetta targeting bar president then civil hospital. Even in war hospitals not delib targeted.

— Imran Khan (@ImranKhanPTI) August 8, 2016
Terrorists continue to show nothing is sacred for them…mosques, churches, schools, hospitals and least of all human lives. #Quetta

— Asad Umar (@Asad_Umar) August 8, 2016
I am saddened and shocked on #QuettaBlast Baz Muhammad Kakar met me just few days ago in Islamabad I can't forget his smiling face

— Hamid Mir (@HamidMirPAK) August 8, 2016
Sick and merciless to bomb a hospital, all thoughts with Quetta today

— fatima bhutto (@fbhutto) August 8, 2016
#Quetta you beautiful city with a sad soul- we let you down continuously- may we one day make it up to you- u have borne the brunt of it all

— Sharmeen Obaid (@sharmeenochinoy) August 8, 2016
Stay tuned to Brandsynario for more updates!