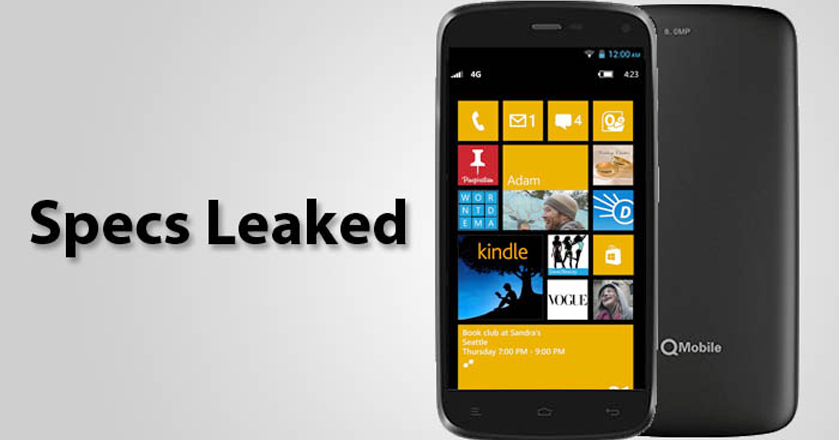 QMobile has just launched its first Windows-enabled smartphone dubbed the W1. Available in the market as of yesterday, it's quite a surprising move on the part of Pakistan's biggest smartphone manufacturer.
The W1 comes equipped with Windows 8.1 OS for its users. The phone has been powered by a 1.2 Ghz Quadcore Snapdragon 200 which is widely regarded as a powerful low-end processor in the market. It comes equipped with a dual SIM feature.
A 512 MB RAM has been housed in the phone which seems a little sluggish and insufficient considering the apps which require a lot of processing power along with sufficient RAM. These may include Facebook, Instagram, Whatsapp, Twitter and other social media and gaming apps. W1 seems to balance this with its power and stability through its commendable processor.
The phone display is a 4 inch screen with a resolution of 400 X 800 pixels commanding a 233ppi pixel density.
The internal storage for this phone is 4 GB. The memory is expandable up to 32GB by an external storage card. A1950 mAh battery is equipped with the phone. The battery timing of the W1, as claimed by QMobile, is nearly a whole day with regular use.
The camera housed in the W1 is a 5 MP shooter with a resolution of 2592 x 1994 pixels. It has an LED flash along with an auto-focus BSI (Back-Side illumination) for performing under low-light conditions. The front camera is a VGA however.
While it's amusing to see QMobile enter the Windows arena we can't help but wonder if it's a move worth making. The overall market share of the Windows OS as 2014 stats reveal is lower than even 10% all over the world. Windows OS is not a preferred choice for a majority in Pakistan too making it a weakness. However, it can give it an edge too because of just two players in the windows market in Pakistan and QMobile's being the less pricey ones. Let's wait and find out!
The base price for this phone is 7,900 PKR.