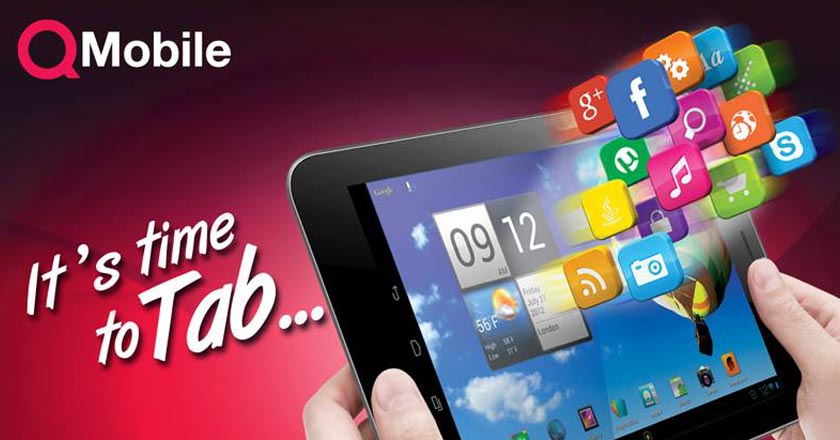 QMobile officially announced its first Tablet just now. "QTab X50", as the company is calling it, is an 8 -inched tablet with 16GB expandable storage, 1 GB Ram and Android 4,2 support – at a price of PKR 24,500.
Angelina Jolie in QMobile can wait – because the Pakistani giant now seems to go head-to-head with Samsung, Google and Apple.
The tablet is equipped with a Quad-Core MediaTek processor, with a sharp 1024 x 768 resolution on its big 8 inches display screen. As tech junkies might have guessed, the specifications of the device succeed the device's display.
Going further down under the hood, the 1.2 GHz Quad Core processor is backed up with a 5 MP Rear Camera, coupled with the standard 2 MP front-facing camera, along with the standard Bluetooth and Wi-Fi support.
The tablet does come with a specific SIM card slot but its capability, to send messages or make phone calls, is still uncertain.
Here is the full specifications of QMobile's first Tab 'X50'. (Courtesy: ProPakistani.pk)
Customized Android 4.2 Jelly Bean
8 inch display with resolution of 1024 x 768 pixels
9.9mm thick
GSM support
1.2Ghz quad-core MediaTek processor
1 GB RAM with 16 GB expandable storage
5 megapixel rear-camera
2 megapixel front-camera
Wi-Fi, microUSB 2.0, Bluetooth
4500 mAh battery
Price: PKR 24,500
QMobile's Tab will face a direct competition with Samsung's Galaxy Tab 3 and Google Nexus 7, along with the inevitable but sporadic evaluations with iPad mini or Air. But with their strategy on a roll, QMobile must have put their strongest foot forward with X50.