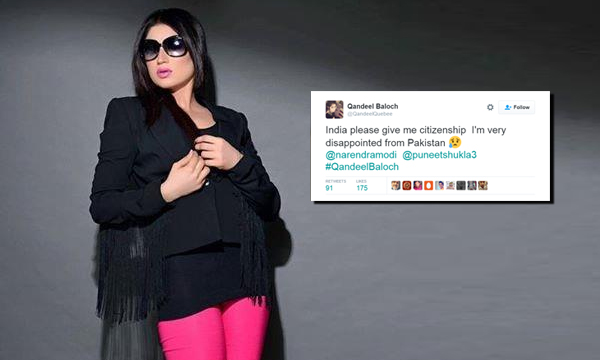 Internet star Qandeel Baloch has pleaded for Indian citizenship. In her latest tweet, the model has said she is 'very disappointed from Pakistan'. Baloch has hashtagged Indian Prime Minister Narendra Modi and a journalist Puneet Shukla in her tweet.
India please give me citizenship I'm very disappointed from Pakistan 😥 @narendramodi @puneetshukla3 #QandeelBaloch

— Qandeel Baloch (@QandeelQuebee) March 26, 2016
Why the internet diva is upset from Pakistan is probably because of the criticism she received on vowing to strip dance at the victory of Pakistani team and releasing a teaser during the India-Pakistan clash.
The star faced severe backlash on social media. Baloch has been caught in controversies several times in the past for her bold videos and statements.
The actor is getting popularity across the border, compelling Indian media and celebrities to talk about her. She is referred to as 'Pakistan's Poonam Pandey' in India. The actor has recently been supported by singer Sonu Nigam.
https://twitter.com/sonunigam/status/710298201794818048
There's no one denying Qandeel Baloch surely knows how to stay in news and this tweet of hers is just another step to fame.