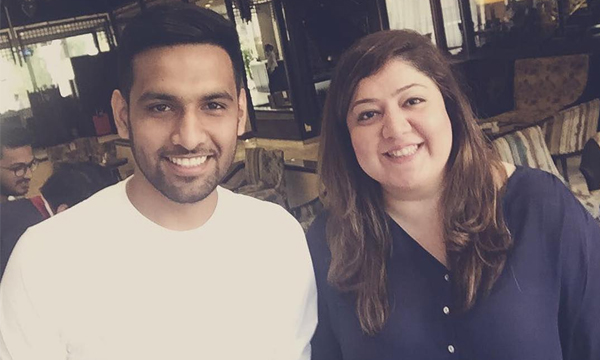 As the 28th of October nears, preparations for the annual Q Mobile Hum Style Awards 2016 are in full swing. There is a talented line-up of celebrities that are nominated and only a handful will take the prize home. Since the show is less than a week away, most of the performers and speakers are in the midst of rehearsals to put on a show for everyone.
Everyone's all hyped up about seeing their favorite celebrities onstage. Judging by the pictures and videos, we won't be let down by any of the acts that are coming soon.
This includes model, Saba Qamar, who seems to be hard at work with the help of the choreographer, Wahab Shah. She arrived in Karachi just a week ago in order to rehearse and get equipped for the show.
Her partner in this act seems to be the costar of their show, 'Besharam', Zahid Ahmed. Here he is caught in the middle of what seems to be a serious dance sequence.
https://www.instagram.com/p/BLpJ9EvjyxB/?tagged=qhsa16
Young comedian, Zaid Ali has landed specifically to Pakistan for a special stint at the ceremony.
https://www.instagram.com/p/BL6woGOjQ6d/?tagged=qhsa16
Even Meesha Shafi and Umair Jaswal have a "zaalima" performance in order fo the night!
https://www.instagram.com/p/BLWMO_wjXTe/
Sohai Ali Abro is also going to be joining the stage to perform as well. This starlet is making another comeback after her jaw-dropping performance at the Lux Style Awards earlier this year.
Ayesha Omar was spotted as well looking absolutely engrossed in the script. She has yet to reveal her position for the show, but we have an inkling she might be hosting.
Rising star Sonya Hassan will also be showing her  moves at the award show!
Something big is coming up, courtesy Anoushey Ashraf and HSY!
These are all the celebs that are buzzing around when it comes to news of the Hum Style Awards. However, the show would not be complete without the nominees and future winners.
The stars took to Instagram to promote their nominations and alert the people to vote for them in these upcoming awards.
Make sure to vote for your favorite nominees and comment down below who you think will take the prizes home!
Stay tuned to Brandsynario for more updates!