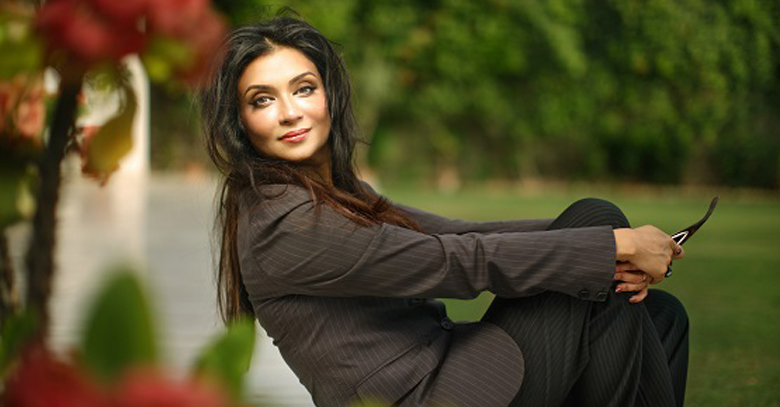 Shamaeel Ansari, famous Pakistani fashion stylist and designer, sheds light on the ever-booming fashion industry of Pakistan and more specifically on the role of Fashion Pakistan Council (FPC).
Shamaeel Ansari has to her glory 24 years of successful work in the fashion industry.  Her classic label is available at popular boutiques in India, Dubai and throughout Pakistan.
Synergyzer: Tell us about the Fashion Pakistan Council. 
Shamaeel Ansari: Fashion councils around the world are created to provide service to the fashion industry and to promote designers who are council members.
Countries like UK, France and India adopted this concept early on, in Pakistan it is relatively new, since our industry developed much later due to the lack of organization present in the textile sector.
Currently, there are two registered councils in Pakistan, the Fashion Pakistan Council (FPC), which operates from Karachi and for which I am the Chairperson and Maheen Khan is the CEO, and Pakistan Fashion & Design Council (PFDC), which exists in Lahore and is headed by Awais Mazhar Hussain and Sehyr Saigol.
Like any other fashion council, these are run by seasoned professionals having more than 15 years of experience in the fashion and textile industry and provide members a platform to find opportunities domestically and abroad and to collaborate with the textile sector.
Additionally, as a council we provide our members the opportunity to gain international exposure and pass on that experience to our young designers. We also look for opportunities to collaborate with the textile industry. The Board of the council performs entirely voluntarily.
What is important here is that the purpose of a council like FPC is to promote the business of fashion, so that it gets developed as a profitable and thriving industry.
Synergyzer: Do designer collections get critically acclaimed in Pakistan?
Shamaeel: Maybe not on a major scale, but critical acclaim is definitely there. Xposé and Visage evaluate designer collections for every fashion week that happens in Pakistan.
These magazines, as well as Diva and a number of newspapers with fashion segments write about the ongoing season's trends and colors, prints, newest fads as well as including reviews on the latest designer collections.
Synergyzer: There was a gap of almost two years between Fashion Pakistan Week 2 and 3, leading people to think that the council had become non-operational. What steps did you take to put to rest the rumors that almost wrote FPC off as a fashion council?
Shamaeel:  I admit that after FPW 2, we did run into certain issues. When I took over as the Chairperson, we registered the council as a Section 42 company that involved a lot of paperwork and putting systems into place, which delayed things too.
To put all such speculations behind us, I have talked to the press at length by giving interviews to different journalists, especially from the fashion and lifestyle genre publications, like Images, Tribune etc.
Besides these, what should clear everything is that we have held one fashion week this year and are about to hold another one, the FPW 4.
Synergyzer: What will be the focus of FPW 4? 
Shamaeel:  Our focus is going to be on inviting people interested in buying, stocking and selling designer brands, as opposed to making our show entertainment-driven.
We will invite Pakistani, as well as regional clients and retailers from Dubai, India, Singapore etc. – countries that have a market for South Asian fashion. Similarly, the media and sponsors are also going to be those who cater to the Asian market and can provide us with effective coverage.
I believe it is not cost effective for our councils to spend on people from Australia, UK or USA for such events, since their demand is Western fashion, and our designers currently do not have the capacity to product in bulk for them.
Synergyzer: Can China be considered a market for Pakistani fashion?
Shamaeel: China can only be a market for Pakistani fashion if one of our brands starts to promote Western clothes produced in Pakistan or some other form of clothing that becomes popular over there.
However, there is huge potential for industrial collaborations and they are already being carried out.
Synergyzer: How can designers become a part of FPC? 
Shamaeel: There are different categories for which designers can apply for memberships with FPC.
Those who have exhibited once can apply for the Student category, those with eight years of experience or five years of experience plus a degree in fashion can join the Associate category and those having ten years of experience with fashion shoots and ramp experiences can be a part of the Executive category.
All applications received are reviewed in terms of the designer's sense of design, sellability and wearability, appropriate production scale, and the necessary legal documentation.
Designers who do not have catwalks to their credit, but are selling well are also encouraged to apply.
Synergyzer: What do you think is important to build fashion brands and make them stand out from the clutter?
Shamaeel: It is the twist; to have a certain style and essence that makes a brand stand out on the ramp. Also, there needs to be a little bit of drama, with a delicate balance of availability, so it doesn't look like an installation.
A designer should be able to personify their brand and make it unique and sellable by constantly innovating, so that customers can feel exclusive when they wear a particular brand.
For me, a designer provides a point of difference by setting trends and demonstrating to people what's in fashion and what will look good on them.
Synergyzer: Do you provide any training to your members in brand building?
Shamaeel Ansari: Yes, we do have senior designers who help young designers grow by imparting trainings and consultations on maintaining books of accounts, approaching and putting themselves forward in the media, giving them legal guidance, as well as helping them develop and market their brands.
Synergyzer: Are you also working on exchange programs with other countries to enhance the fashion segment in Pakistan?
Shamaeel: Yes, we have contracts with several design councils internationally, like Miami Fashion Week, Malaysian Fashion Week and Dubai Fashion Week, where our designers have displayed and gotten international exposure.
Also, we have a contract with the Indian Fashion Council, but we still have to work out diplomatic issues before we can display there.
FPC also partnered with the London Fashion Week, with the help of the British High Commission and British Council, who are very supportive of Pakistani talent, and displayed in the Pakistan Fashion Week London.
Synergyzer: What kind of media partnerships and promotional tools do you employ to generate impact of your activities and events? 
Shamaeel: We have a media partnership with Hum TV and Style360, which broadcasts our fashion shows nationally, and our PR agency manages the rest of the media coverage and helps create brand awareness, locally and internationally.
We have been covered and talked about in newspapers and magazines like The Guardian, The Independent, The Times, Vogue and Elle Magazine.
The fashion week is in itself a huge machinery, which creates hype and naturally generates word of mouth.
Synergyzer: How do you think the FPC platform can be expanded?
Shamaeel: I believe the platform will expand if we continue to impart trainings and support to the younger generation of our designers and continue collaborating with international fashion outfits for projection.
Apart from above, creating liaisons between designers and our textile industry as well as fashion and design schools is an essential role of the FPC.
All this creates a movement in itself. Also, I strongly feel it is important to document the fashion industry in terms of its figurative value, the business its generating and other details involved.
Synergyzer: Apart from fashion shows and exhibitions, what other marketing tactics does a fashion brand need to employ? 
Shamaeel: Your brand needs to be present on retail shelves and in the media through fashion shoots etc. in order to reach the wider audience. To establish your brand, you cannot limit yourself to the high-end market, only.
However, fashion shows and collection exhibitions are important machineries that establish you a designer.
They allow you to be in the media, being talked about and bringing acclaim to your work, which are significant PR exercises that provide you an edge in the fashion industry.