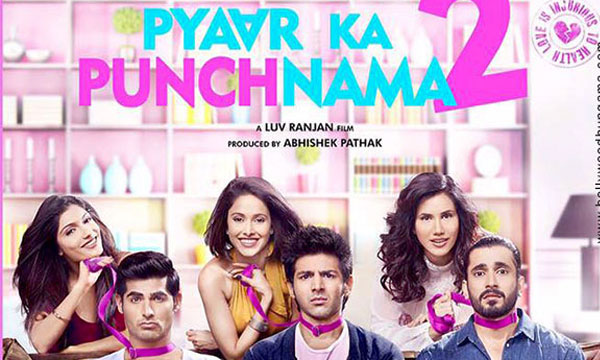 An out-and-out dude flick, Pyaar Ka Punchnama 2 has opened to mixed reviews today.
While the movie is coined as the sequel of the 2011's sleeper hit, Pyaar Ka Punchnama, the story itself doesn't actually follows up the life of previous characters; but instead introduces them as three new 'bechara' guys stuck with scheming, manipulative women in their lives.
Read more: Singh is Bling Movie Review: Akshay Kumar's Comedy Falls Flat on Screen
Directed by Luv Ranjan, Pyaar Ka Punchnama 2 brings back Kartik Aaryan as Gogo, Nushrat Bharucha as Chiku, Sonalli Sehgall as Supriya, Ishita Raj as Kusum and introduces Sunny Singh as Chauka/Sid and Omkar Kapoor as Thakur.
Read Review: Jazbaa Movie is An Edge Of The Seat Thriller
The story remains clichéd and misogynistic – just more exaggerated and a tad less hilarious than its prequel.
The men are stereotyped as always-trod-upon poor guys and women are branded as primped up, shopaholics who have nothing better to do than use the men in their lives for money and as drivers to malls and salons.
Read more: Jawani Phir Nahi Ani Review: Critics Sing Praises on Twitter
The highlight of the movie is yet again a ranting monologue against women by Kartik Aaryan and is definitely more epic this time around.
[dailymotion id="x37e43f"]
Although the story is predictable and some jokes offensive to women, Pyaar Ka Punchnama 2 still manages to deliver hilarious performances by all actors and some bang on parodies.
It lacks originality but is still a good one time watch. Men are going to love it of course; women might feel a little miffed at their incorrect hackneyed image.
Check out what others have to say about Pyaar Ka Punchnama 2:
#PyaarKaPunchnama2 takes a superb start. Small film which opens BIG!

— Komal Nahta (@KomalNahta) October 16, 2015
#PyaarKaPunchnama2 Most epic movie of the year. Better than the first part. Full Paisa Wasool. Must watch…

— Priyasha Rathore (@PriyashaRathore) October 16, 2015
Luv Ranjan's #PyaarKaPunchnama was a trendsetting film.#PyaarKaPunchnama2 is jus a rehash of d 1st 1.Whats the point in copying ur own film?

— Faridoon Shahryar (@iFaridoon) October 16, 2015
#PyaarKaPunchnama2 quite a movie to watch. It's hilarious in parts but be sure its funny all the time. #recommended

— Saurabh Jain (@gangwalsaurabh) October 16, 2015
watchd punchnama…epic it is epic…not to miss at ol… #PyaarKaPunchnama2

— ROHAN MEHROTRA (@mehrotrarohan) October 16, 2015
#PyaarKaPunchnama2 is outright hilarious!😂 Thumbs-up to the complete cast @PKP2Official 👍

— Alita D'souza (@Alita_ds) October 16, 2015
I think I'm in love with @omkarkapoor! #PyaarKaPunchnama2 is hilarious & @theaaryankartik is epic! Period. @PKP2Official

— Richaa Vaidya (@Quirky_Chori) October 16, 2015
The film works only because of the witty lines. They make the film what it is #PyaarKaPunchnama2

— IBNLive Movies (@IBNLiveMovies) October 16, 2015
#PyaarKaPunchnama2 is just like the original film. Full of cliches but hilarious nevertheless.

— IBNLive Movies (@IBNLiveMovies) October 16, 2015
If you haven't seen the first part you'll find #PyaarKaPunchnama2 a decent entertainer. Don't expect much and you may come out with a smile.

— Faridoon Shahryar (@iFaridoon) October 16, 2015