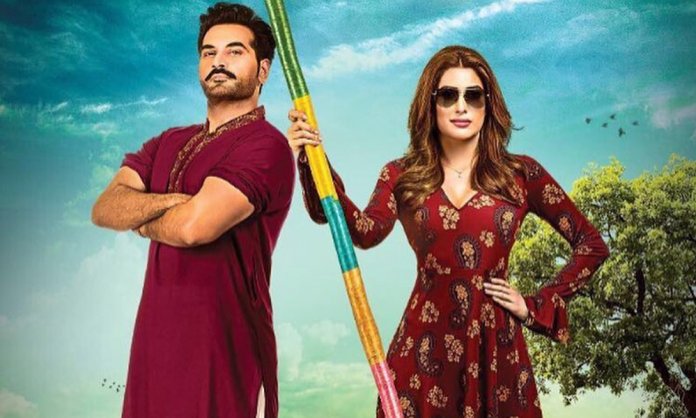 Since forever, Bollywood movies are being avidly watched in Pakistan. There is a huge fanbase in the nation that belongs to the Khans and the Kapoors. But the revival of the cinema industry has given a tough competition to the business of Indian films.
The high-on-desi-masala flick 'Punjab Nahi Jaungi' is making a huge noise, all thanks to its star-studded cast of Mehwish Hayat, Urwa Hocane, Humayun Saeed and Ahmed Ali Butt.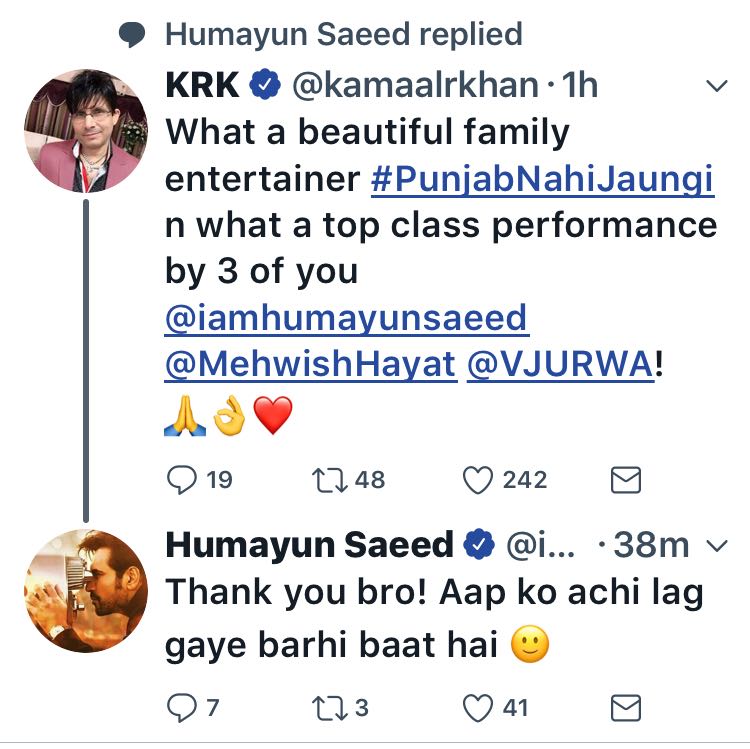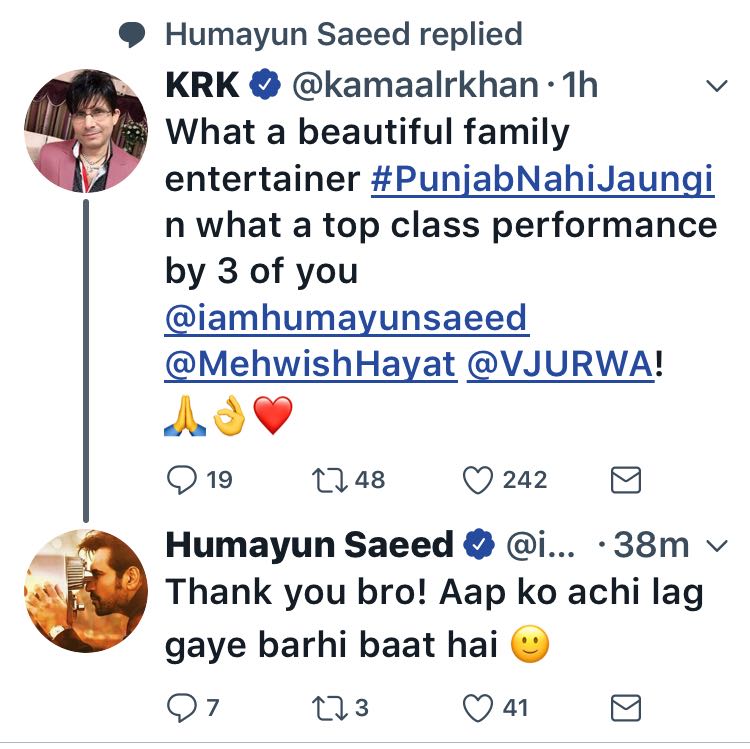 What is more, all the power-packed promotions all over the world are adding the right punch to the hype. The film has met everyone's expectations and the critics are just loving it!
Just recently, the popular Indian critic showed interest in Punjab Nahi Jaungi. Apparently, he fell in love with the trailer, the moment he saw it and has decided to watch the movie!
He applauded Humayun Saeed's acting as a 'Faisalabad Launda'
Interval n what a beautiful love story #PunjabNahiJaungi! Bro @iamhumayunsaeed you have done a terrific acting to play Faisalabad's Launda!

— KRK (@kamaalrkhan) September 1, 2017
He tweeted about the movie earlier as well  after watching the trailer
I have decided to review 2nd Pak film #PunjabNahiJaungi on this Eid coz trailer is very interesting n @iamhumayunsaeed is looking superb!

— KRK (@kamaalrkhan) August 24, 2017
It comes as a surprise to hear KRK praising a Pakistani film since he is not the type that praises any film so easily. However, it looks like he is not the only one who is singing praises about PNJ!
However, the praise of a Lollywood movie was just not digestible by some Indians! 
While on one hand, KRK praised Humayun Saeed and the 2 beautiful ladies by his side, some Indians could not believe their eyes.
Sale tujhko Indian movie bekar lagti h aur Pakistani movie achi lagti h..
Sale deshdrohi suar ki aulad kab marega tu…!!
Gadha

— Virat Kohli (@viratkohli1235) September 1, 2017
itnw bure din aa gaye

— Ankitesh Gupta (@AnkiteshG) September 1, 2017
barely ki barfi,babusaheb bandukbaz,hindi medium etc sab bekar aur ye pak wali achhi..es bimari ka naam..MAHESH BHATT GUPT ROG..hai 😂

— Roy K Amit (@kroyamit) September 1, 2017
teri bradari ke hai, tu toh tareef hi karega

— SECRET SUPERSTAR (@SECRETSUPERSTA5) September 1, 2017
Eidi mil gayi shayad.

— suffi (@shopie_suffiyan) September 1, 2017
Gairon Pe Karam, Apno Pe Sitam!! Janab KRK Ye Zulm Na Kar.

— Khushboo Vaid (@khushboo_vaid) September 1, 2017
Not interested in #pnj.Neither release in 🇮🇳 nor we need 😝😝

— New Aamirian (@DanishA25310538) September 1, 2017
Punjab nahi jaungi wtf! Ye kesa name he asa lagta he choti bachi bol rahi ho me school nahi jaungi lol😂😂..krk allah miya bula rahe tuje ja😁

— Akshay Patel (@akki_love_you5) September 1, 2017
bas

— akash chapke (@akashchapke908) September 1, 2017
YouTube pe gaaliya bhul gaya. Tu na de Koi review saa**e.

— Roma pok (@roma_pokfuck) September 1, 2017
itnw bure din aa gaye

— Ankitesh Gupta (@AnkiteshG) September 1, 2017
It's really sad to see how art suffers at the end of the day. The industry is not a playground to fight because there is a political crisis happening between the two countries. Art should be left out of the war zone and talent should be appreciated where it deserves to be! Let's let the box office numbers decide if the movie is worth the while shall we!
Stay tuned to Brandsynario for latest news and updates.