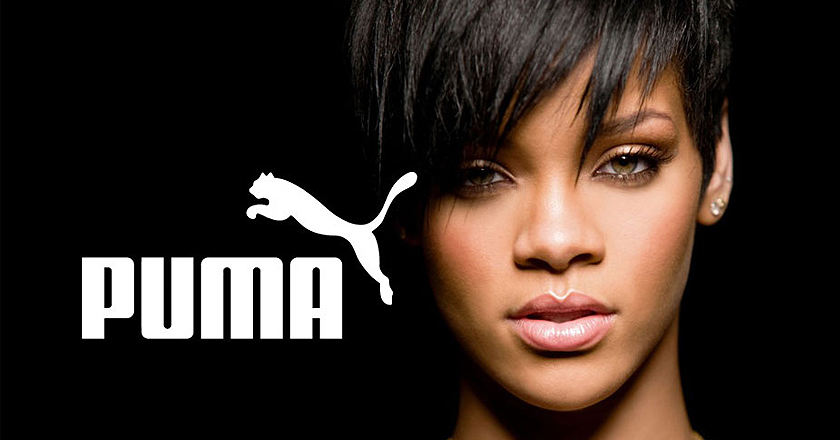 Puma, the German sportswear and lifestyle brand surprised everyone by announcing the pop star, Rihanna, as not only its global brand ambassador but as the Creative Director for the brand too.
Puma, in tough competition from arch rivals Nike and Adidas, hopes to widen its audience and market appeal through the new campaign "Forever Faster" featuring Rihanna, Sergio Aguero and Usain Bolt. The campaign will run through social media networks and fan events.
As a creative director, Rihanna will be adding her personal touch to the women's leisurewear and sportswear to inspire confidence and add strength to the Puma collection for women during training sessions. Rihanna will also serve as the face of PUMA Women's Training category. Explaining their choice of ambassador, Adam Petrick, Puma Global Brand and Marketing Director, said, "We were looking for someone who draws women the world over and that is hard to find in sports. Women's basketball is big in one country but not another, for example. But in terms of body confidence, bravery and determination — all qualities associated with Puma — it was clear Rihanna met the criteria. She's a game-changer."
The chief executive officer, Bjørn Gulden, is equally delighted to have Rihanna on board, "Signing Rihanna is a fantastic step for Puma. Her global profile, her charisma and individuality, her ambition – all these things make her a perfect ambassador for our brand."
While Rihanna's designing stint for the brand, River Island, last year met with mixed reviews, Puma is still expecting huge returns by targeting the mass market with the concept of "athleisure" through Rihanna.