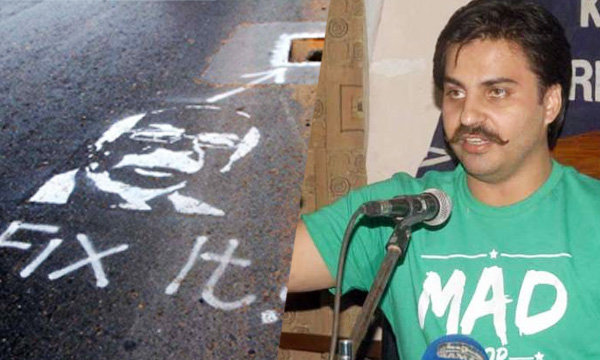 Every common man's hero, Alamgir Khan has been in the limelight for quite some time now, owed to his "Fixit" Campaign. His aim was to draw attention to the indifference of the senior government officials towards their basic responsibilities. The civil activist and social media campaigner has now launched the #Fixit App; an app for the common people who need to voluntarily facilitate him in his campaign.
The civil rights activist became the talk of the town after his campaign went viral on the social when he drew the face of CM Sindh, Syed Qaim Ali Shah near the manholes, pointing an arrow towards the open gutters saying "fixit". He then posted the pictures on social media to draw people's attention towards the issue.
[fb_embed_post href="https://www.facebook.com/AKMehsud/posts/1028956507161353/" width="550″/]
Not quite long ago, a case was also registered against Alamgir where he was accused of hitting a person with his car. In spite of the provincial government's propaganda against the guy, he has been hard at work with this campaign. His work forced the CM to order the administration to cover up all the open manholes within 48 hours all over Karachi.
PTI Official Highlights Everyday Problems Faced By Karachiites
Alamgir took the matters into his own hands; he asked for help from common people through social media and covered 42 manholes himself in 6 hours. He claimed that the campaign cost Rs.13000 only and hence started the #Fixit #Karachi campaign.
#Fixit Campaign Goes Mobile
The next phase of the Fixit campaign is the release of the Fixit mobile app. The app has expanded the campaign further and now the people and activists can themselves share the problems on social networks. The campaigners are not restricted to just the manholes now but any social issue going unnoticed can be shared via this app such as the issue of homeless children, garbage disposal, etc.
[fb_embed_post href="https://www.facebook.com/AKMehsud/photos/a.205489509508061.52692.204305176293161/1028793713844299/?type=3/" width="550″/]
The app was voluntarily designed by Syed Sarim and his team. The app is simple to function; the user has to open the app, mark the location they are at on the map and take a picture of the social problem they encountered. They can then share the complaint through Facebook or Twitter with the common man. The app (currently rated at 4.9 stars) is to be downloaded from Google Play Store. There is currently no iOS version of the Fixit App.
With the app, the campaigners hope to gain support from more people. The usual protests consist of road blocks and burning of tyres. It is hoped that the #FixIt campaign will generate more results and will actually be problem-solving.
PTI Official 'Alamgir Khan' Fixes Manholes in Karachi After Sindh Govt Fails
You can follow Alamgir Khan's Facebook activities here. Stay tuned to Brandsynario for more updates.