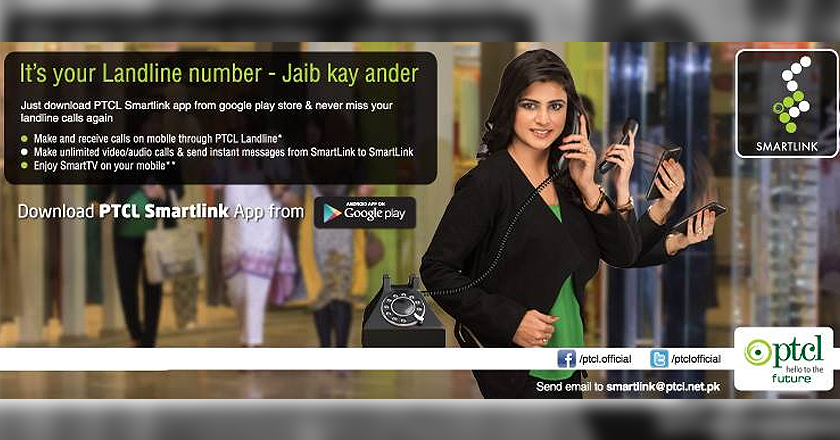 By Faizan Ahmed
PTCL officially debuted its 'SmartLink' app yesterday commercially for smartphones. SmartLink will link the user's landline number to their smartphones through the internet. 
Using your 3G or Wifi connection this app will turn your landline number into a virtual one which can be accessed and used through your smartphones. That means we can utilize our landlines on the go anywhere.
SmartLink has many features that include no charges of any kind and only registration is required. Multiple devices can be used to run the app using the same account.
Voice and video calls can be made to other SmartLink app activated users. Instant messaging, mobile directory along with PIA flight inquiry is also included in the app. Calls to mobiles and landlines through the app will be charged the same as your landline tariff.
Another feature (but one that requires subscription) is the SmartTV feature. This feature gives you access to 150 channels on your smartphone.
The GM for business applications PTCL, Nabeel Amjad said: "PTCL SmartLink is first of its kind application in Pakistan that seamlessly integrates landline voice telephony experience to mobile phones."
"The application is a complete communications solution designed to provide voice and video connectivity, instant messaging as well as access to PTCL entertainment services all-in-one."
This app is currently available in 41 cities across Pakistan downloadable from Google Playstore. The Apple iOS version will soon arrive.