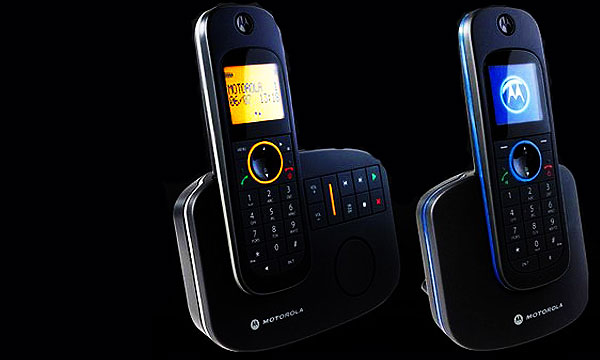 Pakistan Telecommunications Authority has termed the use of Digital Enhanced Cordless Telecommunications (DECT) 6.0 cordless phones illegal yesterday, on 28th July 2015.
In order to further discourage the use of these cordless phones across the country, PTA has joined forces with the law enforcement authorities to eliminate the use of these phones altogether.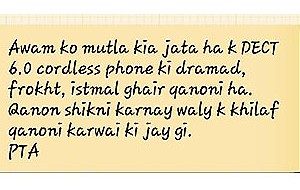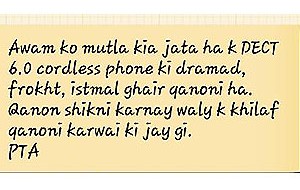 Read more: PTA Bans Blackberry Enterprise Services (BES) in Pakistan
DECT 6.0 cordless phones are wireless telephone devices, which are not only easy to use, with excellent voice quality but have quite a wide coverage area at the affordable cost of fixed line calls. Consumers, using them at homes and businesses both, find these quite convenient since they are portable, allowing them mobility, without the extra charges of a cellular phone call.
PTA is banning these particular DECT 6.0 cordless phones because their operative signal interferes with the signal of mobile phone operators. This, in turn, jams the signal and causes poor cellular service.
Read more: PTA Launches Smart Pakistan to Promote Mobile Applications
Since mobile phone companies are paying PTA to provide service to consumers, the authority's main priority is to protect their service quality by limiting the use of their authorized spectrum.
Having marked using these cordless phones as illegal, the authorities in Karachi, Lahore, Quetta, Islamabad, Peshawar and Muzaffarabad have held meetings with FIA, police officials, Chambers of Commerce, importers, trade unions and vendors in order to put a complete stop to the import, illegal selling and use of these cordless phones.
Read more: PTA Notices Telecoms Misreporting Number of Subscribers
In spite of all adopted measures, if anyone continues to import, sell or use these equipments, legal action will be taken by authorities including FIA, as warned by PTA.
It is noteworthy to mention here that all these actions taken by PTA are based on a very old Telegraph Act. This raises the question of whether PTA can actually use this law or its own PTA Act to deny consumers this easy-to-use, affordable communication service.
Worse, does PTA even have the technical expertise needed to counteract more futuristic technologies that might hinder the current, prevalent cellular services?