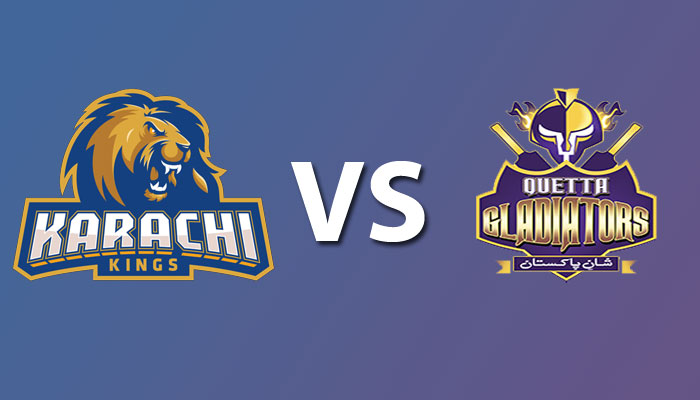 UPDATE: Quetta Gladiators have maintained their winning performance and beat Karachi Kings by 8 wickets in the end quite easily chasing down 148.
Man of the match Ahmad Shahzad and Luke Wright's 92 runs opening stand led foundation of Gladiators' victory. Shahzad scored 71(46) and Wright 47 (39). Kevin Pietersen remained not out with handy 29 runs.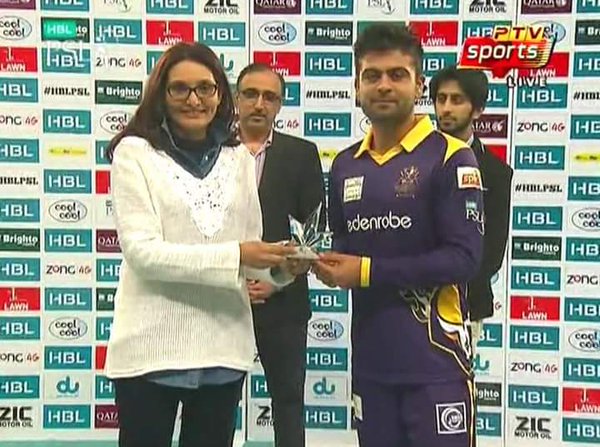 Karachi Kings put up a fighting total of 147 on the board but was not proved enough. Ravi Bobara's 40 and Shoaib Malik's 37 helped Kings to reach this total.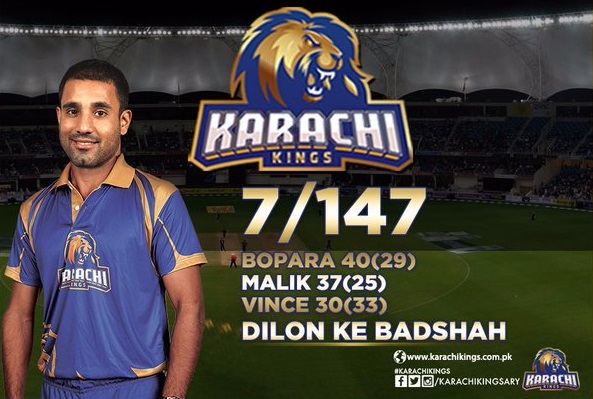 In the fourth match of PSL T20 2016, Karachi Kings will be up against Quetta Gladiators today in Dubai International Cricket Stadium.
Having won their opening matches in a convincing fashion, it will be a real test of consistency in performance for both teams. As per expectations and expert opinions, it will be a close contest unlike previous one sided games we have seen so far in this league.
Quetta Gladiators was said to be slightly on the weaker side before the start of this competition, but they really stunned who underestimated them by beating Islamabad United in the season opener. They are in the game with a balanced unit, if not with the big guns. Karachi Kings has raised the bar with a thumping victory over Lahore Qalandars, but Gladiators can be a tough challenge to triumph.
It would be a treat to watch if Kevin Pietersen faces Mohamamad Amir for a couple of overs.
Players to Watch: Mohamamad Amir, Shakib-ul-Hassan, Kevin Peterson, Kumar Sangakkara
Live Broadcast: PTV Sports, Ten Sports, Geo Super, OSN (UAE), CSN (Sri Lanka), Prime TV (UK)
Live Streaming: Geo Super, PSL-t20.com, pcb.com.pk, YouTube.com and PTV Sports.
Karachi Kings Squad:
Shoaib Malik (c), Nauman Anwar, Lendl Simmons, Shahzaib Hasan, Fawad Alam, James Vince, Imad Wasim, Ravi Bopara, TM Dilshan, Shakib Al Hasan, Iftikhar Ahmed, Bilawal Bhatti, Sohail Tanvir, Mushfiqur Rahim, Saifullah Bangash, Sohail Khan, Mohammad Amir, Usama Mir, Mir Hamza
PSL T20 2016: Karachi Kings Beat Lahore Qalandars By 7 Wickets
Quetta Gladiators Squad:
Kevin Pietersen (ENG), Sarfraz Ahmed (Captain), Ahmed Shehzad, Anwar Ali, Jason Holder (WI), Luke Wright (ENG), Zulfiqar Babar, Umar Gul, Elton Chigumbura (ZIM), Bilal Asif, Asad Shafiq, Mohammad Nawaz, Saad Nasim, Mohammad Nabi (AFG), Akbar-ur-Rehman, Bismillah Khan Kumar Sangakkara, Aizaz Cheema, Ramiz Raja Jr.
PSL T20 2016 Opener: Quetta Gladiators Beat Islamabad United By 8 Wickets
MATCH HIGHLIGHTS
Ohhhh Wowwww!!!!! Now that is seriously #DilonKeBadshah stuff from @KarachiKingsARY
Thanks a lot. https://t.co/t2BOninpdX

— Quetta Gladiators (@TeamQuetta) February 6, 2016
Congratulation @TeamQuetta on Winning The Match By 8 Wickets #KKvsQG #KarachiKings #DilonKeBadshah #HBLPSL pic.twitter.com/bXePiEijBt

— Karachi Kings (@KarachiKingsARY) February 6, 2016
Another convincing win! @TeamQuetta move to the top of the table! Match summary pic.twitter.com/Uca5poQXNR

— PakistanSuperLeague (@thePSLt20) February 6, 2016
.@TeamQuetta almost home courtesy @iamAhmadshahzad! Score update pic.twitter.com/6W87uuCRwr

— PakistanSuperLeague (@thePSLt20) February 6, 2016
Relive some of the best hits by @lukewright204 and @iamAhmadshahzad in their #HBLPSL record opening stand! pic.twitter.com/VeYqARzWWe

— PakistanSuperLeague (@thePSLt20) February 6, 2016
Too easy for the #QuettaGladiators as @KP24 finishes the match with a SIXXX #AbKhelKeDikha #ShaanePakistan pic.twitter.com/qZ6rdKH2Aj

— Quetta Gladiators (@TeamQuetta) February 6, 2016
Dominant display by @iamAhmadshahzad and @lukewright204! Score update pic.twitter.com/XnkRMHLQPS

— PakistanSuperLeague (@thePSLt20) February 6, 2016
Well played Ahmad!!! Showed your class today. Quetta is proud of you and so are the Quetta Gladiators #ShanePakistan pic.twitter.com/dcbskhEusd

— Quetta Gladiators (@TeamQuetta) February 6, 2016
The highest opening stand of PSL so far as Luke Wright and Ahmad Shahzad accumulate 92 runs #QuettaGladiators #PSL pic.twitter.com/ZaCtp0lHDH

— Quetta Gladiators (@TeamQuetta) February 6, 2016
39/0 in 6. That's the End of Power play. Gladiators on course#AbKhelKeDikha #QuettaGladiators #ShaanePakistan pic.twitter.com/hI8CcIlqoy

— Quetta Gladiators (@TeamQuetta) February 6, 2016
Celebrities Cheering For #KarachiKings at Dubai International Cricket Stadium #KKvsQG #DilonKeBadshah #HBLPSL pic.twitter.com/SVvPAjQi17

— Karachi Kings (@KarachiKingsARY) February 6, 2016
Quality spin bowling by @TeamQuetta! 5 overs left! Score update pic.twitter.com/06si3DR4bi

— PakistanSuperLeague (@thePSLt20) February 6, 2016
.@realshoaibmalik and @Sah75official on the pitch with 10 overs left! Score update pic.twitter.com/vPeb7tPV4E

— PakistanSuperLeague (@thePSLt20) February 6, 2016
Some quality bowling on display by @TeamQuetta! Here is the score update pic.twitter.com/Jh8hKZePcQ

— PakistanSuperLeague (@thePSLt20) February 6, 2016
Celebrities Cheering For #KarachiKings at Dubai International Cricket Stadium #KKvsQG #DilonKeBadshah #HBLPSL pic.twitter.com/RQNshRBQii

— Karachi Kings (@KarachiKingsARY) February 6, 2016
#KarachiKings End at 147/7 With The Top Scorer Being @ravibopara #KKvsQG #DilonKeBadshah #HBLPSL #AbKhelKeDikha pic.twitter.com/bRpRvzHYqF

— Karachi Kings (@KarachiKingsARY) February 6, 2016
Quetta Gladiators have arrived. Getting ready for the training session #QuettaGladiators #AbKhelKeDikha pic.twitter.com/R25rhczGtP

— Quetta Gladiators (@TeamQuetta) February 6, 2016
Karachi Are You Ready For Another Thrilling Encounter b/w @KarachiKingsARY & @TeamQuetta ?#KarachiKings #HBLPSL pic.twitter.com/7rnqNm32wd

— Karachi Kings (@KarachiKingsARY) February 5, 2016