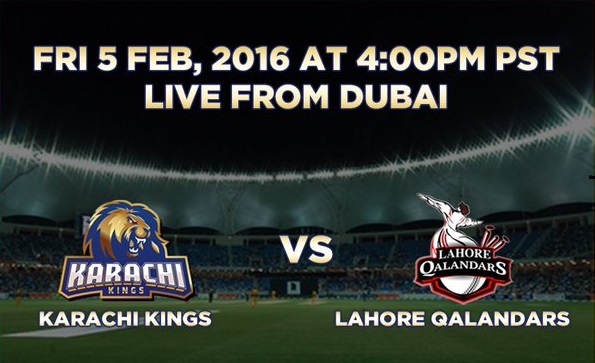 UPDATE: Karachi Kings beat Lahore Qalandar convincingly by 7 wickets chasing a target of just 126. Mohammad Amir of the Karachi Kings did the first hat trick of Pakistan Super League 2016.
Ooh aah Amir!

Watch the #HBLPSL's first hat-trick by the golden-armed, golden-haired pacer! pic.twitter.com/BBPsHVCnqz

— PakistanSuperLeague (@thePSLt20) February 5, 2016
Karachi Kings restricted Lahore Qalandars to a low total of 125 and despite two early wickets managed to chase the total easily in 16th over. Lendl Simmons was the star performer with the bat for his 62 not out, while Man of the match Shakib ul Hassan scored 51 and also got Azhar Ali's wicket.
There is more action still to come as @PeshawarZalmi face off against @IsbUnited! pic.twitter.com/jgtFzIOqJ5

— PakistanSuperLeague (@thePSLt20) February 5, 2016
PSL T20 is heading to an exciting contest as Lahore Qalandars to face-off Karachi Kings today in the season opener for both sides.
Both teams have some top national and international cricketers in their lineup and it is going to be a wonderful show of T20 cricket in Dubai International Cricket Stadium because both cities share some intense sort of rivalry between them.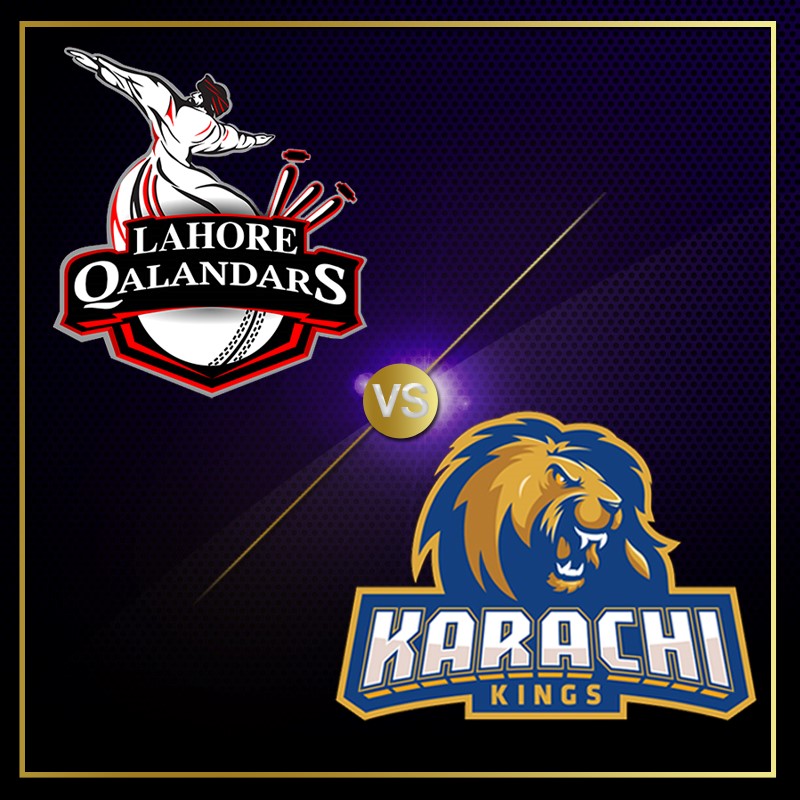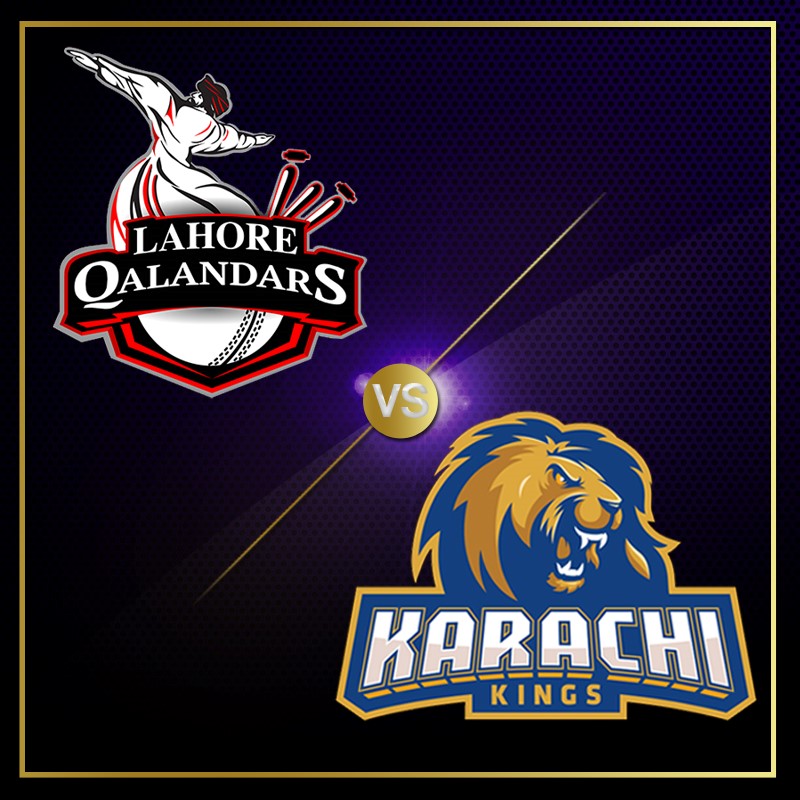 Chris Gayle, Umar Akmal and all rounder Abdur Razzaq from Qalandars and Muhammad Amir, Imad Wasim and TM Dilshan from Kings will be the players to watch out for in today's battle.
Lahore Qalanadars Squad:
Chris Gayle, Umar Akmal, Dwayne Bravo, Muhammad Rizwan, Sohaib Maqsood, Mustafizur Rehman, Kevon Cooper, Cameron Delport, Zafar Gohar, Hammad Azam, Zia ul Haq, Zohaib Khan, Azhar Ali (c), Abdur Razzaq, Mukhtar Ahmad, Ehsan Adil, Imran butt, Navid Yasin, Adnan Rasool
Karachi Kings Squad:
Shoaib Malik (c), Nauman Anwar, Lendl Simmons, Shahzaib Hasan, Fawad Alam, James Vince, Imad Wasim, Ravi Bopara, TM Dilshan, Shakib Al Hasan, Iftikhar Ahmed, Bilawal Bhatti, Sohail Tanvir, Mushfiqur Rahim, Saifullah Bangash, Sohail Khan, Mohammad Amir, Usama Mir, Mir Hamza
The wait is about to over for the first big and much hyped game of HBL PSL T20; the agony and passion are on peak, so keep your fingers crossed.
MATCH HIGHLIGHTS
.@KarachiKingsARY wrap up a convincing victory against @lahoreqalandars! Match summary pic.twitter.com/wbrZ346fHn

— PakistanSuperLeague (@thePSLt20) February 5, 2016
Bang bang bang! Some of @KarachiKingsARY's greatest hits! pic.twitter.com/mIT1fgPPgV

— PakistanSuperLeague (@thePSLt20) February 5, 2016
.@54simmo and @Sah75official have built quite a partnership! Score Update pic.twitter.com/cjuzdhswDv

— PakistanSuperLeague (@thePSLt20) February 5, 2016
.@Sah75official looks set to make @lahoreqalandars rue that dropped chance! Score Update pic.twitter.com/KBuZMyI0k3

— PakistanSuperLeague (@thePSLt20) February 5, 2016
What a dominant performance by @KarachiKingsARY! Here is the innings summary pic.twitter.com/nNkd5U9sRq

— PakistanSuperLeague (@thePSLt20) February 5, 2016
The spinners are turning on the magic for @KarachiKingsARY! Here is the 15 over update pic.twitter.com/ng6VRHDnL6

— PakistanSuperLeague (@thePSLt20) February 5, 2016
.@lahoreqalandars need to pick up the pace! Here is the 10 over update pic.twitter.com/Q6nkRKB2cd

— PakistanSuperLeague (@thePSLt20) February 5, 2016
.@lahoreqalandars have lost some early wickets, @KarachiKingsARY looking good! 5 over update pic.twitter.com/QigjGCo9K1

— PakistanSuperLeague (@thePSLt20) February 5, 2016
Choka, choka, out! Relive @AzharAli_'s brief cameo for the @lahoreqalandars. #HBLPSL #AbKhelKeDikha pic.twitter.com/58DbT7Xmpx

— PakistanSuperLeague (@thePSLt20) February 5, 2016
Four and OUT! @realshoaibmalik leads from the front as he nabs the danger man from Lahore, @henrygayle! @lahoreqalandars are 6/1 (0.4 overs)

— PakistanSuperLeague (@thePSLt20) February 5, 2016
.@KarachiKingsARY have won the toss and they will bowl first! Here are the lineups pic.twitter.com/Pi8PGyXXot

— PakistanSuperLeague (@thePSLt20) February 5, 2016
Ready for the big Taakra? Qalandars vs Kings! Big Game Ahead! #LahoreQalandars #DamaDamMast #AbKhelKeDikha #HBLPSL pic.twitter.com/6CIpUkdM8O

— Lahore Qalandars🏏 (@lahoreqalandars) February 5, 2016
Karachi Are You Ready For Our First Big Encounter Against @lahoreqalandars ? #KarachiKings #HBLPSL #AbKhelKeDikha pic.twitter.com/H0rlKtaFD2

— Karachi Kings (@KarachiKingsARY) February 3, 2016