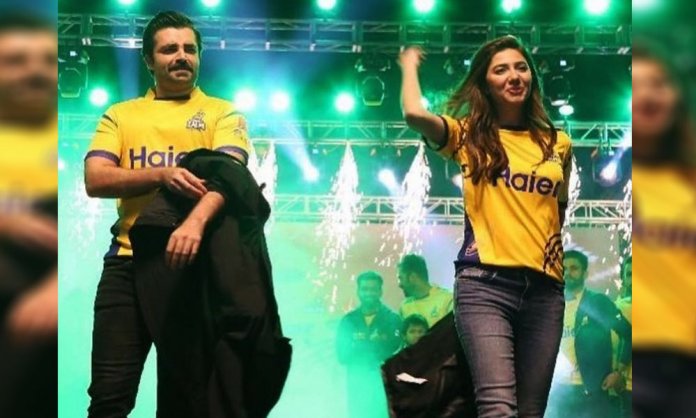 Defending Champions, Peshawar Zalmi, showcased their new kits to their fans while introducing their new brand ambassador, the Diva of Pakistan, Mahira Khan!
Khan was accompanied by the talented Hamza Ali Abbasi as they walked the ramp with the team members to show-off the Zalmi kit.
Young cancer patients of Shaukat Khanum Hospital were specially invited for the Kit Launch event while Call Band reveal the latest and thrilling Zalmi Anthem "Hum Zalmi". Javed Afridi, PCB Chairman Najam Sethi, Former PCB Chairman Shehryar Khan were also present at the Launch.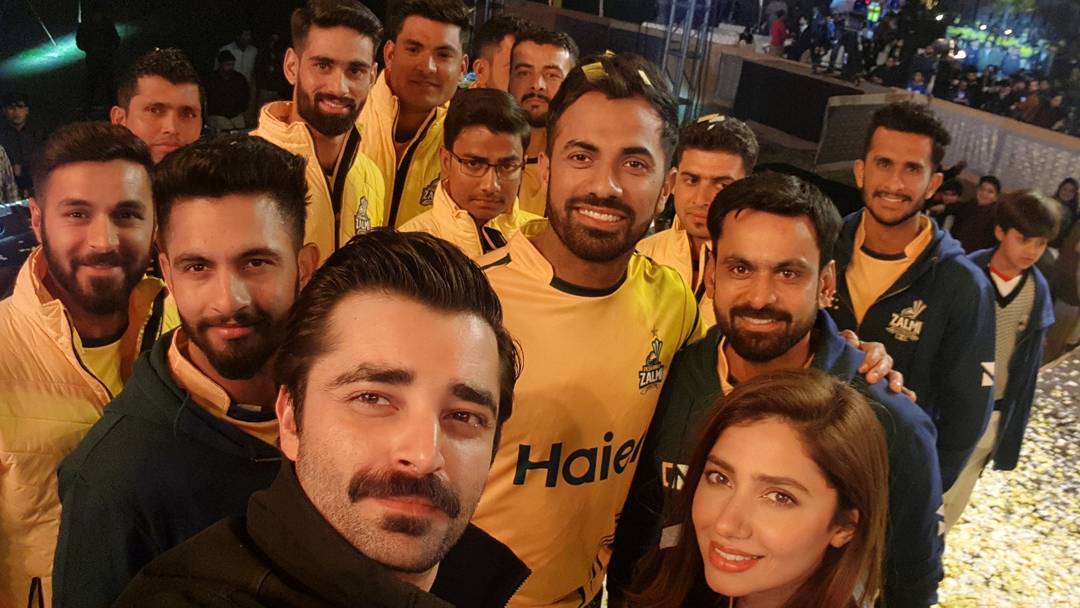 Mahira Khan made the announcement on social media saying,"super excited to be part of the Peshawar Zalmi family!"
That's not all, Mahira and Hamza were spotted on the sets of Peshawar Zalmi's official song recording of 'Yellow Storm' busting some Zalmi moves!
We see that both the ambassadors are giving a power-pact performance, putting hustle of their muscles, and shaking to the Zalmi beat!
Peshawar Zalmi had signed British-Pakistani singer Maz Bonafide for a two-song deal for the upcoming Pakistan Super League (PSL) 2018. As per reports, the first song is titled 'Zalmi Zalmi' while the second is titled as 'Yellow Storm'.
"Maz captured the feel of the songs we were looking for perfectly. We're looking forward to blasting the songs at our matches." -Javed Afirdi
The songs have already been recorded, while Zalmi Zalmi has already come out, the fans of the men in yellow are eagerly awaiting the next one, which will be released before the league that will officially kick-off on February 22nd.
"I am very excited about this new project as I have always been a big cricket fan. Working with Pakistani and international cricketers, and [especially] Peshawar Zalmi, and singing an anthem for them is like a dream come true.
I was very excited when Javed Afridi [the owner of Peshawar Zalmi] contacted me and explained the idea. I was up for it straight away.
I have really enjoyed working on the songs. I wanted to create an anthem for the fans that they can sing along and enjoy at the same time. I'm also looking forward to attending the PSL and performing live for fans", Maz told Geo.
While talking to Geo, Javed Afridi mention some details about the songs.
"We were confident he would give us the anthems we are looking for. Due to our growing global fan base, we specifically asked Maz to make one song in English lyrics too. We are loving both the songs."
For those who haven't heard Zalmi Zalmi, listen to the full song below!
PSL 3 will kickstart on February 22, in Dubai, with the final to be held on March 25 in Karachi!
See you there! Stay tuned to Brandsynario for more news and updates.