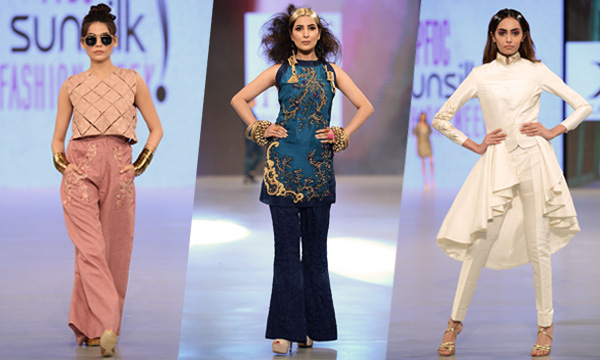 Day 3 of PSFW showed some momentum as a roaster of eminent designers was lined up to showcase their creativity and ingenuity through their collections.
The day was high in energy, drama and fashion power. When fashion mavens gathered together under one roof on the third day of PSFW, they witnessed some really inspiring designs and some not-so-cool collections. Let's see which designer's work impressed us and which one got our thumbs down.
Khaadi Khaas
Khaadi Khaas presented its Translucent collection on day 3 of PSFW. What really stood out in this collection is its color mixing technique as well as lady-like silhouette of the dresses. Addition of neon, bright pinks and pastels on a monochromatic base of fabrics created a refreshing feel.
Swarovski crystals, pearls and acrylic usage brought the factors of sheen and shine. Many pieces that were shown in the collection can be styled in multiple ways, which makes this assemblage commercially viable.
The House of Kamiar Rokni
The House of Kamiar Rokni showed its complete collection that the designer trio actually designed for Fashion DNA programme at Fashion Scout as part of the prestigious London Fashion Week.
This collection truly sets an example about how prêt shows at fashion weeks should look like. Rehan Bashir, Tia Noon and the man himself Kamiar Rokni presented a collection that has modern touch with a lot of variations in designs.
The usage of rilli, thread and zardozi work were dominant in all the designs. Intricately embroidered jackets, jamavar and karandi pants, organza button ups; the assemblage has a variety of pieces all done with a great sense of aesthetics.
Zonia Anwar
Inspired by culture of the Kievan Rus era from medieval times, Zonia Anwar showcased her Kievan collection. Floral and cross stitch prints and embroidered pattern won the game for Zonia.
She used some usual and old cuts, but they were truly complimenting the embroidery and prints on the dresses. Additional tassels and pop of orange embroidery on white dresses made her collection uber chic and bohemian.
Saira Shakira
The duo of talented designers came to the ground with their Ysatis collection. They made Pantone's colours of the year Rose Quartz and Serenity as their basic colour palette and added some appeal in it by bringing the dark hue of black.
The entire assemblage was a victim of confusion and the designers could not juxtapose various elements that were seen in the collection. Sheer fabric, geometric prints, asymmetrical cut, bow and huge floral embroidery all in one outfit is too much to bear.
Zara Shahjahan
Zara Shahjahan is a powerhouse of talent. Whether its PSFW or FPW, she never fails to impress and always leaves an ever lasting impact of her work. She displayed her Sartorialist collection on the ramp and is probably one of the best collections so far. Her collection was highly impactful, completely wearable and fashion-forward without adding even an ounce of drama.
Based on the colour palette of earthy tones, Shahjahan brought forward some edgy cuts that can be epitome of today's age modern woman. She totally killed it with her simplistic designs. It was a brilliant collection owing to its designs without relying on anything dramatic.
HSY
The finale for day 3 was presented by the king of couture HSY. He presented a short video before the commencement of his show in which he played as a matchmaker for heartthrob Bilal Ashraf. After presenting many options to Ashraf, in the end, he concluded that an ideal or the best woman is one who is just herself.
Aligning with this short story, his collection was also inspired by the concept of 'Be Yourself'. This collection by HSY was bright and bold. Comprising a myriad of cuts and silhouettes the offering had everything from cropped jackets to pants to tunics.
The best part of the collection was intricate embroidery, which is where HSY's forte lies; however, there were some pieces that had too much of embroidery and were overshadowed by it. Bilal Ashraf was the showstopper for HSY.