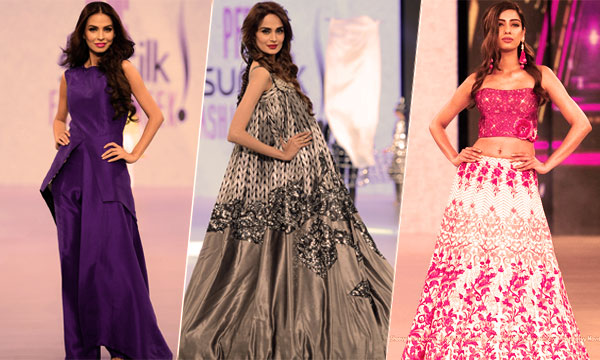 The second day of the PSFW managed to bring another glamorous evening forward where the famous fashion luminaries presented their exquisite creations. Talented designers like Nomi Ansari and Ali Xeeshan along with others showcased their collections with much fervor and glory.
Let's view the creative collections and designs the ace designers presented and some of the other interesting highlights from PSFW 2016 Day 2.
1. Nomi Ansari
The day 2 of the fashion week began with a delightful collection of Nomi Ansari's Joy Ride. The collection was all about youthfulness, contemporary culture. He used playful motifs and imprinted them on the dresses. Emojis have been a part of the fashion world for so long and we have seen a lot of emoji dresses before on international ramps, in fact, we just witnessed usage of emojis on Chanel's latest show at Paris Fashion Week just a few days back.
Ansari also made the use of different emojis in his dresses, bringing a delightful appeal to his clothes. Despite its bright colours, liveliness and all that cheer and excitement that were vividly visible in his clothes, the collection could not make a concrete and well-defined statement; rather, it looked like Ansari took inspiration from different designers such as Anya Hindmarch, Masaba Gupta and combined all in curating this collection. The singer turned actor, Junaid Khan was the showstopper for Ansari.
2. Ali Xeeshan
You hear the name Ali Xeeshan and instantly think of drama! Models strode down the ramp with huge sparkling accessories showcasing the 'Voodoo' collection designed by the ever-dramatic Xeeshan. Metalic, monochrome and a bit of neon did the job for the designer. With off-shoulder dresses, embellished sweatshirts, summer jackets, full-length shirts with organza sleeve and a couple of gowns; the collection had a little bit of everything.
As impactful as this assemblage was in terms of presentation, it actually lacked an impactful symphony and was weak when it comes to cuts and silhouette.
3. Sania Maskatiya
With the same old geometric prints, the usual color palette and the same old cuts, Sania Maskatiya's 'Decorer' did not offer anything new. It seemed that the designer just took out old clothes and made some new faces to wear them with a little bit of tweaking. Taking a break from fashion week is a lot better than showing repetitive designs over and over again.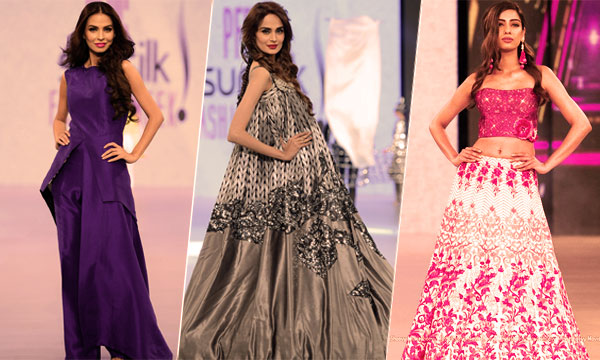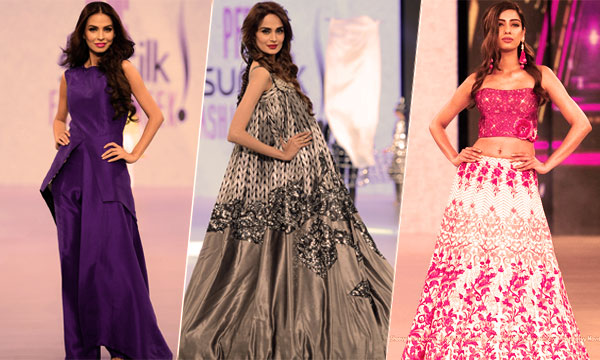 4. Mahgul
Mahgul introduced its new brand 'ORO' and showcased the debut collection by the name of 'The Indus Society'. The Mahgul debut collection displayed clothes in every category, from casual to formal wear. The Mahgul casual wear once again displayed athleisure fashion as models walked down the ramp in casual track pants, looking quite chic; this definitely was something new and totally trendy! On the other hand, the formal wear collection failed to turn heads; it seemed the designer was trying too hard to make a statement through her designs.
5. Nickie Nina
Nickie Nina presented their 'FLECHAZO' (love at first sight) collection. Based on the fabrics of organza and raw silk, the designers used the technique of 3-dimensional embellishments. Although the name of the collection means love at first sight, unfortunately, the collection did not offer anything to fall in love with.
Also, the collection seemed to be more inclined towards bridal wear rather than a prêt-a-porter. Mira Sethi was the showstopper for the designer duo.
6. Karma Pink
Karma Pink turned the ramp into a disco club with their glitzy collection titled 'Studio 54'. The designs and cuts that Maheen Kardar Ali experimented with this time truly displayed her versatility. Based on a variegated colour palette, the collection was mainly based on western cuts with a lot of sheen and shine that brought just the right amount of glam quotient.
Stay tuned to Brandsynario for more updates on PSFW 2016!