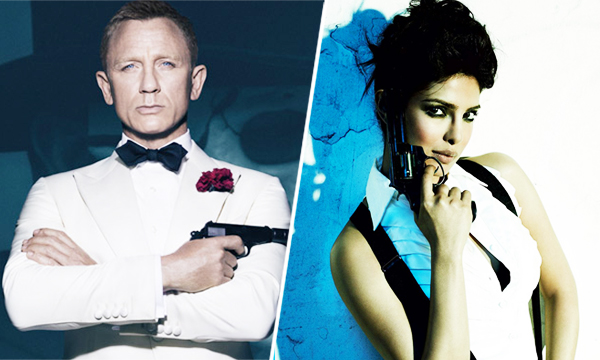 Ever since Daniel Craig announced putting James Bond 007 on hold, there have been different kinds of speculations buzzing about a new actor playing Bond- What caught our attention was how the Quantico starlet Priyanka Chopra is being welcomed as a well-suited choice for a female Bond 007.
Many actresses have revealed their interest in playing a James Bond character or rather 'Jane Bond' as they now label the 'potential recasting'. Priyanka Chopra has revealed she wants to be the next 007 as she believes the next Bond should definitely be a female.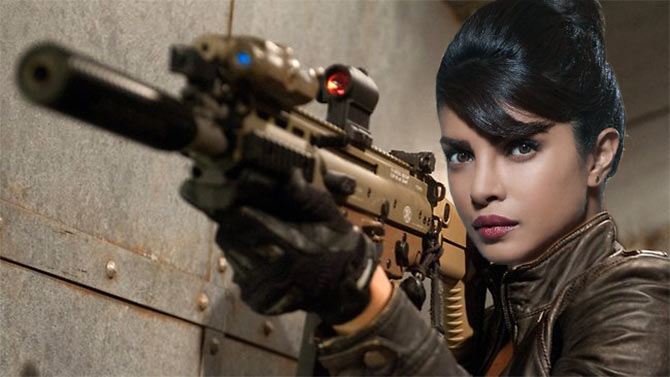 While giving an interview to Refinery 29, the gorgeous starlet revealed her interest in playing the popular spy.
"I know everything is about diversity right now. But I think it should be about humanity. It's 2016. It's so easy to separate ourselves and become smaller and smaller pieces of humanity. It would be a big win for women, period."
Priyanka further added, "Look. It's a story about a British guy who happens to be a white dude. There's nothing wrong with that, whoever came up with it. If Victor can become Victoria, then James Bond can be played by a woman. And not Jane. She should be James Bond, and she should be able to sell it. Why not?"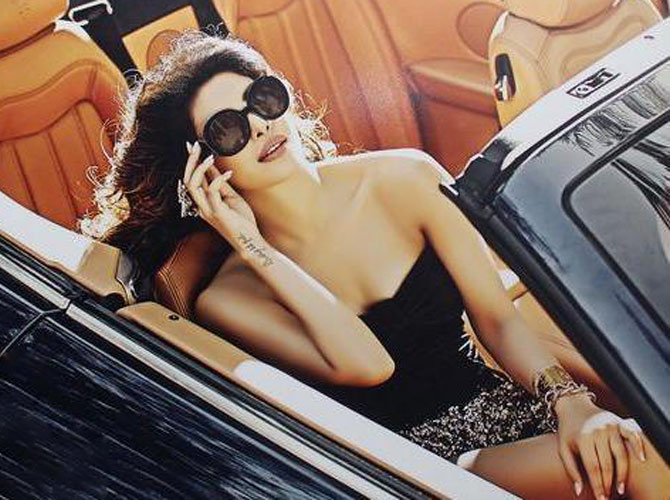 However, Priyanka Chopra is not the only Bollywood actress who is interested in playing the role of Bond. Another name that has been speculated for a James Bond movie is that of the winner of Celebrity Big Brother, Shilpa Shetty! According to Shilpa Shetty's publicist's report to Daily Mail, no other Bollywood actress is best suited as a Bond girl than Shilpa Shetty.
Daniel Craig himself said in an interview to NDTV Movies once, "I think she (Shilpa) looks great and has a killing figure, just right for a Bond girl".
Priyanka Chopra is making waves and there is no stopping her! She recently hosted the Emmy's with Tom Hiddleston,totally slaying it in red! Is that cool or what?
They were on stage for like 2 minutes and I swear I saw angels surround them both! #TomHiddleston #PriyankaChopra pic.twitter.com/6iHzjEPU9g

— Mia Rautiainen (@MagdaleenaMia) September 19, 2016
#TomHiddleston may not have won the Emmy but he won our hearts by letting #PriyankaChopra twirl before they presented tonight. So sweet!!

— Sarah Lowry (@SarahEL17) September 19, 2016
#PriyankaChopra and #TomHiddleston spotted holding hands at the #Emmys2016 after-party. https://t.co/EHoLArsMuE

— GQ India (@gqindia) September 19, 2016
Can we just take a minute to appreciate this fine woman? #PriyankaChopra slayed it!! #Emmys2016 @priyankachopra pic.twitter.com/Cdr1VlBHKC

— SR (@LoneRedRanger) September 19, 2016
We would love to see the super-cool Quantico star play a Bond girl and I, for one believe Priyanka will play it better than any other Bollywood starlet! What do you think?
Priyanka Chopra Makes it to Forbes' 10 Highest Paid TV Actresses 2016: List Revealed
Stay tuned to Brandsynario for more updates.