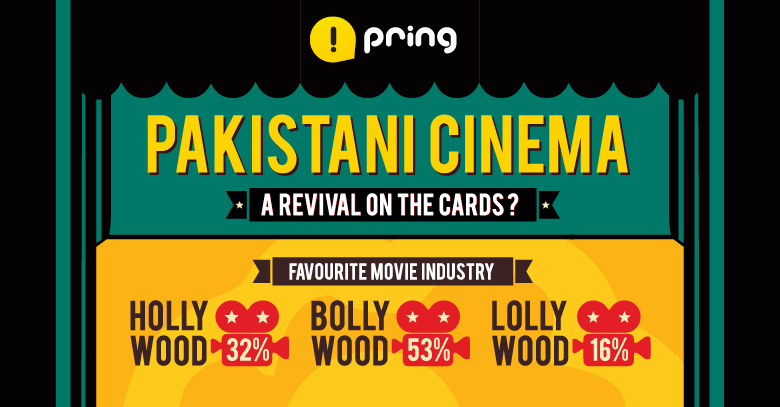 Pring carried out a research to comparing the three major film industries or WOODS that Pakistanis are more inclined to watch or prefer to watch. The research compared the preference for American film industry Hollywood, Indian film industry Bollywood and Pakistani film industry Lollywood amongst the everyday Pakistani folks.
In a broader perspective, when asked, which one of the three industries is their favorite, 53% chose Bollywood to be their number one choice.
Hollywood was close behind as 32% of the population picked it to be their favorite, whilst Lollywood ranked last with only 16% preferring to watch it over other film industries.
Not surprisingly, Pakistanis don't believe their own movie industry to be even comparable with the Indian and American fraternities.
A rather interesting situation arose when Pring asked about the 'favorite Pakistani movie'. Almost 30% of them said, 'No Pakistani movie has ever impressed them enough to even be included in their favorites' list'.
Of this 30%, the majority, by almost two-third range in the age group of 18-34, of the respondents can be called 'youth' who will shape our society.
'Bol' stands to be the second-favorite with commercial success Mai Hoon Shahid Afridi trailing not far behind. Khuda Kay Liye came third followed by Chambaili and Josh.
The survey was conducted in all of the major cities of Pakistan including Lahore, Karachi and Islamabad amongst others. Specific percentage of respondents were chosen from each city to devise a sample that truly represents Pakistan's overall population.
Pring is a web and mobile-based social network with a user-base of over 4.5 million people. It is a refined and secure platform where anyone, with any kind of mobile phone can connect with friends and family, exchange ideas, form communities, share content or talk one-on-one with celebrities and brands
Pring was founded and is run by a dedicated team of engineers, graphic designers, marketers and telecom industry veterans & owned by e-Business (Pvt) Ltd (a subsidiary of the Panasian Group).