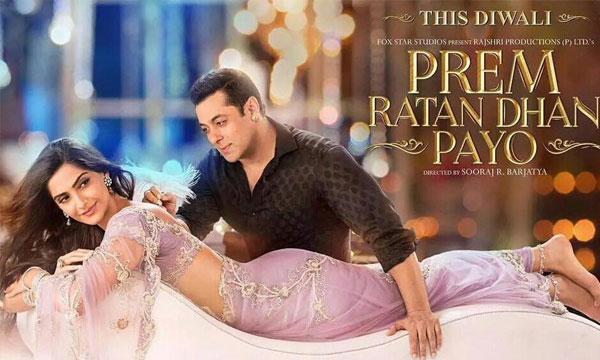 After aggressive promotions and dubsmashing videos, Salman Khan's upcoming blockbuster, Prem Ratan Dhan Payo has finally  premiered in India and across the world. Early reports suggest that the movie is as majestic, grand and typical as Bollywood gets. The Salman Khan and Sonam Kapoor starrer movie brings the royalness of a kingdom to the screens in a bigger, better and more majestic form than Fawad Khan, Khoobsurat.
The 165-minute movie is shot on one of the most beautiful and expensive sets built with a cost of 80 – 100 crore Indian rupees. It is a heartwarming film depicting the family values and traditions. One of the worth-watching parts is that Salman Khan has played a double role after a long hiatus – one of the King and the other of an ordinary man. The royal celebrations that took place at different occasions in the palace will surely blow you away.
King Prem is a very humble and charitable person who loves his people. Despite being born with a silver spoon in his mouth, he wanted to enjoy an average life. The story takes an exciting turn after the interval when the king meets his lookalike and they both switch their identities. The acting of Salman Khan as a common man who has gotten the throne all of a sudden is absolutely outstanding.
The plot gets interesting when their identities create problems for the king and reveal evil plans of his brother Niranjan (played by Neil Nitin Mukesh) who wants to take away the throne from him. The story line of Prem Ratan Dhan Payo is inspired from the novel The Prince and the Pauper. Its cast features Sonam Kapoor in the lead role as Maithili, Anupam Kher, Armaan Kohli, Swara Bhaskar, Deepak Dobriyal, Sanjay Mishra and Aashika Bhatia.
The Indian family drama, written and directed by Sooraj R. Barjatya has been well received by movie buffs and critics. After Maine Pyar Kiya, Hum Aapke Hain Koun and Hum Saath Saath Hain, this is the fourth movie of Salman and Barjatya together. Prem Ratan Dhan Payo has been released in three languages – Hindi, Telugu and Tamil – in 5800 cinemas in India and on 800 screens abroad.
PRDP is all over the Twitter, see some of the reviews below:
but the emotions work really well and even though this isnt my cup of tea but i did enjoy myself mostly #rajshri #PRDPDay

— Salilacharya (@Salilacharya) November 12, 2015
That Footboll match is the highlight Of second half of @prdp Just loved it. Thnkx #SoorajBarjatya Sir #PRDPDay pic.twitter.com/wpRuJZw0Hp — Pяεм Κα Dεεwαηα (@SalnkalpSahni12) November 12, 2015
The sort of opening #PRDPDay Has taken, It Is certain to Emerge with Highest Opening Day EVER! #BOI @prdp @BeingSalmanKhan

— ρяєм ιѕ вα¢к! (@bansode_sunny) November 12, 2015
Every 1 should watch #PRDPDay with thir families today because movies toh banti rahengi par aisi koi nahi bana sakega <3 — Prem Bhaijaan (@Being_K_Kay) November 12, 2015
Prem Dilwala Entertains ,Makes you Cry and above all wins your heart in the end #PRDPDay

— Prem Ratan Dhan Payo (@SalmansSoldier) November 12, 2015
Craze of @BeingSalmanKhan Fans..!! He is the GOD of Masses in India. #PremRatanDhanPayo BLOCKBUSTER flick. #PRDPDay pic.twitter.com/S2jFLY8yz0 — Kiaara Sandhu (@KiaaraSandhu) November 12, 2015
Movie Review #PremRatanDhanPayo: A royal ride with a grand premise! https://t.co/LLzhWilW9M pic.twitter.com/fKMIOCPlMC

— DC Entertainment (@EntDC) November 12, 2015
This Salman film has BLOCKBUSTER written all over it, Subhash K Jha Live Tweet Review #PRDPDay https://t.co/LQvhtfuVQv — SKJ Bollywood News (@skjbolly) November 12, 2015
#PremRatanDhanPayo is a B-L-O-C-K-B-U-S-T-E-R … My review on Bollywood Hungama: https://t.co/TmETdQ0PFH

— taran adarsh (@taran_adarsh) November 12, 2015
See some PRDP posters below: