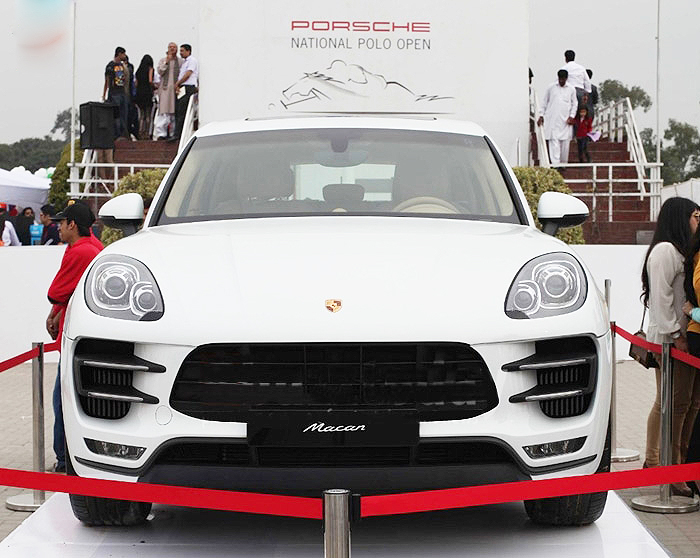 Porsche Macan was finally unveiled in Pakistan at the last day of Porsche National Polo Open 2014.
The sporty Porsche SUV was presented to the crowd as it drove through the polo ground at a fast pace, putting up an entertaining show for the audience. This was the very first public display of the new Porsche Macan SUV in the entire Middle East and Asian Region.
CEO Porsche Pakistan, Mr. Abuzar Bokhari at this glorious moment was found commenting:
"With the Macan, Porsche offers athletic all-wheel-drive vehicles across an unprecedented range. The new model is set to revolutionise the sporty SUV segment with an injection of pure Porsche DNA. The all-new Macan is the latest representation of Porsche's unwavering commitment to pushing back the boundaries of possibility whilst remaining true to a heritage of automotive excellence. My team and I are proud to launch the Macan in Pakistan in line with its global premiere."
The event was not only attended by major Pakistani personalities like army generals and many political diplomats only, but the event also got honoured by the presence of Imran Khan himself.
The Mecan SUV by Porsche is one of its kind, inheriting the combined looks and features of the legendary Porsche 911 and Porsche 918 Spyder, along with the following key features:
A 3.0 litre V6 bi-turbo engine
340 horse power
Porsche Doppelkupplung technology (0 to 100 km/h in 4.6 seconds)
Multi function sport steering
Moreover, this road beast is the only one of its kind to provide with such a high tech air suspension package, making Mecan to feature one of the world's most powerful drive systems.
The SUV will be available for purchasing from the third quarter of this year, the further information about which can be found on the official Porsche Pakistan's facebook page or by calling at 111-777-971.