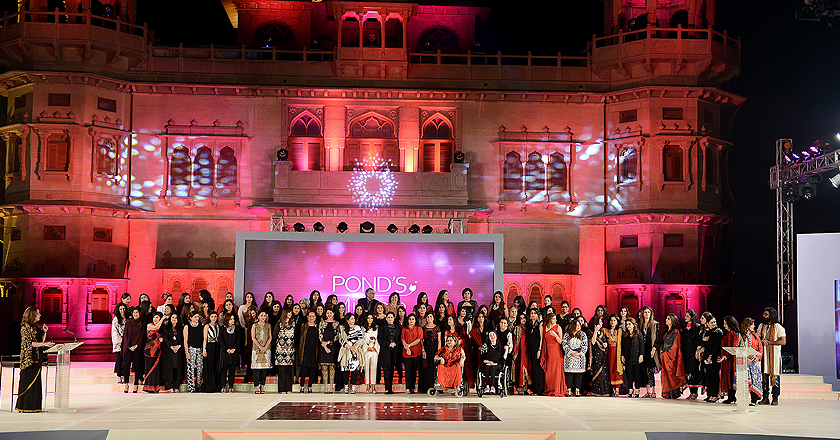 Ponds recently honored 100 Pakistani women with the title of 'Ponds Miracle Women', at an event organized at Mohatta Palace last night.
Ponds 100 Miracle Women is an initiative taken by the brand  to highlight strong Pakistani women who are able to maintain a successful balance between their professional and personal lives, while excelling in both. Many women juggle careers, family and social lives with such apparent ease in their daily lives and this aspect is often overlooked. It takes inner strength, managemant and an enhanced skill in multi – tasking which Pond's has applauded.
The event was attended by some of the prominent names of the industry, including Director Marketing, Personal Care, Unilever Pakistan Raheel Pasha, who has been a part of this social movement since its inception back in March 2014.
In March 2014, the movement to honour such women was initiated by choosing 10 Miracle Mentors who were tasked to select 10 high achieving women of Pakistan for thePonds Miracle Women of the Month; the trend has continued ever since. These 10 Miracle mentors include Anila Weldon, Atiqa Odho, Chef Shai, Maheen Kardar Ali, Rukaiya Adamjee, Saeeda Mandviwalla, Samina Peerzada, Shamaeel Ansari, Dr. Tasneem Nakhoda and Vaneeza Ahmed.
Vaneeza Ahmed with her miracle women Muniba Mazari
Month by month a pool of Ponds 100 Miracle Women was formed; each of their stories were recorded and brought to life by Ponds at its Miracle Journey Gala hosted by Aly Khan. The women honoured will now each nominate another woman they feel should be honoured for this and the next 100 women will then be recognized.
Speaking at the event last night, Raheel Pasha said,
"Pond's is a brand that celebrates the soft strength of women, their quiet resilience and elegant determinism. The Pond's woman is thus a symbol of inner strength and outer beauty; she is a miracle in herself as she maintains her responsibilities while setting herself free to achieve her aspirations,"
He further added,
"The Pond's Miracle Journey is our small effort in celebrating these miraculous women who strike this beautiful balance effortlessly and make their families and their country proud of who they are and what they have achieved. Our aim is to continue to find such inspiring stories in our society and bring them to the forefront so that we can all realize and celebrate the inner strength and beauty that is symbolic of the Pond's woman,"
The event also included performances by Zoe Viccaji and Humera Channa, two much successful and appraised female singers of Pakistani music industry.
Have something to add to this story? Let us know in the comments below or contact us here.