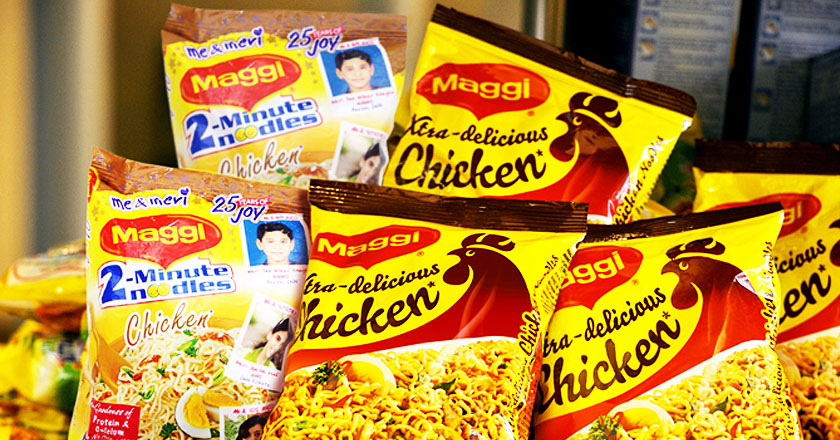 Nestle's Maggi 2 Minute Noodles have apparently landed itself in hot water, after various samples of the brand were discovered to contain dangerously high dosage of lead by the Food Safety and Drug Administration (FDA)in Uttar Pradesh, India.
According to Reuters, around two dozen packets of Maggi were revealed to be contaminated with lead, along with evidence the taste enhancer, monosodium glutamate (MSG) added in the noodles.
A lead saturation of 17.2 parts per million, approximately seven times the acceptable limit of 0.01 parts per million and 2.5 parts per million
Now batches of Maggi have been ordered to be retracted from the shelves in Nestle India by the Food Inspectors.
"Maggi instant noodles contained a dangerous amount of lead and MSG. We had to immediately issue orders against the company," D.G. Srivastava, deputy inspector general of the FDA in Lucknow, the capital of Uttar Pradesh, told Reuters.
Nevertheless, Nestle India has denied the addition of MSG in its product and was shocked on the revelation of lead in the noodles.
"We do not add MSG to Maggi Noodles and glutamate. If present, it may come from naturally occurring sources. Food regulators in India also do not specify any limit for the presence of MSG / Glutamate," a Nestle spokesperson said.
"We are surprised with the lead content supposedly found in the sample. We monitor the lead content regularly as part of regulatory requirement", he further added.
However, no orders have been announced yet of cancellation of Nestle India's license or ban on Maggi Noodles.