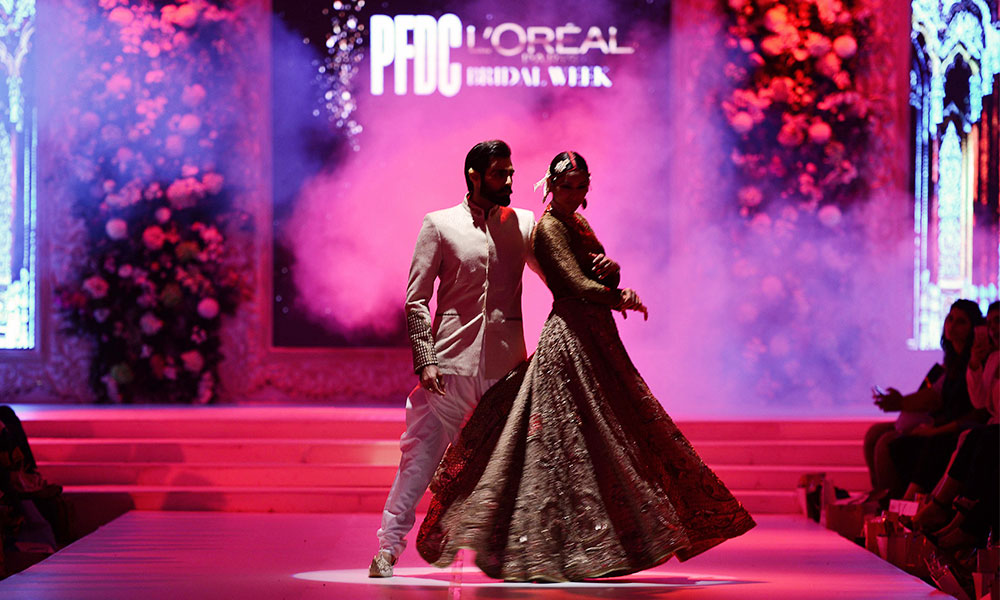 The pioneering Pakistan Fashion Design Council [PFDC] and L'Oréal Paris, the world's leading beauty brand, presented Day-2 of the fifth consecutive PFDC L'Oréal Paris Bridal Week 2015 – a platform that endeavors to define and present contemporary and traditional Pakistani Bridal fashion, while fusing hair and makeup trends to create looks for the upcoming bridal season of 2015-2016.
The second day of #PLBW2015 opened with bridal showcases by Sana Safinaz, followed by Fahad Hussayn, Nickie Nina, Misha Lakhani, PFDC Introduces New Bridal Designers featuring SUFFUSE by Sana Yasir and MAHGUL and The House of Kamiar Rokni as summarized below.
Bridal Showcase: Sana Safinaz
Day-2 of PFDC L'Oréal Paris Bridal Week 2015 was opened by the designer duo Sana Safinaz who showcased a collection of bridal ensembles titled "France Lesage". The inspiration behind France Lesage was drawn from the journey of discovery with surface treatments and embellishments that have been used on this collection. The silhouettes and cuts were inspired by the classic elegance of a bygone era, twisted to meet the modernity of the ever evolving Pakistani woman. The focus was on the overall silhouette that has been updated and kept on trend with the addition of peplum cuts and long jackets.
Bridal Showcase: Fahad Hussayn
Following Sana Safinaz, Fahad Hussayn presented a bridal collection titled "Matam – Novelty Couture". The collection featured exclusive novelty couture wedding creations for both men & women. The showcase featured an exclusive custom track built in association with singer Ali Sethi & the music has been produced by Saad Sultan. Matam; the mourning & the intensity related to the notion itself portrayed into a dramatic riot of color and craftsmanship from the imaginarium of Fahad Hussayn Couture. The cut was classic and minimal with a variety of lengths & layers that can be paired into personified decadent bridal looks for women and bespoke men's wedding wear.
Bridal Showcase: Nickie Nina
The next designer label to follow was Nickie Nina which showcased a bridal collection titled "Neh Shikar". The collection drew inspiration from nature and preservation of wildlife and encourages the idea of a nature-loving environment. This collection took a strong stance against the hunting of animals and encapsulating Nature and wildlife — which have always been an integral part of the fashion industry. 'Neh Shikar' took nature as a piece of art, something that shouldn't be harmed or disturbed but appreciated in its living existence.
TV personality Mira Sethi participated in the designer's showcase as a showstopper.
Bridal Showcase: Misha Lakhani
For PFDC L'Oréal Paris Bridal Week, Misha Lakhani introduced the "Wanderlust" collection, which will also be available to view and order at her Lahore flagship store. Inspired by travel mementos, art deco design, Ottoman and old Indian craft and heritage, the collection featured old-world charm, an eclectic fusion of textiles and vintage craftsmanship. The Misha Lakhani bride is best characterized as the bohemian heiress who challenges convention yet loves all things traditional. Wanderlust is based in the shades of sea green, placid blue, sage, peridot yellow, pink lemonade and rani pink with hints of gold, turquoise and plum whereas the fabrics range from georgette, tulle, velvet and chiffon to brocade, muslin, kathan and mehsuri.
Bridal Showcase: PFDC Introduces: New Bridal Designers
PFDC inaugurated a new segment this Bridal Week: PFDC Introduces: New Bridal Designers. An independent and organic extension of the rising talent showcase. As the name suggests, the new bridal designer platform showcases the work of those designers selected, edited and groomed by the PFDC, who have been in active retail and business in bridal design for up to 2 years. This segment featured: Suffuse by Sana Yasir and MAHGUL – both brands showcased capsule bridal collections for this segment.
Suffuse by Sana Yasir's bridal collection for PFDC L'Oréal Paris Bridal Week 2015 was titled "Falaknuma"- after the exquisite Falaknuma Palace in Hyderabad, India.
The collection depicts the personification of a woman with noble lineage and heritage going back to the royal sub-continent who is very fond of her family heirlooms and stories from glorious days of the past and is raised and bred in the modern world so her style is amalgamation of the classic details with modern with modern edge of cuts and styling. The references and motifs were inspired from the "Taj Falaknuma Palace" and featured exquisite Italian baroque and sub-continental architecture and interior. The fineries, carvings and interiors details of the palace gave immense references and inspiration to be translated into apparel details and embellishments.
MAGHUL presented an A/W'15 bridal collection titled "Vivante". In terms of the collection inspiration, Vivante visits Mahgul Rashid's fine artist aesthetic whereby the collections' embellishments and patterns were inspired heavily by aerial views of architecture and stark elevation drawings – merging these motifs with more organic studies of still life such as floral vases and fruits to create a contrast and juxtaposition in the visual story and narrative being told on the garment. The cuts were structured and complemented by elements of deconstructivism to create volume and angles to the overall silhouette. MAHGUL's accessories focused on minaudière made with filigree patterns in brass and other metals. Some elements of artistic hand painting were also seen in this bridal collection.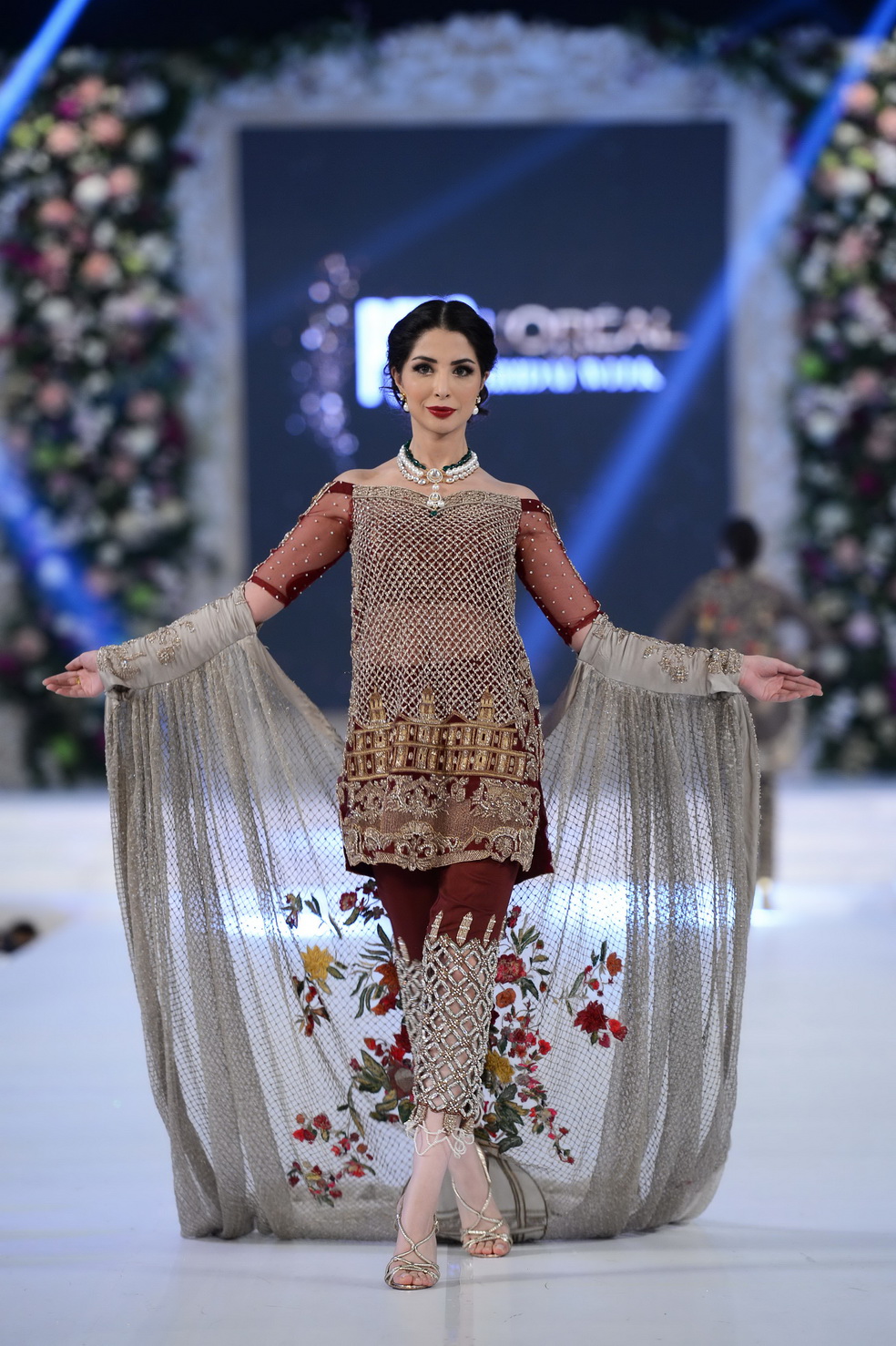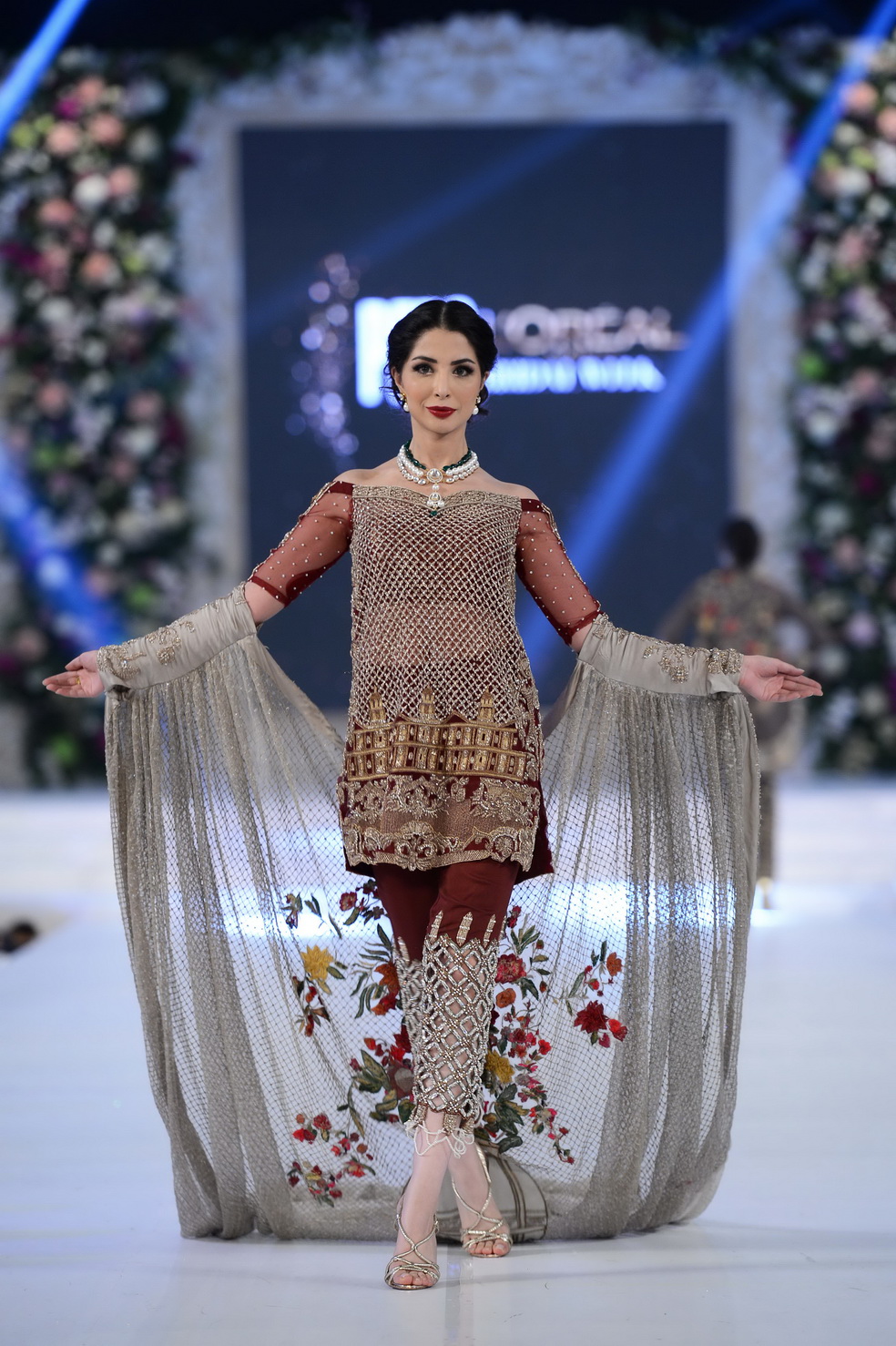 Trends highlighted included sculptural 3D embellishments, the presentation of the utilitarian cargo pant and the oversized armhole, typically characterized as casual wear, now reinterpreted as wedding wear, origami accessory influences and the designers' revamping of the way in which a dupatta can be worn and draped. Indian jewelers Vasundhara in Pakistan collaborated with MAGHUL for the jewelry for this showcase.
Bridal Showcase: The House of Kamiar Rokni
The finale of Day-2 was presented by the Design Trio Kamiar Rokni, Rehan Bashir and Tia Noon of The House of Kamiar Rokni who presented their "Alchemy" collection for this #PLBW2015. Alchemy drew from traditional, regional and global embellishments and silhouettes bringing them together to form a bridal signature from The House of Kamiar Rokni. The collection featured cuts that varied in length, volume and diversity, in fabrics created from regionally indigenous textiles including a selection of hand-woven silks, organzas, jamavars, chiffons and nets, each of which had been selected to complement otherwise bold forms.