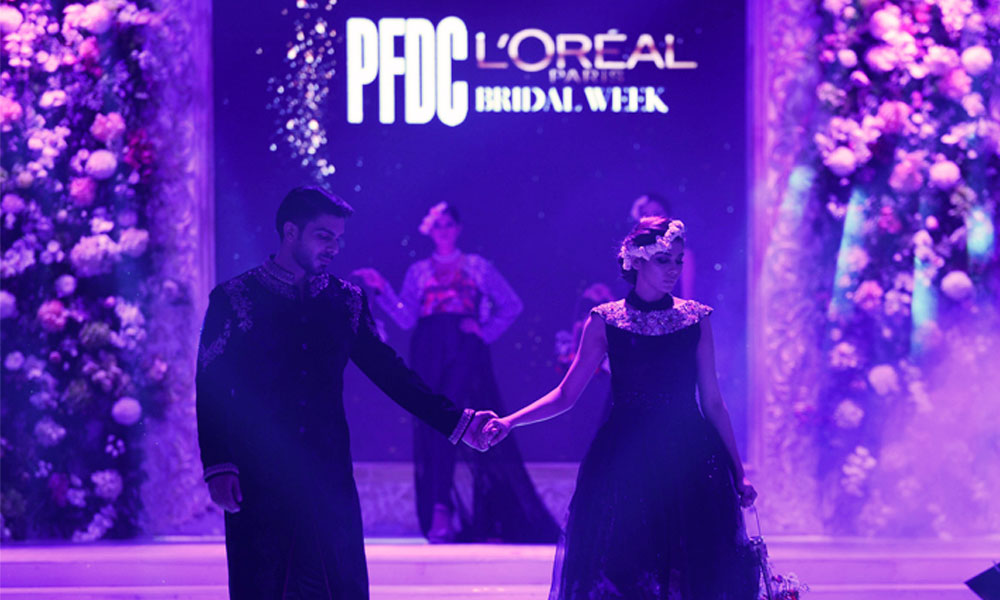 The pioneering Pakistan Fashion Design Council [PFDC] and L'Oréal Paris, the world's leading beauty brand, presented the third and final day of the fifth consecutive PFDC L'Oréal Paris Bridal Week 2015 – a platform that endeavors to define and present contemporary and traditional Pakistani Bridal fashion, while fusing hair and makeup trends to create looks for the upcoming bridal season of 2015-2016. PFDC L'Oréal Paris Bridal Week 2015 highlighted the bridal collections of 22 designers that showcased the business of Pakistani bridal fashion, at Faletti's Hotel, Lahore.
The final day of #PLBW2015 was opened with bridal showcases by Shamaeel Ansari followed by Nomi Ansari, Saira Shakira, Asifa & Nabeel, Ammara Khan and HSY as summarized below.
Bridal Showcase: Shamaeel Ansari
The final day of PFDC L'Oréal Paris Bridal Week was opened by one of Pakistan's leading fashion designers, Shamaeel Ansari who showcased her bridal collection 'Absolute Orientalism' at PFDC L'Oréal Paris Bridal Week 2015. The collection was inspired by a mixture of oriental ancient dynasties.
Bridal Showcase: Nomi Ansari
The second show of the day featured Nomi Ansari who showcasing a bridal collection titled "Oudh" at PFDC L'Oréal Paris Bridal Week 2015. The collection took inspiration from the fragrance itself and is encapsulated in a bright and festive allure of colors. 'Oudh' made use of traditional cultural elements, cuts, and silhouettes with contemporary touches. Media personalities Humayun Saeed, Mehwish Hayat and Uzair Jaswal participated in the showcase as showstoppers.
Bridal Showcase: Saira Shakira
Saira Shakira's bridal collection for PFDC L'Oréal Paris Bridal Week 2015 was titled "Seeking Paradise." The collection was inspired by Russian pavlovsky posad shawls – a vision of ethereal beauty and elegance with feminine touches. Staying true to the theme, the collection was designed around shiny fabrics such as tissue and net. 'Seeking Paradise' features majestic flairs, flowy gowns, short shirts, shararay and lehngay with embroidery giving a 3D effect to light fabrics. The main focus remains the beautiful intricate details of embroidered flowers and dabka and Naqshi handwork. The collection featured shimmery hues of delicate colors and unusual mix – pearl grey, silver, old rose pink, teal and reds creating a very ethereal and sensual feel.
Bridal Showcase: Asifa & Nabeel
Asifa & Nabeel showcased "Venetian Dreams" at PFDC L'Oréal Paris Bridal Week 2015. Venetian balconies were the inspirational port for the collection. Fluttering, Vibrant Colors were drawn from the balconies and fused within ethnic jeweled pieces. 'Venetian Dreams' featured embroideries with a mirror a wild garden, consisting of sprouting jewels and gems.
Bridal Showcase: Ammara Khan
Ammara Khan's bridal collection for #PLBW2015 titled "Memoirs from a Moonlit Garden" was inspired by a memorable moonlit rendezvous, in the wild garden of a bygone September. It marked the beginning of an eternal love. Romantic, feminine and fairytale like are the three words that best describe Ammara Khan's #PLBW2015 presentation. There was a lady-like elegance harmoniously blended with a contemporary design philosophy that brought forth a collection that is timeless.
Bridal Showcase: HSY
The finale of the concluding day of the fifth PFDC L'Oréal Paris Bridal Week was staged by Pakistan's leading couturier HSY who showcased his Fall/Winter Bridal Couture Collection 2015. Inspired by the heavens, the HSY's bridal couture collection was intricately detailed and extraordinarily feminine, which marked a return to a demure and softer color palette and silhouette reminiscent of HSY's work of the early 2000's, now represented in a context manifest of the wants and needs of the woman of today. HSY also collaborated with edgy and exciting jewelry designer Zohra Rahman, whose work is best known for its inimitable signature.
Bridal Announcement: Bank Alfalah Rising Talent Show Winner Announcement
The Bank Alfalah Rising Talent Show Award for #PLBW2015 was presented to Hamza Bokhari of JEEM by Hamza Bokhari.