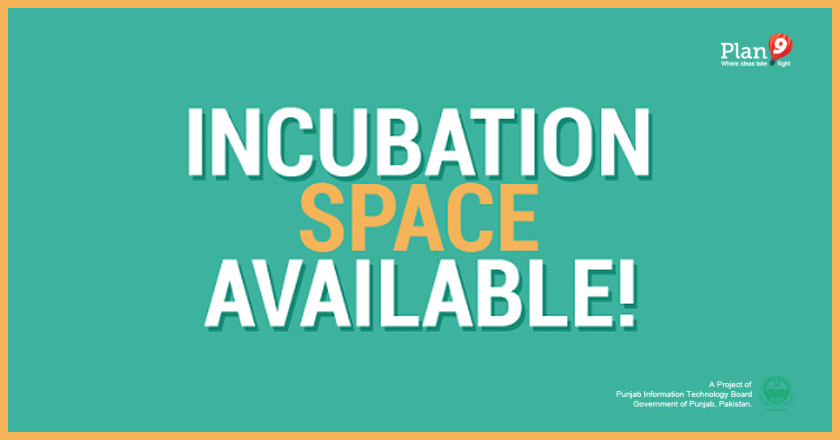 Entrepreneurship has become the most buzzed topic in Pakistan these days. Our entrepreneurs have left the world awe-struck with their inspiring stories of innovative startups.
A ground-breaking entrepreneurial endeavor that has made the entire nation proud is "Plan 9"; the very first, one of its kind, technology incubator in Pakistan.
INCEPTION
Founded by Umair Saif, leDdby Nabeel A Qadeer and directed by the Punjab Information Technology Board (PITB),Plan 9 is a revolutionary platform that transforms the business dreams of talented young "technoprenuers" into a reality.
Initiating its first incubation chapter in 2012, Plan 9 paved its way by providing an opportunity to 14 teams, selected from launchpad competitions in Lahore, Karachi and Islamabad.
Since then, it has incubated 32 technology startups out of which 20 ventures have already, successfully developed.
OFFERINGS
The incubation center offers office space, infrastructure, electricity and other utilities to support the emerging startups. Moreover, it mentors and trains the aspiring entrepreneurs via the best experts in the industry.
Each member of the startup incubator is provided a monthly stipend of PKR 20,000 for six months, exclusive with 24/7 facility of electricity and Wi-Fi.
7 NOTEWORTHY STARTUPS BY PLAN 9 IN 2013
1. Eyedeus Labs: The startup developing "computer vision" technologies for smartphones has become the most novel of all first-batch projects under Plan 9. Presently, their exciting mobile photo app "Groopic" has outshined itself by getting international recognition on tech blogs like Gizmodo and TechCrunch.
2. Nosh Genie: The ingenious platform "Nosh Genie" is a Pakistani business directory and social recommendation engine
3. Piclome: The creative mobile app allows people to interact and instantly share photos in public or private hangouts.
4. Hometown: The project is an online platform that provides international exposure to our talented Pakistani craftsmen by selling handmade leather products to consumers all over the world.
5. Hybrid Signals: An internet marketing company, Hybrid Signals analyses how consumers interact with a particular brand via calculation of ROI from their promotional campaigns.
6. PeerCloud: PeerCloud is an effort to promote cloud computing in the country. It allows easy document creation and sharing for developers.
7. Roxcial: Through Roxcial, sellers can set up an e-commerce store within a Facebook business page that enables effective handling of orders and payments
Kudos to Plan 9 for planting the seeds of technology entrepreneurship and grooming the young tech wizards of Pakistan.