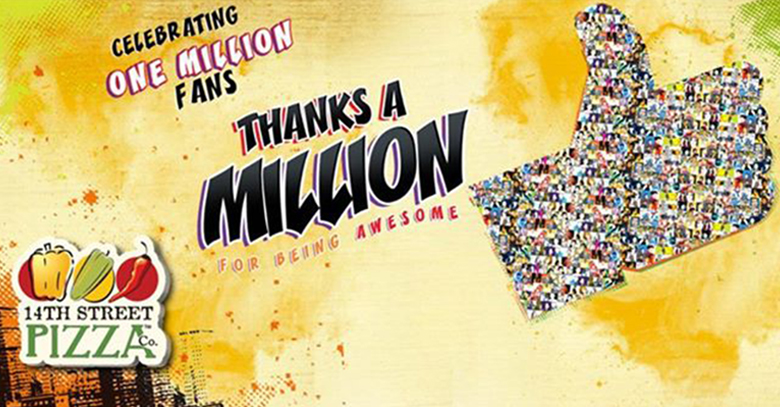 Pizza hut, although in business for more than 20 years in the country, has kept a rather subtle presence in the industry. On the other hand, famous for its 20" large pizzas, 14th street Pizza has made more than a sturdy stand in the Pizza business.
A noticeable contrast in promotional activities and market presence can also be observed between two brands in question.
Pizza Hut seems to replicate their same Ramadan Deals and weathered all you can eat offerings, like preceding years. Their social media presence, standing at around 900,000 followers, cannot be called remarkable– providing basic information about the offerings of the brand this month, focused on lowered prices.
14th Street however has not yet announced any Ramadan Deals. Notorious for their high prices being justified by equally large Pizza size – 14th street, upon reaching a million fans on their Facebook page, celebrate through huge billboards across the city, thanking a million.
Also, on their social media page promotions like Sehri wake up call, Guess the Pizza, Share your Iftar pictures with 14th Street Pizza along with Midnight Deals.
14th Street has also introduced a very handy online order placement option over their website, which in light of the audience of the brand is a very effective luxury for their customers. The deals available at the website, caters all pocket sizes, offering from one slice of pizza to the whole large one.
Online order placement, allows their customers to not only see what they are ordering, but also what is available at the store.
Pizza hut when first started its operations in 1958, Dan and Frank, the owners had only $600 to work with, but with the vintage 'red roof' idea, merging it with the 'Hut Express' – 55 years and a hundred and forty thousand employees later, Pizza Hut stands in 94 countries of the world.
One of the major reasons for that has to be the originality of the product, the brand branded – A very important lesson for all emerging and hopeful businesses.
14th street pizza in the two years of their business has earned a name for itself solely on the originality of their content, be it the size or the ambiance they provide. They also did not leave the social media promotion for the last, rather they kept an active persona on social media websites and their internet presence.
This gave them a decisive edge over Pizza Hut. 14th street is all set to be the biggest deal in not only the city, but in the whole country. They have stepped in the shoes Pizza hut for long has not claimed, worse as yet, they have let – a well deserving yet newer name like – 14th street take the spot light from them.
As they say, visual branding is always better than the alternatives. On the other hand, Pizza hut, has always lacked to bother to cover up these little loop holes, despite of strong finances, they just seem content with what they have. Advertisements seem recurring and no fresh offering has yet made an impression.
This has given the challenger brand, 14th street, all the opportunity it could have asked for.