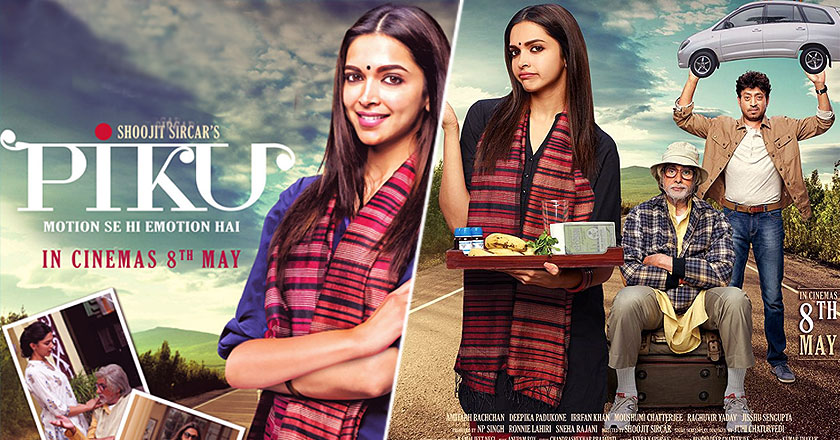 As the world prepares to watch the Deepika-Amitabh starrer Piku in cinemas today, Bollywood is already going gaga over the movie.
Termed a family entertainer, the movie Piku revolves around the sweet-bitter relationship of a Bengali father-daughter duo. Deepika Padukone plays the role of an architect, Piku, stuck with taking care of her difficult father, suffering from constipation, played by Amitabh Bachan, while yet another legendary actor, Irrfan Khan, plays the character of her love interest.
Written by Juhi Chaturvedi, the movie, with the tagline "Motion Se He Emotion", has its main focus on the road trip, from New Delhi to Calcutta, taken by the three lead characters and the emotional trip that intertwines along the way.
As the characters of Deepika Padukone and Irrfan Khan fall in love, their relationship is affected by the continuous presence of Amitabh's clingy character and the fact that Piku refuses to marry anyone unless he is ready to take on her father's responsibility.
The trailer had been generating a buzz since its release but the movie has seemed to surpass everyone's expectations with effortless performances by all stars and ingenious direction by Shoojit Sircar, of the Vicky Donor and Madras Café fame.
While Deepika has already been on a roll the past couple of years, it is Amitabh Bachan who has impressed everyone with his outstanding performance. Their performances have moved almost everyone to tears while beautifully exploring the unique father-daughter relationship.
With Bollywood's thumbs up for the movie, Deepika has yet again set the bar high with her award-worthy performance. See what the Bollywood celebs had to say about the movie Piku:
It's amazing how after such huge body of work @SrBachchan can still rediscover himself. So much to learn from his performence in #Piku

— anurag basu (@basuanurag) May 6, 2015
I want to watch #piku again.. Caus I can't stop smiling! Thankyou for this gem @deepikapadukone @irrfan_k @SrBachchan @ShoojitSircar

— Neha Dhupia (@NehaDhupia) May 6, 2015
Deepika @deepikapadukone thank u for inviting me to the PIKU experience.what a terrific job by all 3 actors.a lovely,light breeze of a film

— Masaba Gupta (@MasabaG) May 7, 2015
Pure magic in th performances by @SrBachchan @irrfan_k & a career-best display from @deepikapadukone..Bravo!! (And no, I'm not being biased)

— Ranveer Singh (@RanveerOfficial) May 6, 2015
Guyss u have to watch #Piku coz it is suchhhh a cute film & @SrBachchan @irrfan_k @deepikapadukone are sooo amazing & lovable!@ShoojitSircar

— ShraddhaVINNIEKapoor (@ShraddhaKapoor) May 6, 2015
Found myself dreading the interval point in @PikuTheFilm, the only thing that shouldn't be there in it! Has to be savoured uninterrupted !!

— Nimrat Kaur (@NimratOfficial) May 6, 2015
#Piku is Lovely funny endearing @deepikapadukone is exceptional irfan is a super romantic n @SrBachchan is just the best!thank u Shoojit sir

— Sidharth Malhotra (@S1dharthM) May 5, 2015
Piku is a very special & a rare Gem.@deepikapadukone is effortlessly magnificent.@ShoojitSircar @SrBachchan @irrfan_k take a bow!!

— Sushant S Rajput (@itsSSR) May 6, 2015
#Piku made me smile, laugh with that knowing shake of my head n caused a little lump in my throat n made me shed a tear…it was lovely ??

— Ileana D'Cruz (@Ileana_Official) May 5, 2015
I LOVE #PIKU ?? ???????????????????????????? and I love @ShoojitSircar @writeonj @SrBachchan @irrfan_k @deepikapadukone ??????????

— Dia Mirza (@deespeak) May 5, 2015
How a film based on constipation can have a spiritual connect? One of the best films I have ever seen! #PIKU @deepikapadukone @ShoojitSircar

— Ayushmann Khurrana (@ayushmannk) May 5, 2015
His language, his body language. @SrBachchan is adorable in #PIKU! @deepikapadukone gives her natural best! And Irrfan is effortless!

— Ayushmann Khurrana (@ayushmannk) May 5, 2015
Just saw #Piku …Full of awe , admiration and inspiration ! @ShoojitSircar dada , yet another amazing film from you , I ll be #constipated

— Amit Sadh (@TheAmitSadh) May 5, 2015
#PIKU is a GORGEOUS, slice-of-life film that tugs at your heart strings. TAKE A BOW! @SrBachchan @ShoojitSircar @deepikapadukone @irrfan_k

— Madhur Bhandarkar (@imbhandarkar) May 6, 2015
congrats to the team of Piku @SrBachchan @irrfan_k @deepikapadukone n special congrats to @writeonj n @ShoojitSircar wonderful job. #piku

— Kapil Sharma (@KapilSharmaK9) May 5, 2015
#Piku releases today. Do try and watch it. Take you're parents, trust me you won't regret it.

— Abhishek Bachchan (@juniorbachchan) May 8, 2015
Amitabh Bachchan proves, yet again, that he's an icon. His act in #Piku is a masterclass in acting. You are simply incredible, Sir.

— taran adarsh (@taran_adarsh) May 7, 2015
Irrfan is brilliant. Is there any character he cannot portray? Give him any character and he takes to it like a fish takes to water. #Piku

— taran adarsh (@taran_adarsh) May 7, 2015