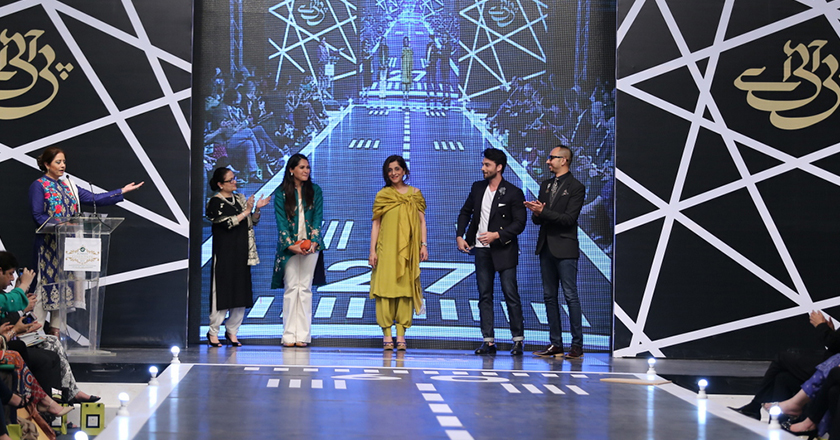 PIA selects the best of the best designers to re-style its cabin & ground crew –Nomi Ansari, Yasmeen Shaikh, Sania Maskatiya and Republic by Omer Farooq winners of #PIAStyle fashion show.
Pakistan International Airlines hosted its one of a kind showcase titled 'Style PIA Fashion Show' on 16th March 2015.
Chairman Mr. Nasser Nawaz Jaffer, Managing Director Mr. Shahnawaz Rahman and Bunto Kazmi are the faces behind this unique initiative.
Till date, Ms. Riffat Yasmin's three colored shalwar kameez (mustard, sea green, rust) uniform is worn by the airhostesses with a floral patterned dupatta.
The PIA Uniform – Over the years:
Continuing their legacy of having national and international dress designers for designing of uniforms of PIA flight attendants, 15 modern-day designers conjured up fabulous designs with their own distinct touch.
Read More: Nothing Less Than Top Designers For PIA
The PIA Uniform Fashion Showcase assembled a handful of notable personalities from the entertainment industry to lend their expertise and opinion, in order to crown the best of them all.
The judge's panel consisted of Shakil Saigol, Seemi Iftikhar, Naz Mansha, Tariq Amin, Shehnaz Ismail, Rabiya Javeri & Zeba Bakhtiar.
The judge's panel selected Nomi Ansari for women's wear, Republic by Omer Farooq for men's wear, while the crew will be sporting Sania Maskatiya's caps and Yasmeen Shaikh's jackets to complete their uniform.
The show was hosted by Ms. Atiqa Odho who is a Pakistani television and film actress, host, politician and owner of a cosmetic brand.
Partners for the event are as follows:
•Media partner is Spectrum Y & R
•Nabila's for hair and makeup
•Catwalk event management and productions
•PR by Catalyst PR & Marketing
View the photos from the event below:
Nomi Ansari:
Republic By Omer Farooq:
Sania Maskatiya:
Yasmeen Shaikh: