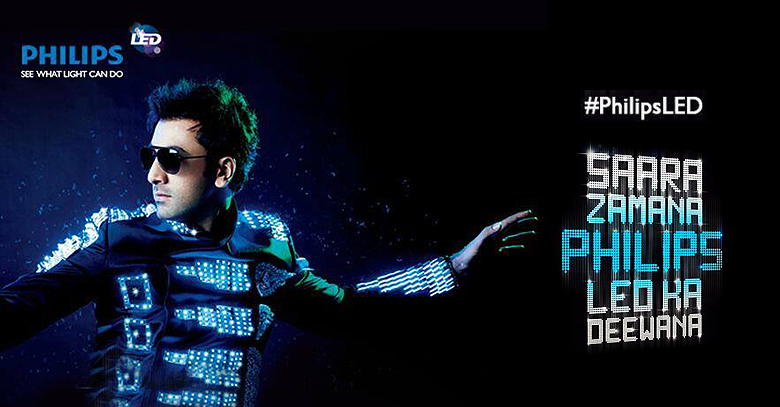 By Zulfiqar Ali Sajwani
Have you ever imagined LED jackets, that give the disco songs the right groove, can be used to market a brand? Well Philips is ready to brighten its promotional campaign with a music video featuring the heartthrob Ranbir Kapoor in a suit of LED lights.
The music video is a remake of the evergreen song  ' Sara Zamaana Haseeno ka Deewana'( The entire world is a fan of beautiful women), that had the King of Bollywood Amitabh Bachchan, flaunting his flamboyance.
Conceptualized by Ogilvy and Directed by  Prasoon Pandey, the music video aims to communicate the core idea of Philips that is to "See What Light Can Do". Philips aims to showcase how LED adds dynamism and modernity to the existing heritage of lighting by capitalizing on the strong connection of music with lighting.
"It was important, therefore, to think and act like an entertainer and not just a marketer," said Vivek Sharma, chief marketing officer, Philips Indian subcontinent. Sharma believes that this campaign will strengthen the position of Philips Lighting as an innovation leader.
The video song will be followed by three television commercials which will be aired around December 2013, each focusing on different functional benefits of Philips LED lighting.
The fact that the song has already achieved 0.38 million views online, clearly highlights that Philips has managed to hit the bullseye, grabbing attention from 'Saara Zamaana' ( entire world).