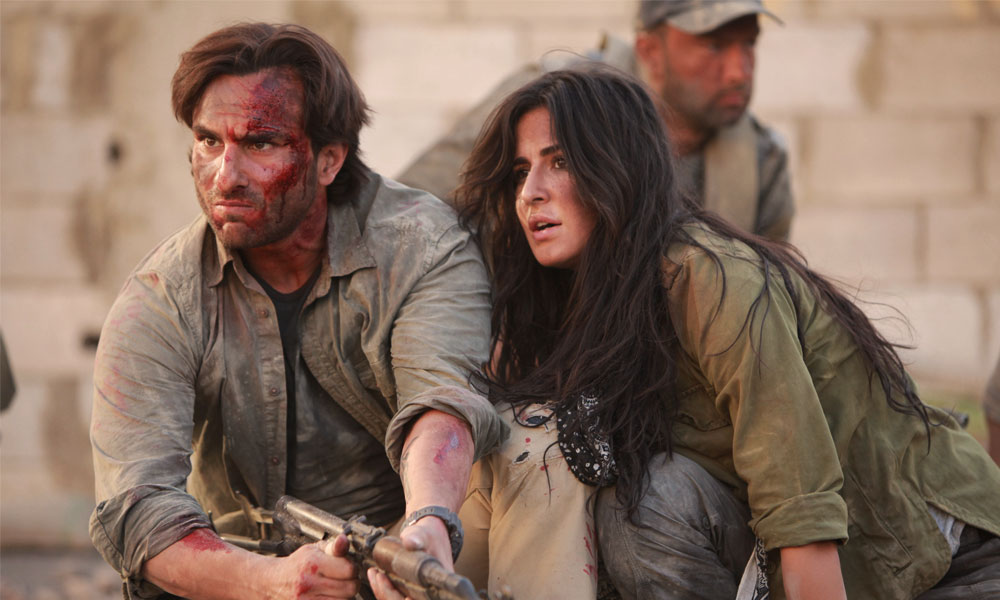 Kabir Khan's much contentious and much-hyped political piece Phantom, starring Saif Ali Khan and Katrina Kaif has eventually raised the curtains on Indian cinemas today.
The movie has given birth to a spree of continuous controversies, eager excitement, and high hopes, making it the most-talked movie of the season after Bajrangi Bhaijaan.
Based on Hussain Zaidi's crime novel "Mumbai Avengers", the fantasy thriller reminisces and responses to the series of attacks on Mumbai's Taj Hotel in 2008. The Bollywood Nawab is playing the role of an Indian agent, Daniyal who is on a mission to catch the mastermind behind the blasts that took the Bombay city by storm. Kat too plays the role of a secret agent in the movie.
Apparently, Phantom turned out to be an unwelcoming dose of entertainment for the Pakistani audience with the combative issue highlighted in the movie.
Consequently, the feature film has resulted in a ban in the nation, followed by a rain of arguments between Saif Ali Khan and Pakistani stars, Hamza Ali Abbasi, and Shaan.
Read more: Hamza Ali Abbasi Reacts to Saif Ali Khan's Comment on Pakistan
Now that it has released in India, Twitter town is abuzz with their reviews on the movie. Check how acclaimed movie critics and Twitterati across the border responded to Phantom's tale.
Review: Saif and Katrina make Phantom a joke http://t.co/b7TB24I7Zt #SaifAliKhan #KatrinaKaif #Phantom @kabirkhankk pic.twitter.com/KhaP4aZtgO

— rediff movies (@rediffmovies) August 28, 2015
#Phantom: anybody better than kabir khan would do such a juicy story a better justice..he drags it on,adds unnecessary emotions..

— Shetty (@Sharanyashettyy) August 28, 2015
#Phantom disaster — krishna chaitanya (@chaiitanyaa) August 28, 2015
Movie Review: #Phantom @radiochatter's Quick take: Slick execution of clumsy ideas. http://t.co/5KADCwXXj5 pic.twitter.com/o14QNhy2HT — Filmfare (@filmfare) August 28, 2015
Ouch! Does that hurt you Bollywood? :p The lead actors are the weakest links in Phantom. #Phantom #SaifAliKhan http://t.co/hSvWBxNlSd

— Samra Hashmi (@SamraHashmii) August 28, 2015
Movie Review: Despite #action, thrill & drama, #Phantom doesn't linger: http://t.co/4TLopRYNQq writes @AnujaJaiman pic.twitter.com/doy0t7JmRP — ScoopWhoop (@ScoopWhoop) August 28, 2015
Review: #Phantom knows where it is going, but has no clue how to get there – 2.5 stars http://t.co/84n0fscTc3 pic.twitter.com/fiBJNvy44M

— NDTV Movies (@moviesndtv) August 28, 2015
#Phantom review: Saif Ali Khan, Katrina Kaif are as boring as the film, writes @dpanjana http://t.co/pRTsXIDesm pic.twitter.com/LfKrUNXPBH — Firstpost (@firstpost) August 27, 2015
#Phantom My Rating: 2 Star @writerravi http://t.co/eQvsSMwjyQ

— Narinder Saini (@Narinder75) August 28, 2015
' #Phantom ' Review: A #snappy #avenger's tale — Nandish Chothani ♔ (@NandishChothani) August 28, 2015
#Phantom Review: This #Phantom Is Not Menacing Enough http://t.co/A2m06XUVpQ pic.twitter.com/bAhmOFqWO0

— SL Bollywood Fans (@BollywoodFansLK) August 28, 2015
#Phantom Review – The movie lacks conviction and disappoints big time! http://t.co/ORpoCY6CTL #SaifAliKhan #KatrinaKaif — MovieCrow (@MovieCrow) August 28, 2015
#Phantom is worth a watch but word of advice- be patient in the first half.

— IBNLive Movies (@IBNLiveMovies) August 28, 2015
#Phantom #Review There are way too many ways to trash Phantom. But, I'll go with just silly. Plain silly. http://t.co/s8adSAMSWW #Bollywood

— wogma (@wogma) August 28, 2015
#Phantom review: Kabir Khan's thriller with Katrina Kaif, Saif Ali Khan has no crackle, only fizz pic.twitter.com/w4V4hkozg8

— Celebsum.in (@celebsum_in) August 28, 2015
First day, first show: JUD #Phantom movie review is here. Zero stars. pic.twitter.com/l9P2YkRxqY

— Naila Inayat (@nailainayat) August 28, 2015
#Phantom review -tepid screenplay,clumsy dialogues &awful acting.. #Katrina as an ex-RAW agent is unpardonable.LOL http://t.co/nL9gJvESWC

— Tina Khan (@Tinna_khan) August 28, 2015
Movie Review| Bad acting mars the potboiler that #Phantom could have been,writes @swetakaushal http://t.co/HtZP3xEpX0 pic.twitter.com/xi83u1KVMF

— HT Entertainment (@htShowbiz) August 28, 2015
Just out of #Phantom . Very cold movie frm @kabirkhankk . Not a bad watch but it can be avoided.

— Premal (@Predesai) August 28, 2015
people who hate #phantom really don't love india. i request all of them to please get out of my country. india insaaf chahta hain

— tejaswini bollineni (@teju32567) August 28, 2015