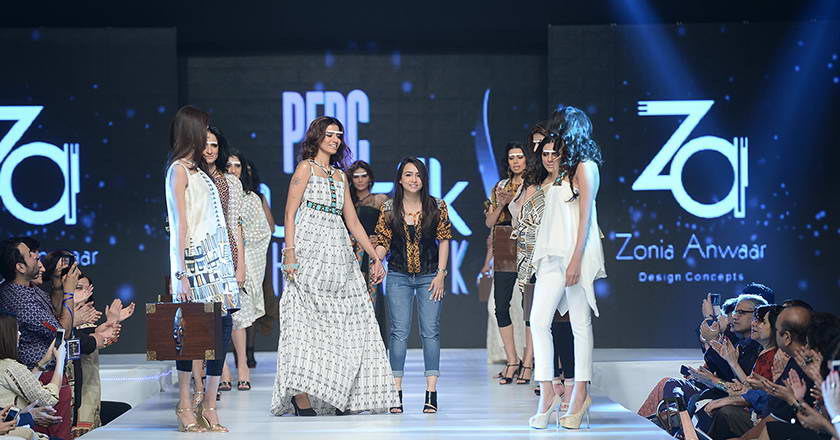 The eighth PFDC Sunsilk Fashion Week officially kicked off on Sunday 19th Aril 2015 in Lahore. It is a viable prêt-à-porter platform initiated by the Pakistan Fashion Design Council.
The project of #PSFW aims and strives to define the current fashion trends for 2015, focusing specifically on the summer heated seasons.
Read more: PFDC Sunsilk Fashion Week to Stage Trends for Summer 2015
Day-1 marked the first day of the prét-a-porter shows featuring Fahad Hussayn, the Bank Alfalah Rising Talent Show, Misha Lakhani, Zonia Anwaar, Natasha Kamal and Nickie Nina.
The affiliation of Sunsilk as a brand with this Fashion week has also grown, since this time around Sunsilk has taken over the Sunsilk Fashion Week red carpet and the Green Room/Backstage, as a sponsor. The official logistics partners for the Fashion Week are Fed Ex – GSP Pakistan Gerry's International returns and they offered a special arrangement for international designer consignments.
The creative team involved in styling the PFDC Sunsilk FASHION Week 2015 is Nabila's and NGENTS. The TV channels Hum TV/Hum Sitaray are acting as the Official Media Partners, CityFM89 as the Official RadioPartners with all media management being conducted by Lotus Client Management & Public Relations.
PFDC Sunsilk Fashion Week 2015's evening Luxury/Prêt Shows on Day-1 was opened by designer Fahad Hussayn, who showcased his collection of Live Digital Prints in silk and chiffon
Bank Alfalah further enhanced their association with the PFDC through the Bank Alfalah Rising Talent showcase comprising of 4 emerging designers.
Asrar Yaqoob made his PFDC Sunsilk Fashion Week debut at the 'Bank Alfalah Rising Talent Show' segment with a collection titled 'Camel Art'. Other than that the designers, Hisham Malik, Najia Qazi and Nida Waqar made their debut collection exhibits at this Bank Alfalah's Rising Talent initiative.
A "Modern Mughal" collection was presented by Misha Lakhani, which featured juxtaposition of old and new dress designs with embellishments, versatility, and classical trends all combined together.
Zonia Anwaar marked her fourth showcase at PFDC Sunsilk Fashion Week 2015 with a collection titled 'Zambezi', which has been inspired by African culture and art.
Natasha Kamal made her ramp debut in PFDC Sunsilk Fashion Week 2015's Luxury/Prêt segment with her collection, 'Le Nouvel Esprit.'
Day-1's Finale was presented by Nickie Nina who showcased their Luxury/Prêt collection titled 'Chambeli'.
For more information and to live stream each show, log on to the Official PFDC website and the Official Facebook page for the council.