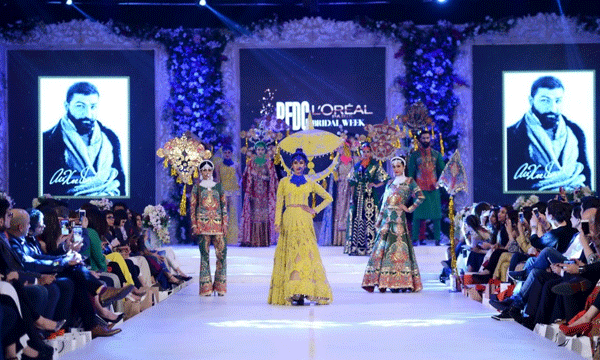 PFDC in collaboration with L'Oréal Paris, the world's leading beauty brand, presented the 5th PFDC L'Oréal Paris Week 2015. The platform is set to define and present contemporary and traditional Pakistani Bridal fashion, while fusing hair and makeup trends to create looks for the upcoming bridal season of 2015-2016.
The first day of #PLBW2015 opened with Karma Red, followed by Ali Xeeshan Theatre Studio, Sania Maskatiya, Bank Alfalah Rising Talent Show and showcases by Republic by Omar Farooq and Élan respectively.
Some highlights and red carpet images of the event below:
[fb_embed_post href="https://www.facebook.com/dflypk/photos/pb.152510451492955.-2207520000.1442470901./870067226403937/?type=3&src=https%3A%2F%2Fscontent-fra3-1.xx.fbcdn.net%2Fhphotos-xta1%2Fv%2Ft1.0-9%2F12002791_870067226403937_7186422925528865963_n.jpg%3Foh%3D7f8f0bf5a18c8aa0735bf56804e5a57e%26oe%3D56A00505&size=900%2C900&fbid=870067226403937/" width="550″/]
[fb_embed_post href="https://www.facebook.com/dflypk/photos/pb.152510451492955.-2207520000.1442470901./870056379738355/?type=3&src=https%3A%2F%2Fscontent-fra3-1.xx.fbcdn.net%2Fhphotos-xpt1%2Fv%2Ft1.0-9%2F12036608_870056379738355_804773212124158798_n.jpg%3Foh%3D4aaac7b13c6cc52409d36f9e8f152672%26oe%3D56637D1E&size=636%2C636&fbid=870056379738355/" width="550″/]
[fb_embed_post href="https://www.facebook.com/dflypk/photos/pb.152510451492955.-2207520000.1442470901./869835349760458/?type=3&src=https%3A%2F%2Ffbcdn-sphotos-a-a.akamaihd.net%2Fhphotos-ak-xpt1%2Fv%2Ft1.0-9%2F12002300_869835349760458_8059582410383609201_n.jpg%3Foh%3De3fecba6d8b1415aed59b2c18f7387f2%26oe%3D5698F484%26__gda__%3D1453290112_341a651a00e9c352bf848843d213c478&size=751%2C751&fbid=869835349760458/" width="550″/]
[fb_embed_post href="https://www.facebook.com/dflypk/photos/pb.152510451492955.-2207520000.1442471909./870083696402290/?type=3&src=https%3A%2F%2Fscontent-fra3-1.xx.fbcdn.net%2Fhphotos-xtp1%2Fv%2Ft1.0-9%2F12003193_870083696402290_1896335027076131724_n.jpg%3Foh%3De8e42afbd67c179741d1149d10f5ada2%26oe%3D569F76D1&size=900%2C900&fbid=870083696402290/" width="550″/]
Make-up for Day-1 of PFDC L'Oréal Paris Bridal Week 2015 was done by the creative team at N-Pro for womenswear and N-Gents for menswear.
This year, the PFDC L'Oréal Paris team also aims to redefine both bridal hair and make-up, whilst the styling and makeup teams presented their trends for the season using L'Oréal Makeup Designer Paris and Excellence Crème products.
Bridal Showcase: Karma Red
PFDC L'Oréal Paris Bridal Week 2015 Day-1 was opened by Karma Red, led by design director Maheen Kardar Ali who showcased their bridal collection titled "Shehzadi Rang Aur Samarkand Ki Rani". This season Karma Red is about intense luminous color, traditional handicraft, modern application, gota, gold embellishments inspired by Karma's signature rose with detailed finishing and statement silhouettes on heritage inspired vintage-esque pieces.
Bridal Showcase: Ali Xeeshan Theatre Studio
Following Karma Red, The Ali Xeeshan Theatre Studio showcased a bridal collection of menswear and womenswear pieces titled "Tufaan" inspired by the movement and effect of a storm in the desert and the transformation it creates in its surroundings. The collection employed the latest techniques of laser cutting and makes use of new materials such as leather. Lustrous gold roses were also been integrated into the fabric to achieve a refined and glorious impact. The colour palette for 'Tufaan' comprised of the earthy tones with reference to the desert which later turn into different shades of gold as the sun sets over the desert making for an interesting combination of earthy tones and a fiery sky.
Renowned film personalities Meesha Shafi and Sohai Ali Abro participated in the designer's showcase as showstoppers.
Bridal Showcase: Sania Maskatiya
Sania Maskatiya showcased her fall/winter bridal and trousseau collection, "Afsaneh". Sania Maskatiya also announced their collaboration with renowned jeweler Reama Malik of GOLD as the official jewellery partner with Nine West as the collections' official footwear partner and an exclusive music-mix by DJ Shah Munir. "Afsaneh" draws inspiration from the grandeur of times bygone and celebrates the sub continents' rich cultural heritage by combining centuries old embroidery techniques with luxurious fabrics. The collection consisted of intricate thread work techniques of zardozi, aari, and shimmering textures of sequins and beadwork that have been employed to evoke the romance of the East and to present a unique take that aspires to appeal to the modern bride.
Bridal Showcase: Bank Alfalah Rising Talent Show
The Bank Alfalah Rising Talent Show featured individual capsule presentations by 4 designers:
Faiza Saqlain showcased her bridal collection 'The Regal Dawn' which encompasses the glory of Elizabethan Era when Queen Elizabeth 1 reigned. The collection took deep inspiration from the Queen's gowns which were gorgeously hand embroidered giving a very prized look, mirroring the prosperity and energy of the age. The opulent dresses were a mixture of sheer and opaque. The color palette included variation of skin tones and gold along with teal and magenta colours.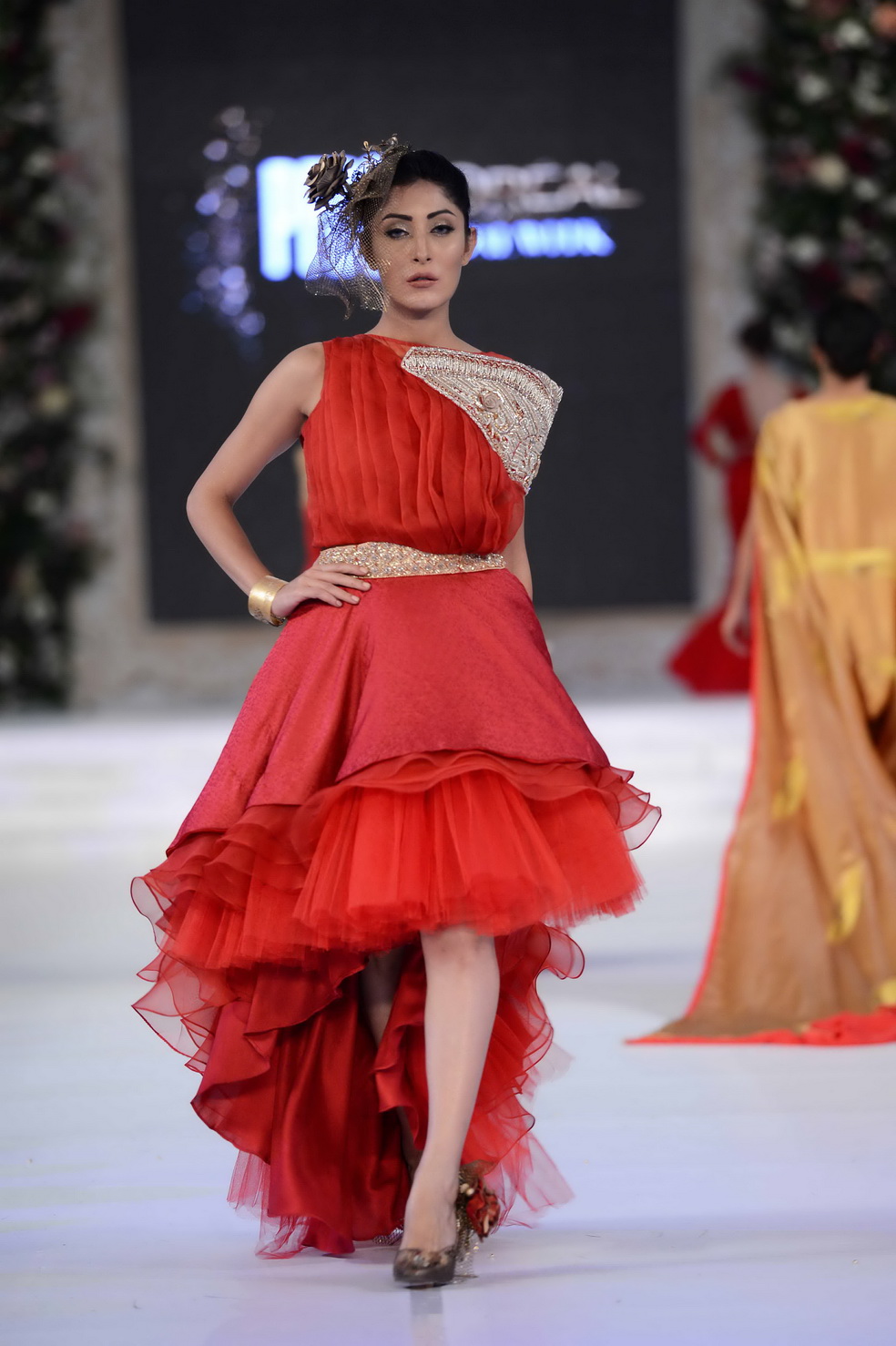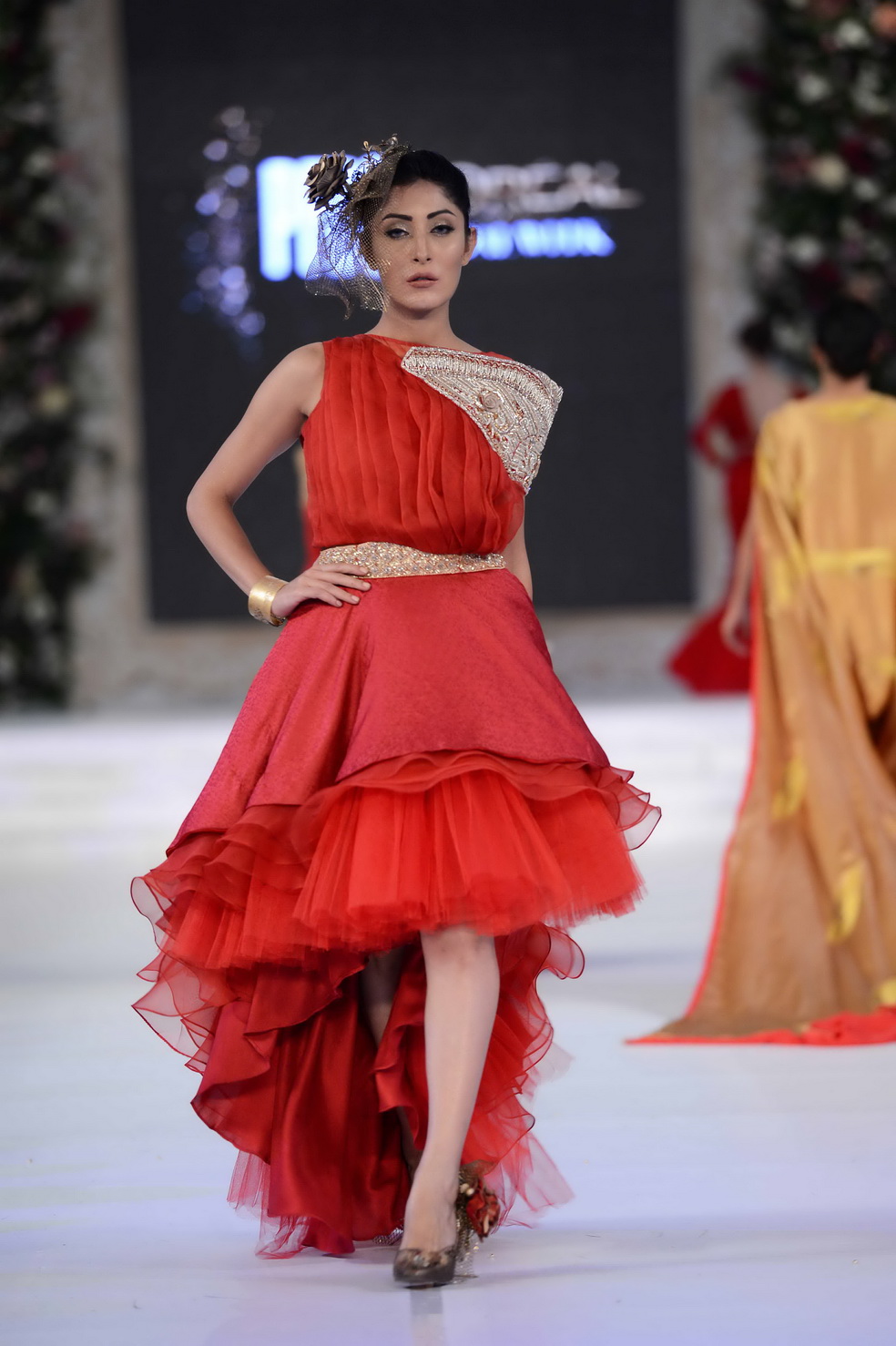 JEEM by Hamza Bokhari showcased the bridal collection titled "Ruzzkiy Kukly", named after a tale of the journey of a Babushka Doll who visited Pakistan. The collection amalgamated rich fabrics; tissue, net, velvet and silk which transgresses into designs that represented elegant sheerness. The sophisticated structured silhouettes were adorned with twisted embellishments accompanied by a royal colour palette inclusive of jewel tones ranging from gold to ruby and magenta, paired with the luxurious effect of purple and teal.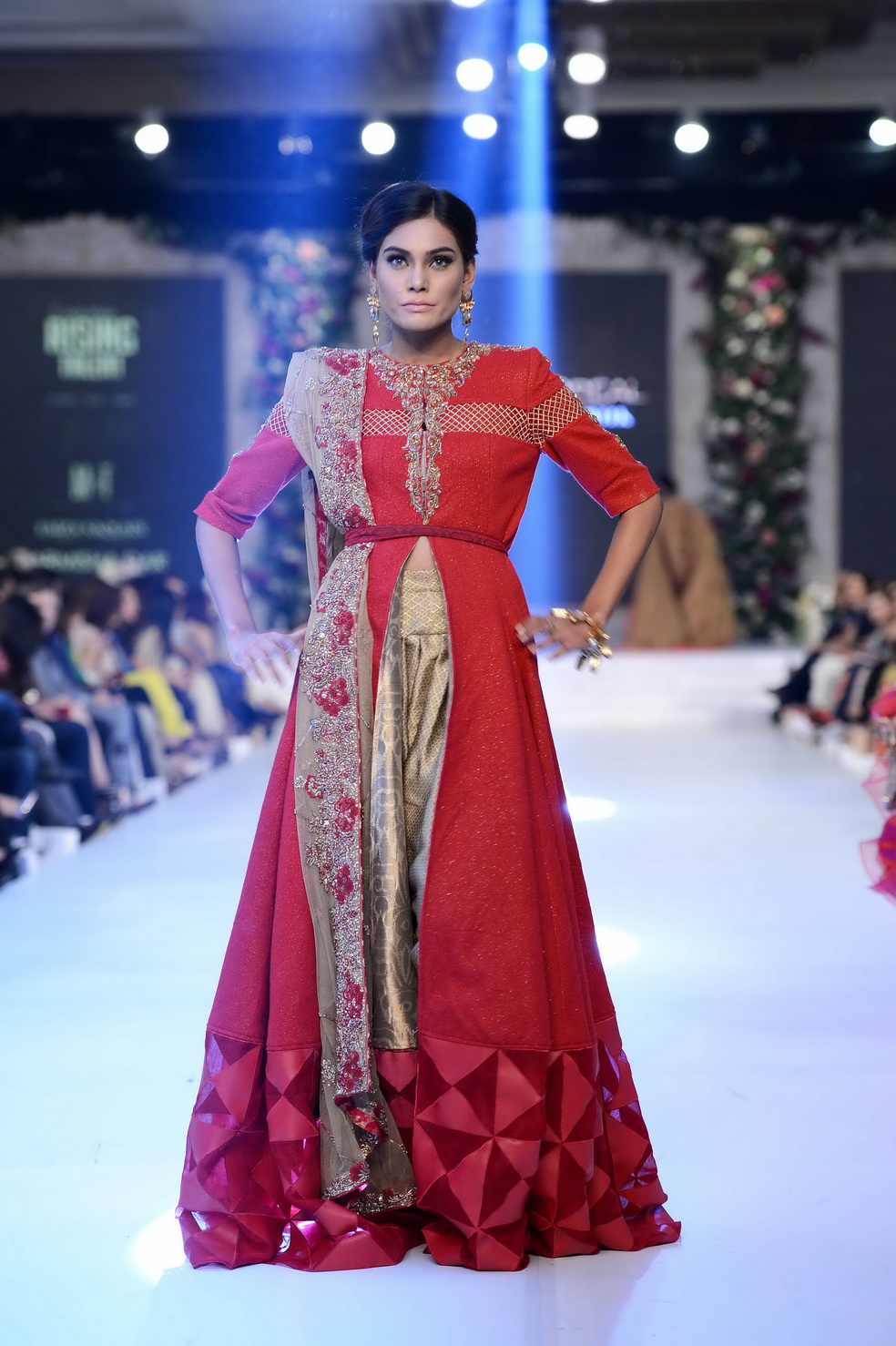 Maheen Taseer showcased her new bridal collection, "Vailliant". The collection aspired to revive traditional designs in a contemporary way and focused on the rich legacy of our traditional fabrics – silks, brocade and velvets with antique embellishment techniques set in opulent colors of maroons and reds. The cuts are centered around eastern bridal cuts – voluminous and floor scraping lehngas and gharararas. The color palette was based on the spectrum of reds and maroon with hues of gold.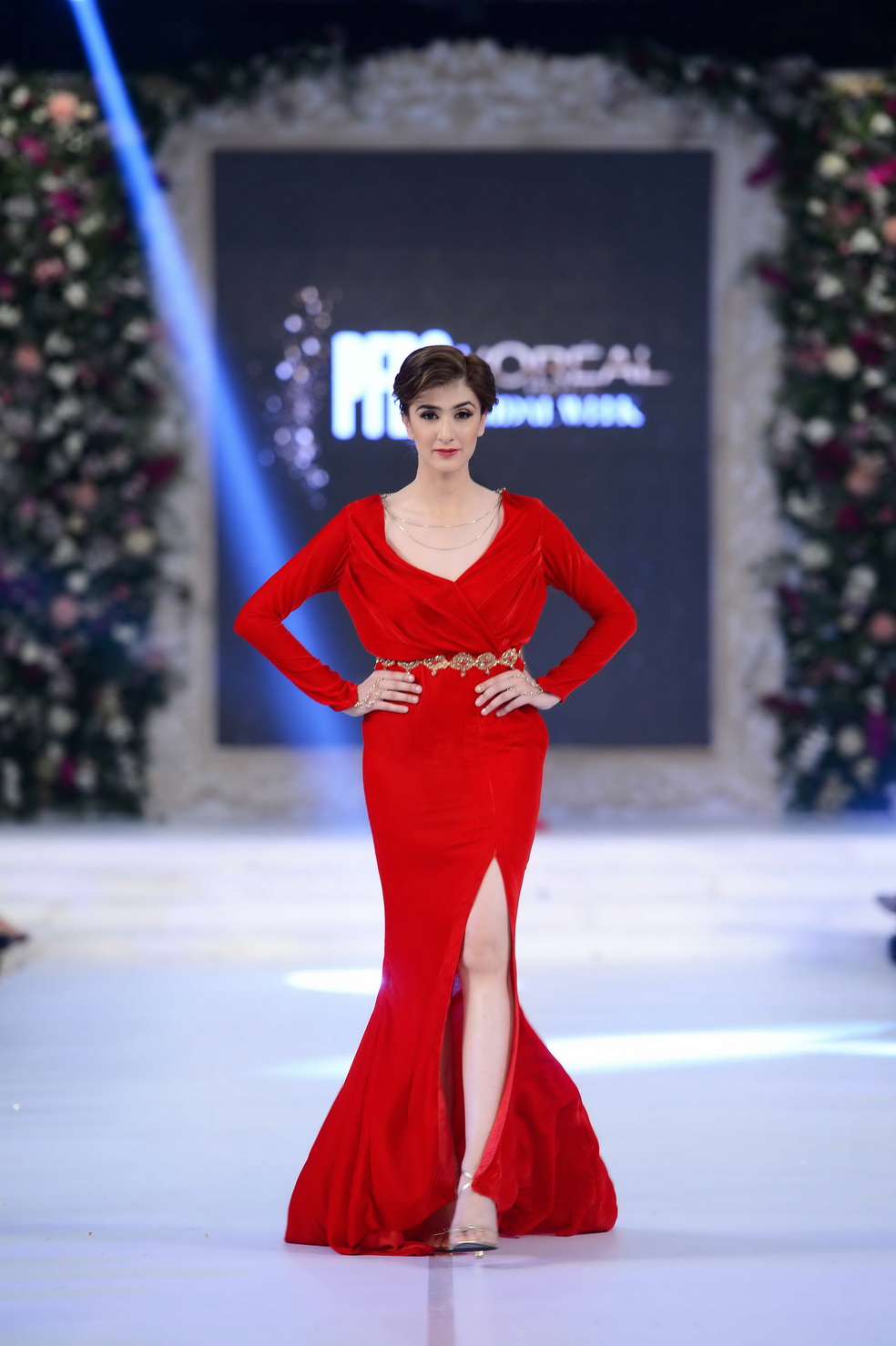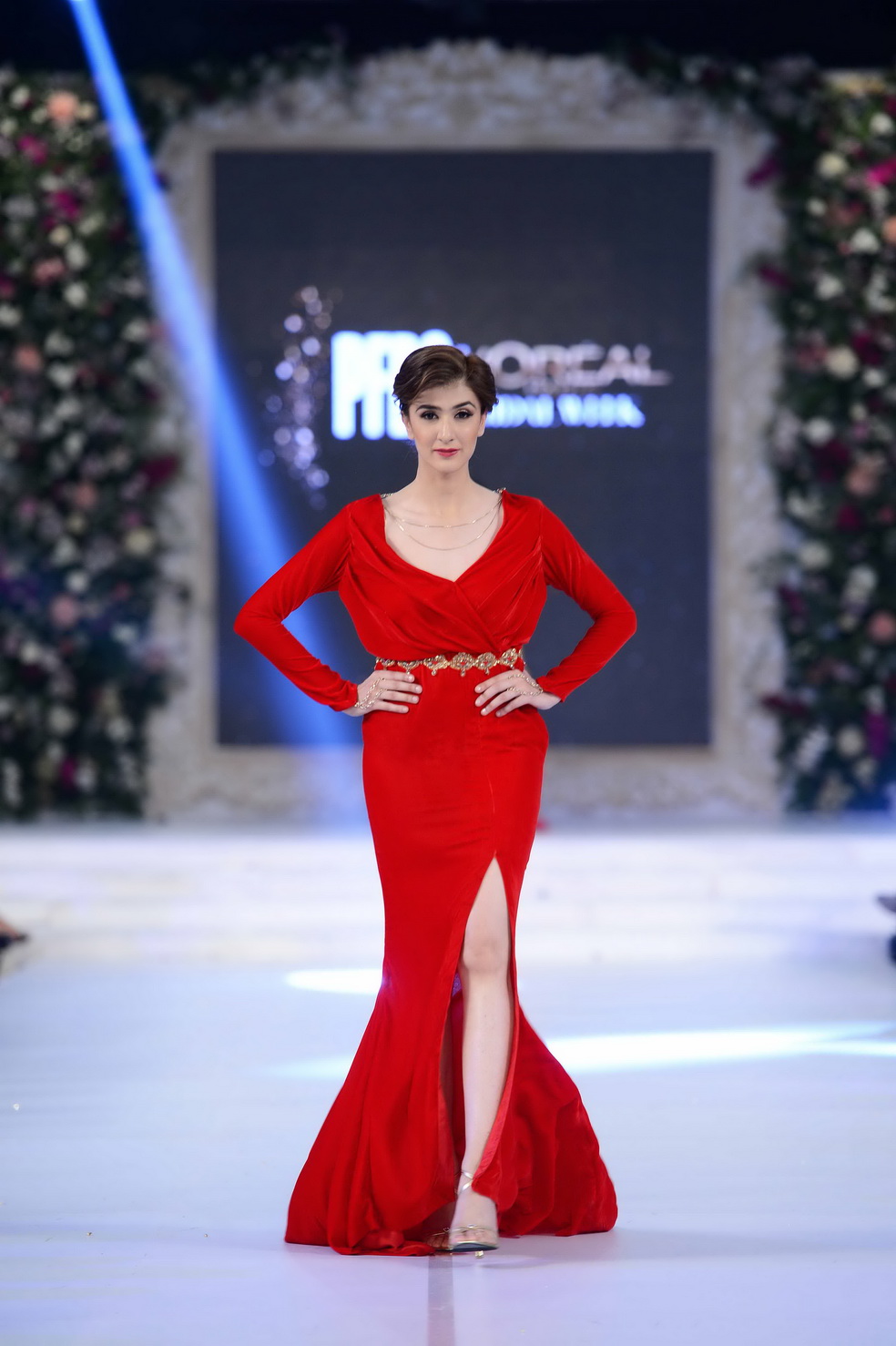 Fashion designer Zarmisha Dar showcased her new bridal collection, "Gullistan". The collection's design philosophy was to magnify femininity while working with fine materials delicate embroideries with outstanding quality and paying immense diligence to stitching. The inspiration was derived from the Turkish word "Gullistan" which translates to "Garden of Roses". With a pastel colour palette and soft, sheer sleeves with hints of lace, the collection featured a lot of net, clean cuts and use of traditional gota and dabka cora, incorporating thread work in this collection.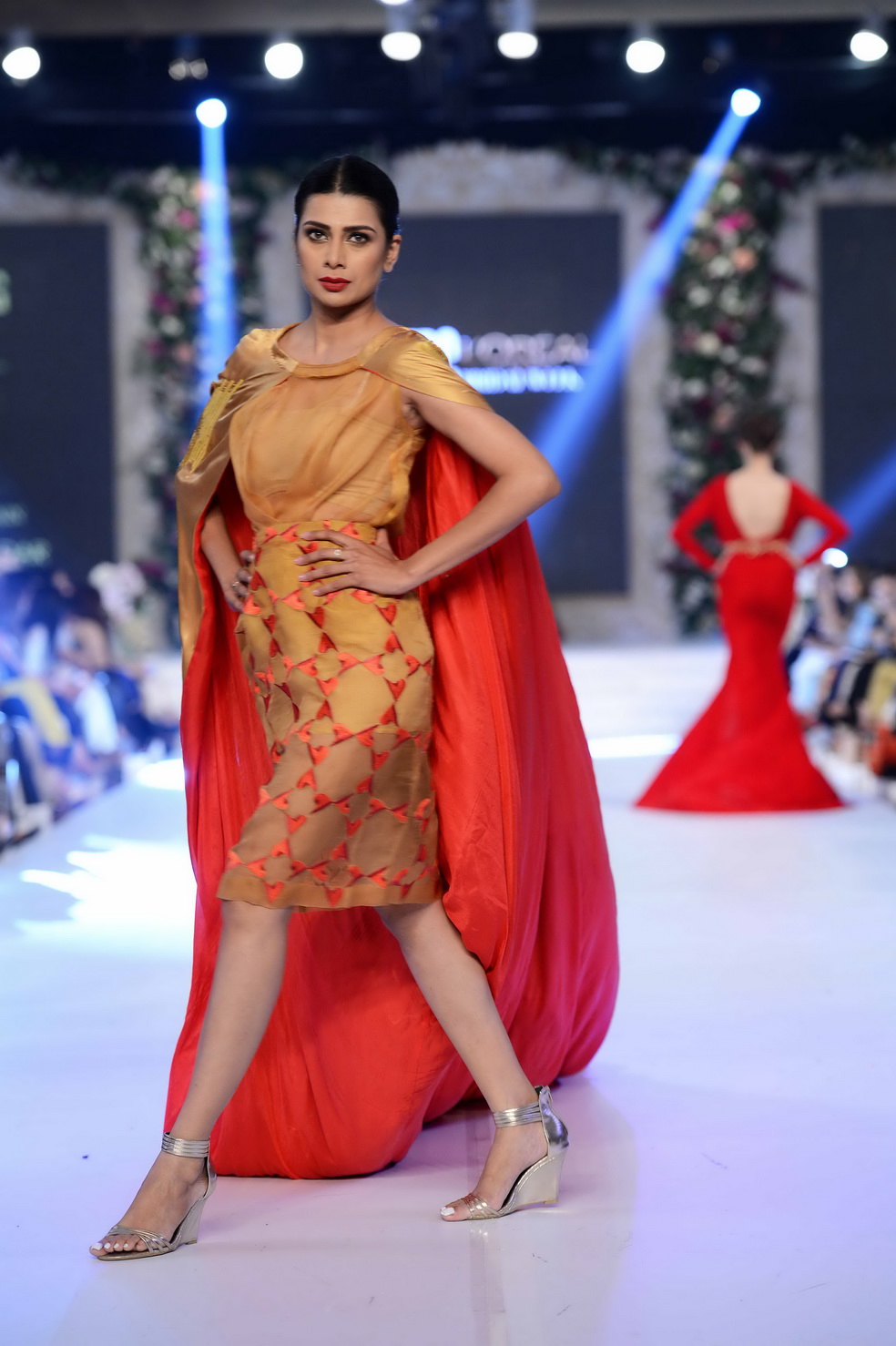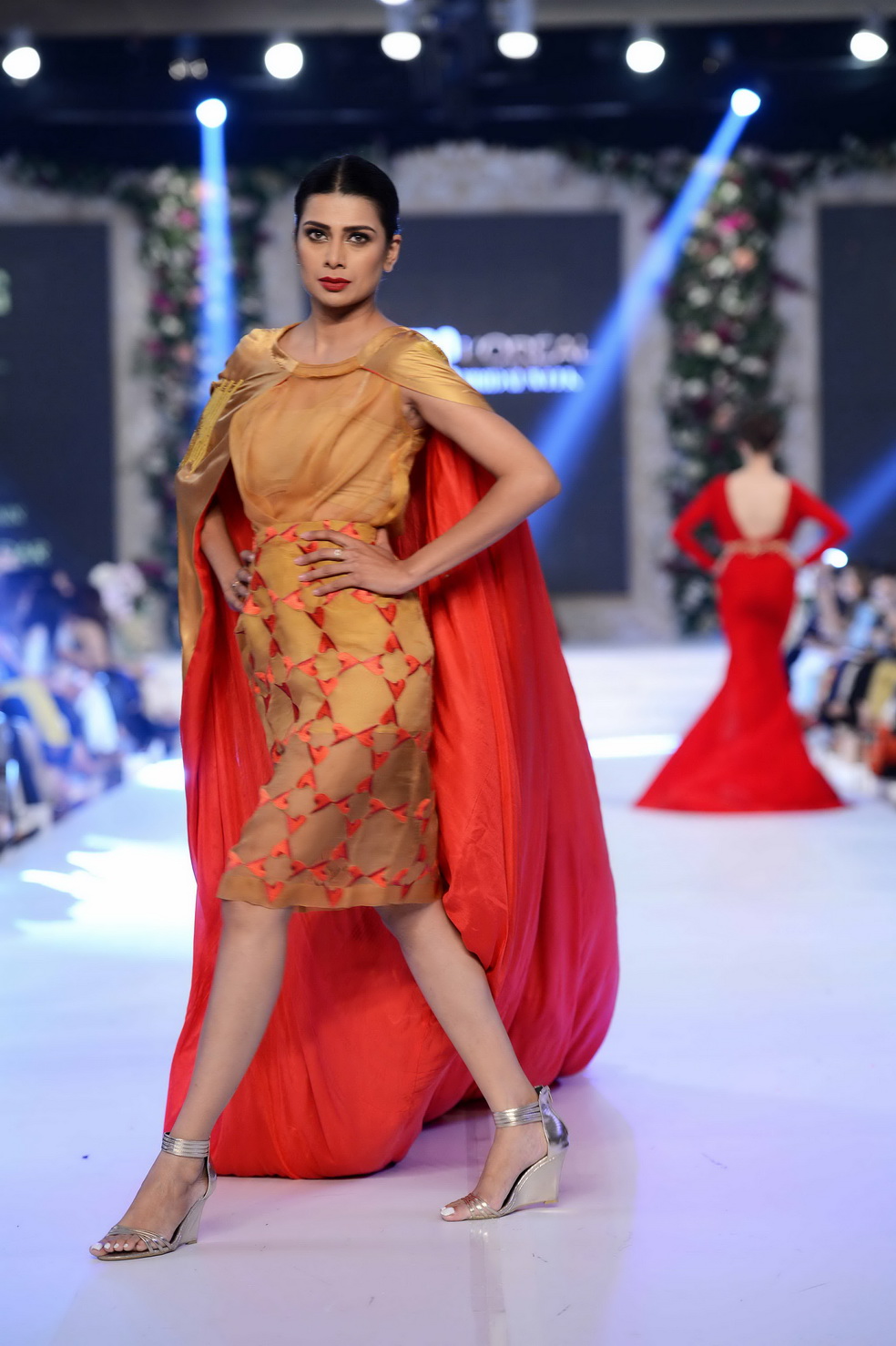 Bridal Showcase: Republic by Omar Farooq
Republic by Omar Farooq showcased their "Rosa" collection for PFDC L'Oréal Paris Bridal Week 2015. The collection was inspired by the works of designer Madeleine Vionnet with embroideries reflecting Greek ornaments and flowers and hints of the art deco era. In-line with their inspiration and the name of their collection 'Rosa' which means floral in latin, the collection featured Madeleine Vionnet's unique draping technique creating flowing and voluminous silhouettes with the right amount of flare. The color palette featured muted golds, silvers and shimmering pastels. The menswear was designed by Omar Farooq himself and womenswear designed by Sana Omar.
Bridal Showcase: Élan
The finale of Day-1 was presented by Élan where they showcased their bridal collection "The Jasmine Court". The "Jasmine Court" paid tribute to Subcontinental Royalty's romantic era of the late 18th century.
Élan opted for a demure sensual silhouette steeped in tradition this year. The tones were vintage with deep accents interlacing unexpectedly with the gold, nude, yellow, lime, pale blue and jade color palette.
Traditional fabrics, silhouettes and embellishment came into focus – short heavily gilded kurtas, kalidar angrakhas, voluminous peshwas, farshi ghararas and rich detailed zardozi beheld the interest this season – the Indian Princess Bride with a demure sophistication enveloped in tradition and heritage took centre-stage. The collection featured menswear, womenswear and childrenswear.