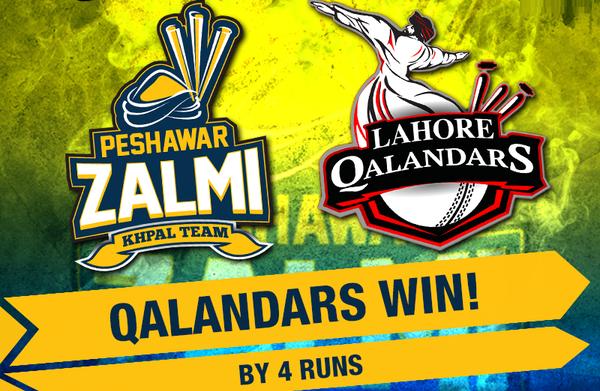 UPDATE: Lahore Qalandars got the much needed victory over Peshawar Zalmi in a close finish by just four runs. Cameron Delport proved a star for them in both batting and bowling.
Qalandars were invited to bat first by Shahid Afridi after winning the toss and placed a respectable total of 164 runs on the board despite Chris Gayle bowled out on a duck again. Cameron Delport 78 and Umar Akmal's 52* helped Qalandars to set up a fighting total.
That was another thriller in the #HBLPSL! @lahoreqalandars get a much needed win! #LQvPZ pic.twitter.com/efjklHs13O

— PakistanSuperLeague (@thePSLt20) February 13, 2016
That was a nail-biting contest. Great game #Zalmis, you won many hearts! Congratulations to @lahoreqalandars for winning this one. #LQvPZ

— PeshawarZalmi (@PeshawarZalmi) February 13, 2016
#LQvPZ
Qalandars did it! Played like Warriors today! Yesss!#MobilinkKaySikandar #HBLPSL #AbKhelKeDikha pic.twitter.com/tBwShZEXMc

— Lahore Qalandars🏏 (@lahoreqalandars) February 13, 2016
In reply, Zalmi 's kept loosing wickets and lost the match by 4 runs after nail biting finish. Qalanadars looked too impressive when they cam on to bowl and specially in fielding department. David Malan showed a resistance with his 42 runs while Cameron Delport and Keven Cooper took three wicket each.
Delport was awarded man of the match for his all round performance. Qalanadars has kept their hopes alive for this contest with this victory while Peshawar Zalmi and Quetta Gladiators have already made their way to the play-offs.
Peshawar Zalmi , the top team of PSL T20 2016, will have a showdown with Lahore Qalandars today at Sharjah Cricket Stadium.
This is the second match between both sides and Zalmi's easily won the first one against Qalandars. This might be the last chance for Lahore Qalandars to keep their hopes alive for the contest. At present, they are at bottom of the points table.
The Qalandars will have to perform as a unit with the hunger of winning and aggression that's missing in their play.
On the other side, Peshawar Zalmi is maintaining their winning streak in convincing fashion and entertaining their fans, so no worries for them, they are heading in the right direction.
Chris Gayle had a start with 30+ runs in the previous match and stayed on wicket for few overs, Qalandars really need his fireworks along with a sense of responsibility from Umar Akmal, because only they can lift up their side from this tough situation against the odds.
Players to Watch: Tamim Iqbal, Umar Akmal, Muhammad Hafeez, Chris Gayle
Live Broadcast: PTV Sports, Ten Sports, Geo Super, OSN (UAE), CSN (Sri Lanka), Prime TV (UK)
Live Streaming: Geo Super, PSL-t20.com, pcb.com.pk, YouTube.com and PTV Sports, For international viewers can watch it on www.cricketgateway.com
Peshawar Zalmi Squad:
Shahid Afridi (c), Wahab Riaz, Darren Sammy, Kamran Akmal, Muhammad Hafeez, Chris Jordan, Tamim Iqbal, Junaid Khan, James Allenby, Aamir Yamin, Dawid Malan, Imran Khan Junior, Shahid Yousaf, Abdur Rehman, Mohammad Asghar, Brad Hodge, Israrullah, Taj Wali, Musadiq Ahamd, Hassan Ali
Lahore Qalandars Squad:
Chris Gayle, Umar Akmal, Dwayne Bravo, Muhammad Rizwan, Sohaib Maqsood, Mustafizur Rehman, Kevon Cooper, Cameron Delport, Zafar Gohar, Hammad Azam, Zia ul Haq, Zohaib Khan, Azhar Ali (c), Abdur Razzaq, Mukhtar Ahmad, Ehsan Adil, Imran Butt, Navid Yasin, Adnan Rasool
MATCH HIGHLIGHTS
Fun way to start Valentine's Day as both teams feel the love! @henrygayle interrupts @SAfridiOfficial's interview! pic.twitter.com/ZoXXk616Pk

— PakistanSuperLeague (@thePSLt20) February 13, 2016
The stage is set for a thrilling finish! @dmalan29 still out there #LQvPZ pic.twitter.com/laAcEboZUK

— PakistanSuperLeague (@thePSLt20) February 13, 2016
.@dmalan29 and @KamiAkmal23 on strike with the match evenly poised, anybody's game here! #LQvPZ pic.twitter.com/fiOIqGNUlY

— PakistanSuperLeague (@thePSLt20) February 13, 2016
.@AzharAli_ took a blinder to dismiss @MHafeez22! Score update #LQvPZ pic.twitter.com/vcavBnEAFk

— PakistanSuperLeague (@thePSLt20) February 13, 2016
REWIND: watch @AzharAli_ shut up his critics with a wonderful catch to take the first #Zalmi wicket. pic.twitter.com/nmF1TEhvy0

— PakistanSuperLeague (@thePSLt20) February 13, 2016
Sublime batting by @Cam12Delport and @Umar96Akmal! Innings summary #LQvPZ pic.twitter.com/TxKnwhmxZz

— PakistanSuperLeague (@thePSLt20) February 13, 2016
There have been some wonderful hits from @Cam12Delport and @Umar96Akmal tonight. Enjoy some of their best! #LQvPZ pic.twitter.com/ahY5QgfjIt

— PakistanSuperLeague (@thePSLt20) February 13, 2016
🎼🎵🎶 Aj Mela Wekhan Aiyan
Qalandriyan Lahore Diyan
Hoye Aj Mela Wekhan Aiyan
Qalandriyan Lahore Diyan 🎼🎵🎶@lahoreqalandars looking good!

— PakistanSuperLeague (@thePSLt20) February 13, 2016
5 overs left, @Cam12Delport and @Umar96Akmal in the middle. Score update #LQvPZ pic.twitter.com/WZpiO9H7z8

— PakistanSuperLeague (@thePSLt20) February 13, 2016
.@lahoreqalandars certainly have the batting power to finish off strongly. Score update #LQvPZ pic.twitter.com/jyQqMQGVgV

— PakistanSuperLeague (@thePSLt20) February 13, 2016
.@PeshawarZalmi have picked up the dangerous @henrygayle early! Update #LQvPZ pic.twitter.com/2BY4kXW7M7

— PakistanSuperLeague (@thePSLt20) February 13, 2016
BUNNY ALERT!

Might have been straying down leg, but that's the second time in a row @JunaidkhanREAL has got Gayle! pic.twitter.com/YXqpjVAtsT

— PakistanSuperLeague (@thePSLt20) February 13, 2016
#PeshawarZalmi's 6th #HBLPSL match and 2nd against @lahoreqalandars is tonight!
Come and witness #RiseOfTheZalmi! pic.twitter.com/ZtQqEwyI3P

— PeshawarZalmi (@PeshawarZalmi) February 13, 2016
Qalandars face Zalmis #LQvPZ #LahoreQalandars Not Giving Up InShaAllah!#MobilinkKaySikandar #HBLPSL #AbKhelKeDikha pic.twitter.com/w0i8EnqSxL

— Lahore Qalandars🏏 (@lahoreqalandars) February 13, 2016