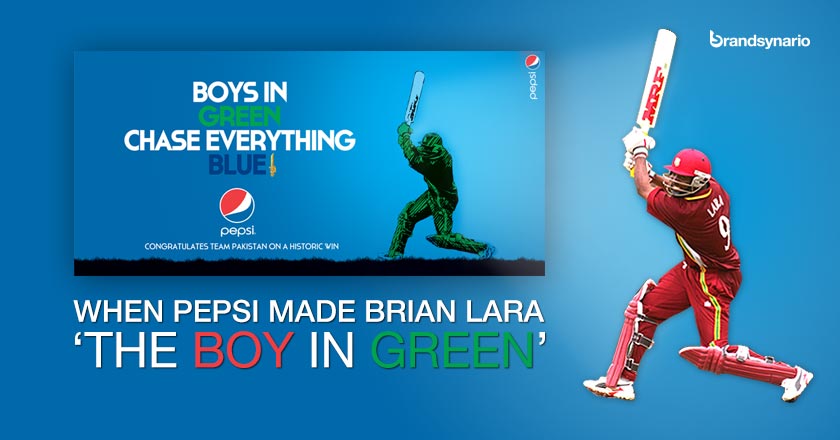 Pepsi Pakistan congratulated the Pakistani Cricket Team on the memorable win against Sri Lanka with a picture that has everything right in it, except for one thing. The Batsman in Green, is actually a very recognizable legendary 'Red' Batsman, Brian Lara.
The copy says, 'The Boys in Green, chase everything in Blue' – A creative copy one must say, since Blue represents both 'Sri Lanka and 'Pepsi', along with the 'chasing' part which also implies the total runs Sri Lanka posted and Pakistan team chased successfully, to win the match.
But what of the Image with the copy? It doesn't seem right, does it? Apart from being, what seems like a paint-job (a half-hearted one, even at that), one can not help but notice the very clear MRF logo on the bat. Now when did 'The Boys in Green' ever carry a cricket bat with MRF's logo on it?
The image of the left handed batsman who is  awkwardly painted green in the ad, is one of the most famous and distinct images of Brian Lara. In fact it was so famous that the official ICC Brian Lara Cricket Game had the same pose of the great West Indian batsman on its cover. 
That is why most of us felt we have seen this Cricket shot somewhere as it is one of the most shared and showcased image of Brian Lara and Cricket on the whole.
Now, the question that comes to mind-  the creative work at JWT (J. Walter Thompson) – the official creative agency for Pepsi Pakistan – and the reason behind putting up Brian Lara on a congratulatory poster. The Image was shared by Pepsi Pakistan on their official Facebook page and has more  has more than 1.2 million fans on it.
As much as we tried to make sense, as to what we should call it, a 'slip', 'sloppy art work' or unawareness – JWT and Pepsi at least should now revise the Print Ad.