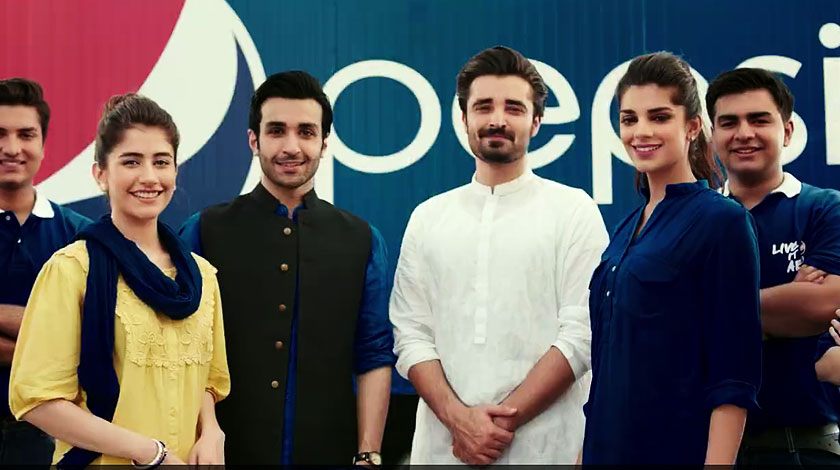 A few months back, Pepsi Pakistan won our hearts with their brilliant #LightingUpLives CSR campaign.
Taking this successful initiative a notch above, the cola brand is back with a star-studded Ramzan campaign featuring iconic youth celebrities, Hamza Ali Abbasi, Sanam Saeed, Syra Yousaf and Azfar Rehman who are supporting the very cause online.
The campaign promotes a call to action to purchase 1.75L bottle; proceeds from which will be donated to Liter of Light Pakistan. 1 Re from each 1.75L Pepsi plastic bottle is being donated to the cause allowing the nation to be part of #LightingUpLives, giving the campaign a bigger and deeper meaning.
Pepsi's latest appeal is exemplified by a beautiful rendition of 'Noor-e-Azal Noor-e-Khuda' in Abida Parveen's heartfelt voice and surreal settings.
Pepsi Pakistan collaborated with Litre of Lite in Pakistan to launch a unique CSR campaign which has already been executed in a remote area called Jalozai IDP camp situated 35 km from Peshawar.
The brand provided IDP camps with  recycled Pepsi plastic bottles that were converted to lights powered by solar energy. These lights were installed in houses, hospitals and localities and made a real difference in lives of the people in the Jalozai camp.
The installation was documented by the renowned Sharmeen Obaid Chinoy and was launched through an impactful PR event with an inspiring list of people who attended it.
Read details here: Pepsi Pakistan's CSR Campaign Lights Up Jalozai IDP Camp
There's a call to action to buy a Pepsi 1.75L bottle and share a picture of it with a message for #LightingUpLives.
Join Pepsi this Ramzan and lend a hand in #LightingUpLives.