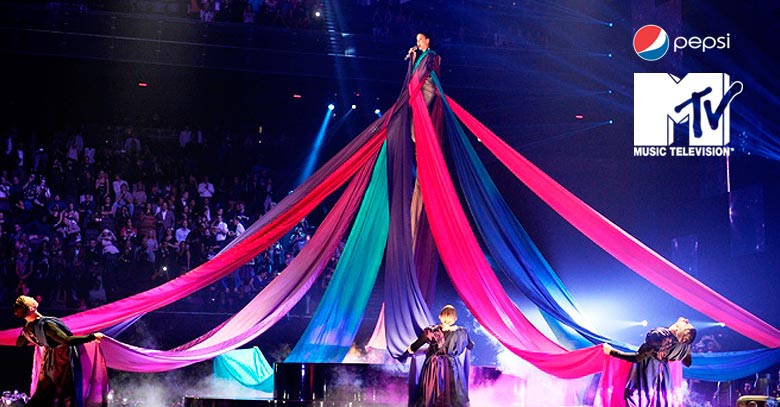 By Zoya Anwer
Pepsi, the global soda drink associated with the music is now all set to take its positioning one step ahead with the  launch  of a music channel in Indian with the help of MTV, Viacom's very popular youth channel.
The channel will be launched in the coming months and will have its logo alongside MTV's one.
The new channel will help Pepsi in promoting music even further, which basically represents the youth and will also benefit MTV in further expansion, which already has another global channel MTV Dance.
The senior officials of both PepsiCo India and MTV India have confirmed the news. The MTV official said, "MTV has grown its franchise with several brand extensions including niche channels. In a pay-TV environment it is a profitable business model. Given our strong legacy, this is a good time to launch another MTV channel."   
Unlike previously, the partnership of the two brands will not be limited to content, rather as the official said,"Platinum advertisers will have a partnership with MTV, rather than being just advertising clients." 
The prime focus of the channel will be promotion of independent music and will most probably be called MTV Indies. The channel will not only cater to Indian music but will also show international music like English indie genre. Rock, Electronic Dance Music (EDM) and folk genre will be paid attention as well.
According to branding experts this will be a great opportunity for the promotion of Indian music and while all music channels show Bollywood songs or English current music scene, the channel will be able to show almost 450 indie songs every day.
This will not be a new venture for Pepsi, a brand famous for encouraging new indie artists and is already associated with record labels and grand award shows like Grammy's.
Pepsi Pakistan, on the other hand is also busy in promoting its association with Pakistan Idol.
The joint course however will not be of Indian Premier League (IPL)'s level which costs PepsiCo around 160 Crore, rather the deal is said to make about 7-10 Crore per year, given the fact that the production cost will be looked after by MTV.
This shall be 50% to 80% of PepsiCo's expenditure on the music on television, almost Rs 12 to 15 Crore a year.
PepsiCo is greatly expanding itself with every passing year with worldwide investments like Pepsi, Frito Lay's and Gatorade etc.