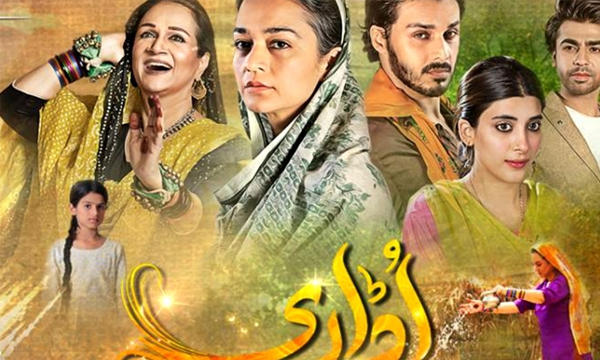 UPDATE: Social media was abuzz with PEMRA serving a legal  notice to HUM TV drama Udaari, over a controversial scene on child sexual abuse; the producer of the drama, ,Momina Duraid has given an official statement in this regard.
"We feel that Pemra might have been misled by a group of people who would never want our society to raise and flourish. We will explain our view point and present it with evidence. We are attaching articles and feedback supporting Udaari with our reply," Momina said.
Momina further revealed that once PEMRA understands the positive influence this serial has on the society, the media will start supporting it too.
When asked what action PEMRA can if Udaari was found to be violation of codes, Duraid said, "We feel it is a responsible body and will understand that this serial is important and crucial for social reform and will not use its power to take any action against this serial after we explain our side."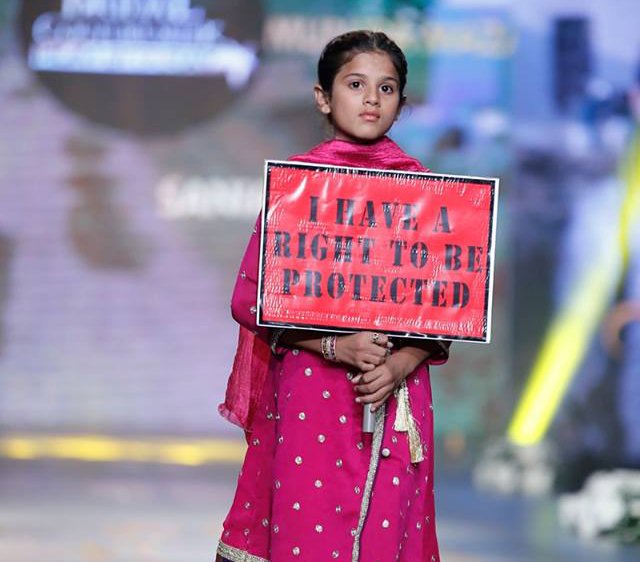 https://twitter.com/reportpemra/status/730040763237605376/photo/1?ref_src=twsrc%5Etfw
"We cannot hide behind a wall and close our eyes to any kind of abuse, especially child abuse. Udaari is being termed the best play of the year by all critics and the viewers." said Momina.
---
The new drama serial on HUM TV, Udaari has been issued a notice from the Pakistan Electronic Media Authority (PEMRA) for airing immoral content in the 5th episode of Udaari. The channel has been asked to submit their explanation by 4pm on May 25, 2016.
According to details, PEMRA after receiving hundreds of complaints via Twitter regarding the scene aired on May 8th that showed a father asking for carnal relationship with his step daughter in the drama serial, issued a notice claiming that Udaari promotes a negative perspective of our society across the globe.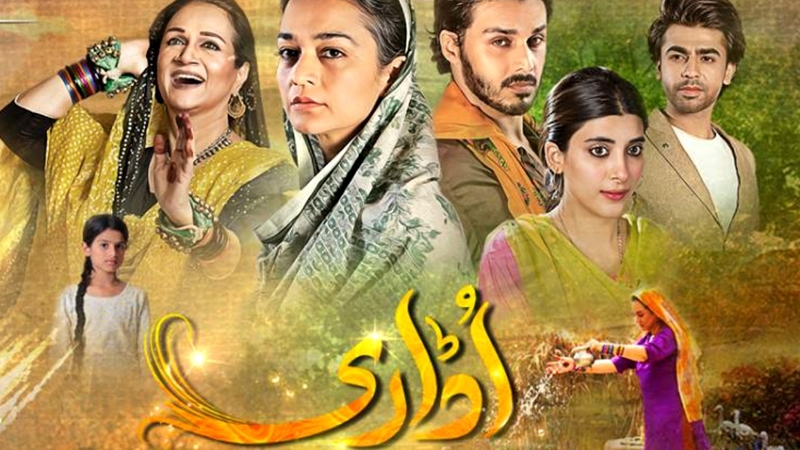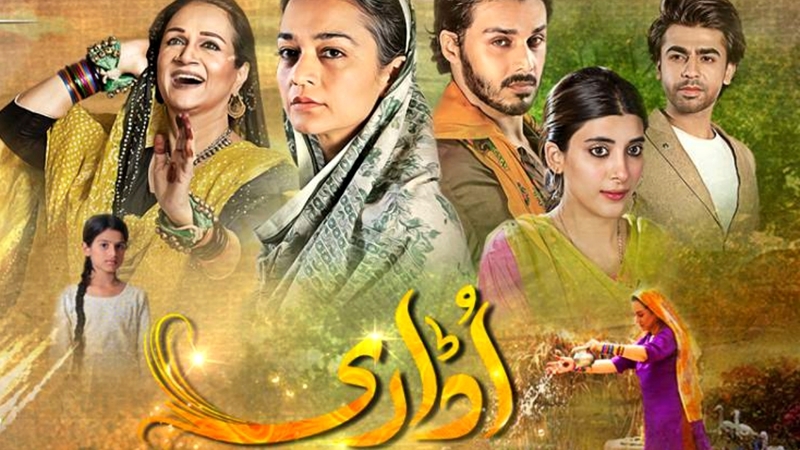 The immoral content aired on May 8th is also against the (Amended) Ordinance 2007 section 20(c) and Rule 2009's clause 15(1) of PEMRA's Code of Conduct.
Have a look at the following notice issued by PEMRA: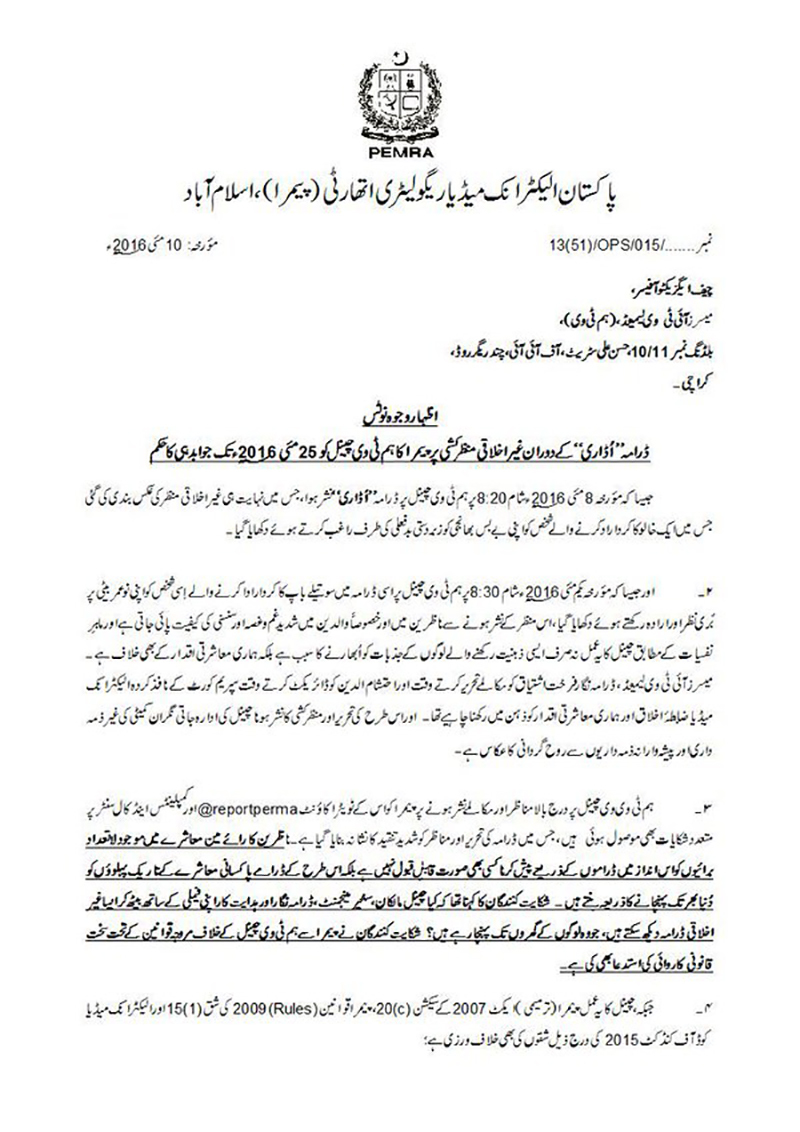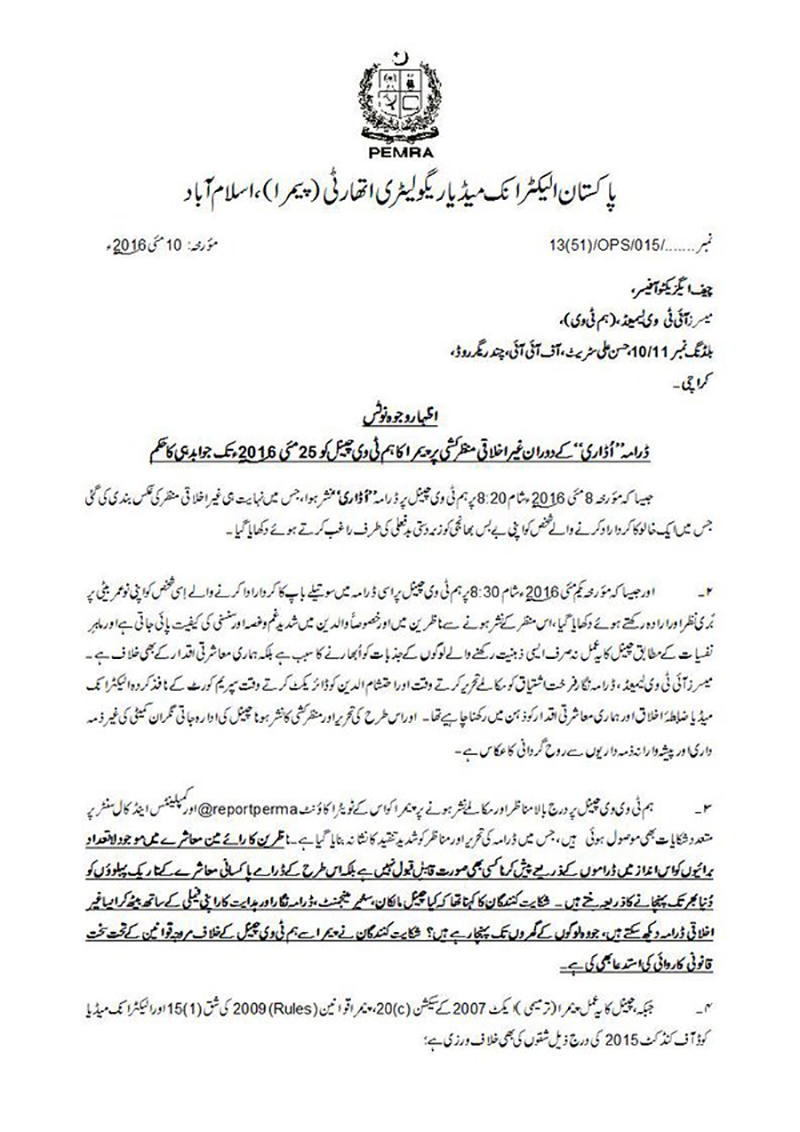 The drama serial Udaari is based on child sexual abuse, which is a heartbreaking truth of our society. Since the first episode, the serial Udaari has aired controversial scenes, dialogues and discussion that encourages people with deviant minds to approve of this heinous crime inflicted upon children, specially young girls.
Many channels turned down airing the drama serial Udaari due to its controversial stake; the response seems to be a smart action for these channels.
HUM TV's Drama 'Udaari' Ft. Urwa Hocane: OST, Timings & Schedule
Stay tuned to Brandsynario for more updates.