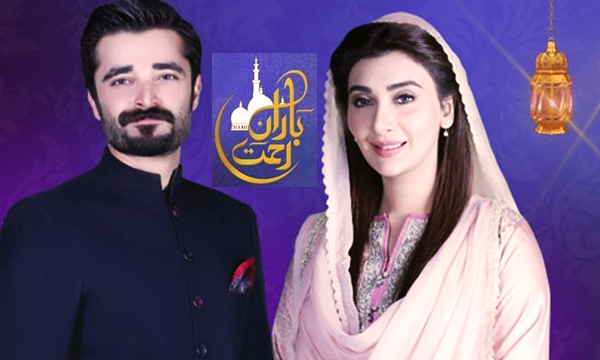 PEMRA (Pakistan Electronic Media Regulatory Authority) has directed the two private channels that aired controversial Ramazan transmissions, namely TV One and Aaj News featuring Hamza Ali Abbasi to air apologies for provoking sectarian views during the Ramazan shows.
A meeting was held at PEMRA's regional office in Karachi where the media regulator's council of complaints came up with this decision.
­"The council has directed the management of Aaj News and TV One to immediately telecast an apology for promoting controversial and sectarian views," said a statement.
33rd CoC PEMRA Sindh in progress pic.twitter.com/adavWTgDCS

— Report PEMRA (@reportpemra) June 20, 2016
"Both TV One and Aaj TV have assured the council of complaints that they will air apologies at the earliest."
PEMRA on Friday imposed a ban on the Ramazan shows Ramazan Hamara Iman of Aaaj News featuring Hamza Ali Abbasi and TV one's Ishq-e-Ramazan as they violated the code of conduct of media regulator's.
پیمرا شکایات کونسل سندھ کا آج ٹی وی اور ٹی وی ون کو فوراً معافی نشر کرنے کا حکم pic.twitter.com/sN7EkH3iZd

— Report PEMRA (@reportpemra) June 20, 2016
"An immediate ban has been imposed on TV One's programme Isq-e-Ramazan (hosted by Shabbir Abu Talib) and Aaj News programme Ramazan Hamara Iman (hosted by Hamza Ali Abbasi)," a statement said.
The two hosts were ordered to immediately discontinue their shows and were replaced with different hosts for the transmissions. Hamza Ali Abbasi hosted the show with Ayesha Khan.
This began when Hamza questioned the oppression of Ahmadis during one of his programmes.
"The community is being suppressed but if you talk about it, people say 'You're from that community that's why you're saying this," Hamza said. "I am not an Ahmadi, I am a Sunni Muslim."
The statement noted that the ban on Shabbir Abu Talib, Hamza Ali Abbasi and the religious scholar Kokab Noorani Okarvi will be lifted after the apology is aired. After the apology is aired, the two will be able to appear and host the shows on TV like they used to.
Stay tuned to Brandsynario for more updates.