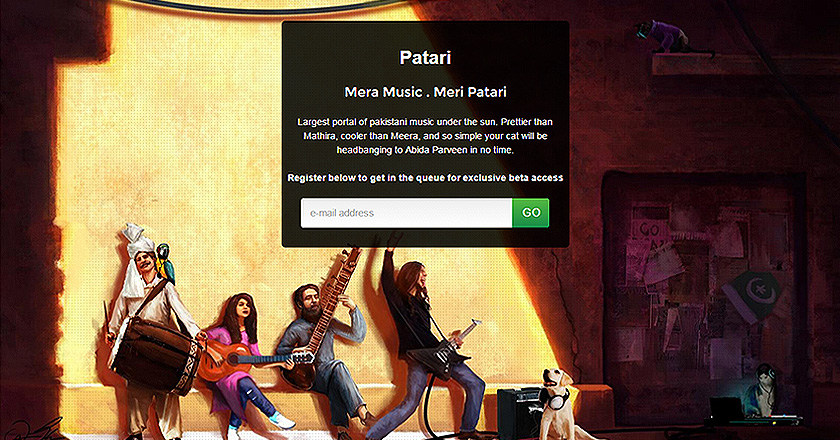 After the rampant take-over of Bollywood songs in Pakistan, budding Pakistani artists fail to take off in the world of music production, as their music fails to generate a quick, positive response mainly due to the fading away of record labels and the never-ending blockage of YouTube in Pakistan.
The Pakistani audience has no avenues to not only listen to the hidden gems of the music industry, but also to listen to the Pakistani music that they like.
Underground music is fast becoming a beautiful memory, while the audience has gotten short of avenues to not only listen to the hidden gems of the music industry, but also to listen to the Pakistani music that they want to.
This is where Patari comes in.
Patari – an exclusive Pakistani music web portal that is the nation's answer to Soundcloud and Spotify
Founded by Khalid Bajwa, Humayun Haroon, Faisal Sherjan, and Iqbal Talaat, all hailing from the province of Punjab, Patari is running its beta version right now, which is accessible only through invites at the moment, with the user-friendly music interface possessing a large collection of Pakistani music from over the years.
The founders state that Patari was 'created as being an online music portal dedicated solely to the old favorites and new discoveries from Pakistan's pulsating music landscape'.
It offers a huge, easy-to-use library, with a technologically advanced search engine that deals with how people spell Urdu in the English script, a style known as Roman, in simpler Pakistani terms.
Successfully bringing together a team of musicians and journalists who have helped compile more than 50 playlists, 600 artists, and more than 20,000 songs across varying genres, decades, and dispositions – the team has achieved something which was yet to be attempted by mainstream production companies and music artists.
This not only brings music talent discovery to the forefront, but also acts as an avenue for music lovers into the wonderfully talented world of Pakistani music.
The website also allows artists to generate revenue from their music, a step that many mainstream media personnel have been screaming for for a very long time.
The recommendation engines and radio features, two soon-to-be-launched options on the website, will help put new artists on the music map, while the monetization platforms will allow artists to earn money that would be generated through subscription packages.
Paid content will enable audio ads to be played after every three to four songs, while premium subscriptions would allow users to save songs offline, and have access to music in higher quality and sponsored playlists.
However, it must be lauded that the team of Patari is self-funded, and very highly motivated to bring about a change in the Pakistani music industry.
Their marketing is purely based on word of mouth, a fact that is testament to the fact that this group of techies is hell-bent on making a difference in the terribly commercial world of Pakistani music.
The Patari team consists of Khalid Bajwa (CEO), Humayun Haroon (Front End Programmer and CFO), Usama Tariq (Front End Programmer), Faisal Sherjan (Strategy Director), Iqbal Talaat (CTO), Ahmer Naqvi (Director of Content and Content Managers), Ebby Absar, Saad Arshad and Iman Shahid.
Sign-up for their exclusive invites on Patari.pk, and play your part in making this venture an overwhelming success!