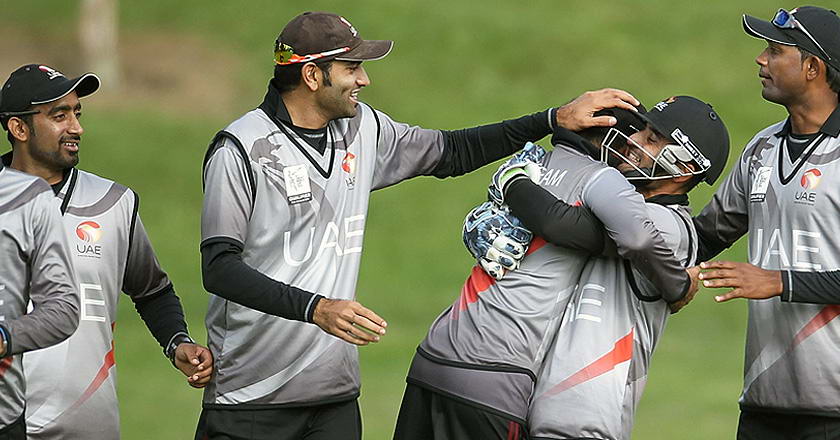 Cricket is seen as an elite sport and players are thought to be earning large numbers but amidst the commerical buzz in the air, an interesting fact about the United Arab Emirates (UAE) cricket team has surfaced.
All the players on the UAE team have daytime jobs and play cricket as part-timers. None of the cricketers earn a living by playing cricket.
It comes as a surprise when we compare this fact with their Pakistani counterparts who play cricket full time and charge through the roof for it, while scoring multiple endorsements by prominent brands.
The United Arab Emirates' team is mostly composed of foreign-born players who moved there to work, and local support for the team is weak.
Tauqir is an Arab while most of the other members are of Pakistan, Sri Lankan and Indian origin.
"As a UAE national, I am proud and happy to lead the team. This World Cup will help us bring in more Emiratis to play cricket in the UAE as they will be watching us live on TV." Tauqir said.
"Everyone has his own targets and goals. But collectively, we want to register at least a couple of wins against Test teams. That's our target."
Pakistan-born, Khurram Khan is just one of many extraordinary stories in the only fully amateur team at the World Cup, with none of the players earning a living off cricket.
"I'm always flying somewhere. I fit in whatever practice I can when I am on land at home.'' Khurram said to News Corp.
Swing bowler Manjula Guruge does not have much in his bank account, but his dedication can't be mistaken. Using public transport, he gets to trainings and matches in Dubai and Sharjah from his home in Abu Dhabi.
Paceman Mohammad Naveed is used to have a six-hour commute to training.
UAE also have two players of Indian origin, wicketkeeper Swapnil Patil with roots in Mumbai and Krishna Chandran, originally from Kerala.
Entering the tournament after 19 years, the newbies will face India at Perth on Saturday.