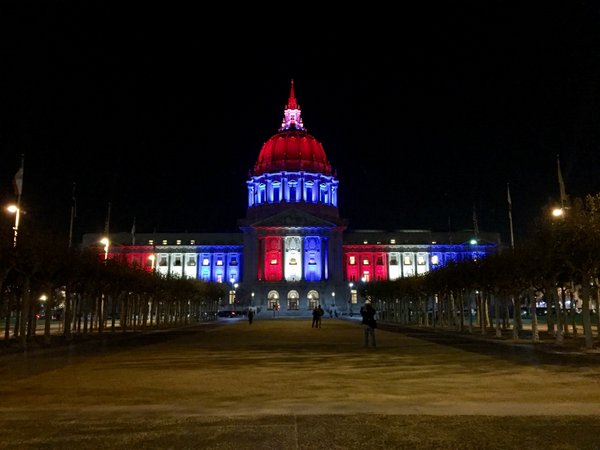 In unity with the survivors and the victims of the catastrophic Paris Attacks, buildings and landmarks from around the world have lit up with the vibrant colors of the tricolor French flag.
More than 100 people were murdered inside a Paris theater after being held as hostages. Dozens more were reported dead in several shootings in the central capital of France
Leaving scores of humans dead, the deadly massacre has caused the global humanity to rise in solidarity. Moving melancholic images if iconic historical places have now surfaced on Twitter who have donned the band of blue, white and red to pay a tribute to those who lost their lives.
From Toronto's CN Tower to New York's One World Trade Center, Wembley Stadium in England to Convention Centre in Dublin, the colors beamed in the night's darkness in grief of Paris.
View images of landmarks around the globe here.
Our neighbors at the Omni Hotel downtown have donned the French colors to honor victims of the Paris attacks. pic.twitter.com/Q6rx03KVVc

— WFAA-TV (@wfaachannel8) November 14, 2015
One World Trade lit in blue, white and red in solidarity with the people of France. pic.twitter.com/pq9A5K3qsr — ABC News (@ABC) November 14, 2015
Wembley Stadium is illuminated with the colours of the French Flag. #Prayforparis #ParisAttack pic.twitter.com/s4s880SG66

— Danny Colligan (@dgregas1) November 14, 2015
Our thoughts and prayers are with the people of #France tonight. pic.twitter.com/CP9q4bJTGJ — Long Center (@longcenter) November 14, 2015
The convention centre here in dublin lit up in the french colours🏼 pic.twitter.com/FYzacBe938

— aoife // 6 (@hijackedgladers) November 14, 2015
Beautiful photo-Sundance Square courtesy of Brian Luenser. #PrayersForParis #FortWorth @NBCDFW @CBS11 @wfaachannel8 pic.twitter.com/mCRqiLzONh — Sundance Square (@sundancesquare) November 14, 2015
S.F. stands with Paris pic.twitter.com/KmC6k3NnxR

— SFGate (@SFGate) November 14, 2015
Tonight, our Eiffel Tower will remain dark in memory of the lives lost in the attacks in Paris. pic.twitter.com/FFr55bRnHE — Paris Las Vegas (@ParisVegas) November 14, 2015
One World Trade is lit in blue, white and red in solidarity with the people of France after Paris attacks. pic.twitter.com/HHW2WRxSDt

— ABC News (@ABC) November 14, 2015
Sending our prayers from México to Paris. #Paris #Prayers4Paris #PrayForParis #NotAfraid #NotAfraidParis 🏻 pic.twitter.com/63SIg3TiIG — Diana Cornejo (@DhIaNu) November 14, 2015
CN Tower, TORONTO sign wear red-white-and-blue for Paris https://t.co/HmO56i7YuH pic.twitter.com/ngYqLLlVxf

— Hamilton Spectator (@TheSpec) November 14, 2015
Christ the Redeemer statue in Rio de Janeiro, Brazil In support of the victims of Paris attacks.. #PrayForParis pic.twitter.com/7zMelZckNn — Neymar Jr. (@NeyMarvellous) November 14, 2015
#Toronto sign also lit up for #Paris tonight. @jeffspindelboom pic.twitter.com/JPenKACNtp

— boom 97.3 (@boom973) November 14, 2015
Nice touch "@washcaps: The National Anthem is playing, but tonight our thoughts are with Paris. 🇫🇷 pic.twitter.com/HyWfbghSTM" #Pray4Paris — Manchester Storm (@Manc_Storm) November 14, 2015
New Zealand shows its support for France following #ParisAttacks https://t.co/lSlO0g2aEU pic.twitter.com/fi6FXjduFo

— Stuff.co.nz News (@NZStuff) November 14, 2015
Brisbane's Story Bridge shines red, white and blue. #France, the world stands with you. #ParisAttacks pic.twitter.com/MO4mGBrfcN

— Mackenzie Ravn (@mackenzieravn) November 14, 2015
#Brisbane City Hall has also been lit tonight to show our support for the people of France #ParisAttacks pic.twitter.com/bvKtLgqxB1

— Team Quirk (@Team_Quirk) November 14, 2015
KOMO Photo: @CenturyLink_Fld Lit up in French colors tonight to honor the victims in #ParisAttacks pic.twitter.com/7JiMcMK3jQ

— KOMO News (@komonews) November 14, 2015